Looking for children's books to help you study World War I in your homeschool? I'm sharing some great options for you here in this list of World War I books for kids.
*Post contains affiliate links; see disclosure for details.*
Some of these World War I books are nonfiction books packed with facts, photos, and stories from the war. Others are picture books that help us experience the war in unique ways and from new perspectives. Regardless of what you're looking for today, I know you'll find several great reading choices to help you learn about the First World War with your kids.
World War I Books for Kids
1. DK Eyewitness World War I
Eyewitness World War I is a good place to start if you're looking for a nonfiction World War I resource for older kids. It includes lots of photos from the war and covers the assassination of Austria's Archduke Ferdinand, the Treaty of Versailles, and everything in between.

2. Everything World War I
This National Geographic title is another good option for studying the First World War. Everything World War I is full of photos, advertisements, documents, maps, and other visual components. Better yet, much of the information is presented infographic style, which is especially nice when helping kids digest the details involved in WWI.

3. At Battle in World War I
At Battle in World War I allows readers to experience the frontlines of World War I through an interactive choose your adventure-style approach, making it one your kids are likely to read over and over again.

4. Dazzle Ships
I found this one at my library and highly recommend it if you're looking for an interesting glimpse at ship design during World War I.
Written by Chris Barton and illustrated by Victo Ngai, Dazzle Ships shines the spotlight on a mesmerizing strategy used by the British Navy in the First World War. Rather than the expected camouflaged ship design, this strategy involved painting Allied ships in wild patterns and colors with the premise that the dazzling design would confuse German submarine captains.

5. Shooting at the Stars
Shooting the Stars shares one of my favorite stories from World War I, the temporary truce between German and English soldiers that happened on Christmas day in 1914. It's got beautiful illustrations, shares this beautiful story from the perspective of an English soldier, and it's a picture book I can't recommend enough.

There are several other World War I books that share the story of the Christmas Truce of 1914: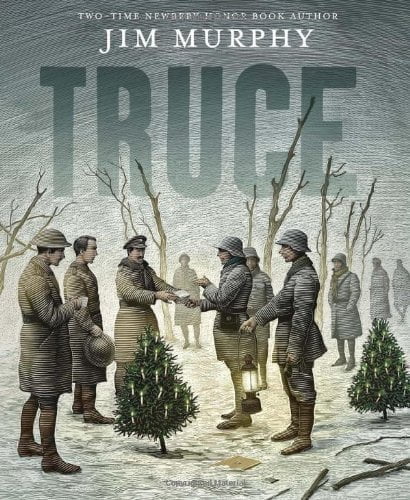 6. Remember the Lusitania
Diana Preston's Remember the Lusitania is great for digging deep into the German torpedo attack on the Lusitania. It's nearly one hundred pages and includes lots of photographs from the beautiful passenger liner.

7. World War I for Kids
Looking for a WWI resource that includes some hands-on learning? World War I for Kids is your answer. Not only does it include plenty of background information about the war, you'll also find a timeline, photos, author notes, and a variety of activities to help you learn.

8. In Flanders Fields
Linda Granfield's In Flanders Fields is a must-read for studying the First World War. It tells how John McRae's famous poem about World War I came to be and includes details about day-to-day life in the trenches during the war. If you can't find this one, Where Poppies Grow is another good option along these lines.

9. Simple History: A Simple Guide to World War I
If you're familiar with the Simple History channel on Youtube, you'll appreciate the book version of their WWI coverage. A Simple Guide to World War I presents the facts about the war, but uses Simple History's minimalist illustrations and trademark storytelling to convey the information.

10. Winnie
When you're studying heavy topics like war with children, it's always nice to include bright spots when you can. That's where Sally Walker's Winnie enters this picture. This sweet book tells the story of a Canadian Army veterinarian and his bear Winnie, who happened to be hanging out at the London Zoo when a boy named Christopher Robin came to visit. 🙂
This isn't the only picture book that tells the story of WWI soldier Harry Colebourn and his bear. The Real Winnie and Finding Winnie also share this true story. I especially love Finding Winnie because it's written by Harry Colebourn's great granddaughter. It doesn't necessarily include a greater focus on the war, but the personal connection makes it one you don't want to miss.

Looking for more World War I books that feature animals? Here are a few:
Rags: Hero Dog of World War I by Margo Raven – Full of colorful illustrations, this sweet book shares the story of the friendship that developed between a stray French dog named Rags and Private James Donovan from the American Army.
Stubby the War Dog by Ann Bausum – A National Geographic title with tons of pictures, this book covers the inspiring true story of a stray terrier that served alongside American soldiers on the Western Front.
Stubby the Dog Soldier by Blake Hoena – It's the same story as the Stubby title listed above, but it's presented in picture book form, which might make it a better fit for younger kids or visual learners.
The Tortoise and the Soldier by Michael Foreman – This is a great one to include in your World War I book pile because it zeroes in on the war happening in a different area than most of the others mentioned here. Rather than the usual focus of the Western Front, The Tortoise and the Soldier shares life for the Allies fighting for control of the Black Sea.
Do you have some favorite World War I books for kids that I haven't mentioned here? I'd love to hear about them in the comments below!