Do your kiddos know what it's like to watch the weather segments that promise a blanket of snow, but wake up with nothing white in the yard? Ah, the fun that comes with homeschooling on the wish it would snow days!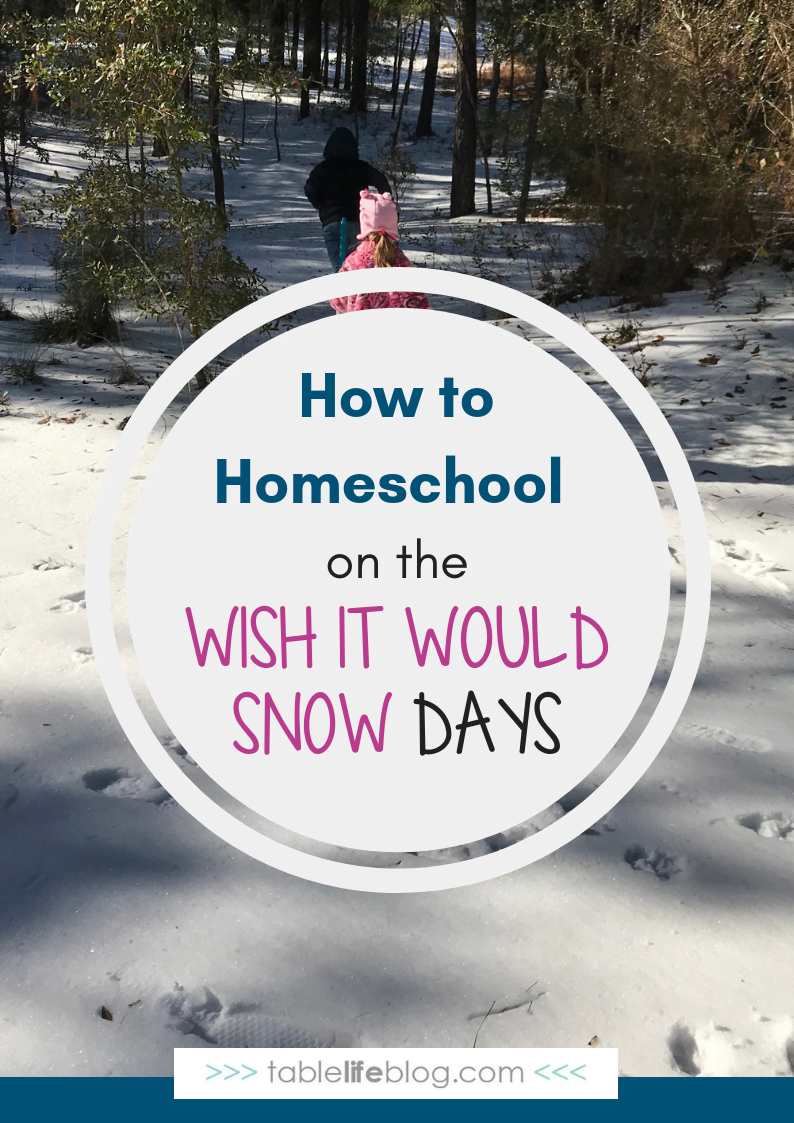 (This post contains affiliate links; please see disclosure for details.)
We've always lived in areas that don't see much snow so I'm not expert on how to handle snow days. We see snow once every few years and enjoy every minute of it.
Until that snowy day arrives, we spend our time dealing with the wish it would snow days. On those wish it would snow days, homeschooling can be a challenge. Thankfully I've had plenty of opportunities to learn how to cope on those days when we're all watching the weather and crossing our fingers!
10 Ways to Homeschool on
the Wish It Would Snow Days
On some wish it would snow days, our homeschool lesson plans carry on as usual, but on some we're all distracted by the chance of snow and need something special to keep us from staring at the sky all day! Here are some ways we keep calm and homeschool on during the wish it would snow days.
1. Take a break – Part of the appeal of a snow day is the break from the normal routine — at least if you live somewhere that doesn't see much snow like we do. If you find the kids or yourself longingly looking out the windows, you're not likely to get much accomplished.

Use this opportunity to take a break or even declare a free day! There will always be time to make up what you had originally planned for the day.
2. Learn about winter weather – Borrow some winter nature books from your library to learn about winter weather. It's a good opportunity to shed some light on why you're not seeing much of it. 🙂
3. Create a sensory bin – A winter-themed sensory bin is an easy and fun way to get your littles excited about winter, even when there's no snow falling outside.
4. Take a mixed media e-Course – We love working through the Winter Wonderland Workshop from Masterpiece Society and I'm confident that you will, too! Some of the projects are Christmas-inspired, but plenty of them are winter-themed.
If you prefer, you can focus on the winter projects for now and save the Christmas art for next year. The course comes with lifetime access! We're often working on these projects while the A/C is running, but this Winter Wonderland e-Course definitely helps us feel wintery. 🙂
5. Let it go and have some Frozen fun – Grab some hot cocoa, a blanket, and curl up with the kids and watch Frozen.  Then, use this Olaf printable to build a snowman and have a little fun.  If you'd still like to get some homeschooling done for the day, consider starting this Snow Princess Printable Pack for younger kids or this Snow Queen Unit Study for older kids.  You can even work in some science by choosing an activity from Frozen Inspired Tech and Science.
6. Start a literature study – Get a copy of The Snowy Day and check out this Snowy Day preschool unit to enjoy with little ones. You can even include this Snowy Day cartoon on Amazon Prime Video.
For older kids, go the Magic Tree House route and cover Winter of the Ice Wizard. Be sure to hop over to CurrClick and grab Pockets of Time for Winter of the Ice Wizard or Novel Ideas Book 32 to go with it. Either would enhance your Magic Tree House study!
7. Make some snowflakes – We've done these several times and have always had fun with them.  To try it yourself, you'll need jars, pipe cleaners, Borax, yarn, and pencils.  You can get the instructions from Blissfully Domestic by clicking here >>> Make Your Own Snowflakes
8. Create your own snow – When there's no snow to be found, just make your own!  There are several recipes out there for this, but most require ingredients that aren't found in the average household.  Thankfully I found one that only requires two ingredients — and both are items you're likely to have on hand.  
9. Have a snowball fight – Admit it, you know you're intrigued by these Indoor Snowballs!  Go ahead and order them, then have them on standby for your wish it would snow days.  Let the kids have their snowball fight and then proceed with your day as needed.  Sounds like a plan, right?
10.  Dig into Poetry  – Hop over to Hide the Chocolate and get ideas for a winter-themed Poetry Teatime. What a fun excuse to break out some tea, hot cocoa, and cookies!
Grab another cup of coffee and stop by iHomeschool Network's Snow Day Activities for more ideas on how to handle snow days — or the wish it would snow days.
s