Need some winter nature study inspiration for your homeschool? Good news: I'm sharing my favorite easy nature study ideas to help you enjoy this beautiful season with your kiddos. 
**Post contains affiliate links; see disclosure for more information.**
Nature study seems like a no-brainer in spring, summer, and fall, but what's there to see in winter? The benefits of winter nature study are more obvious in some areas of the world than others, but — obvious or not — there's always a place for nature study in winter months. Think about it:
There is no reason why the child's winter walk should not be as fertile in observations as the poet's; indeed, in one way it is possible to see the more in winter, because the things to be seen do not crowd each other out.

Charlotte Mason,
Home Education
Indeed, there's something to be said for all there is to see when the trees are stripped bare and the ground is covered with snow or pine needles.
Now that we know why winter nature study shouldn't be neglected, let's look at some easy ideas to make it happen in your homeschool.
Winter Nature Study Ideas
1. Read about winter.
I love using books for nature study because they prepare us for what we'll likely see outside and help us understand what's happening around us.
You can check out my full list of books about winter, but these are my favorite selections:
Also worth noting, Outside Your Window, Drawn from Nature, and Sky Tree are all fantastic nature books to have on hand, but they focus on all seasons and not winter exclusively.
2. NaturExplorers Units
Need an open-and-go approach to winter nature study? NaturExplorers units are a perfect solution. These units come in several topics and include themed nature walk suggestions, specific observation points, experiments, notebooking pages, and more.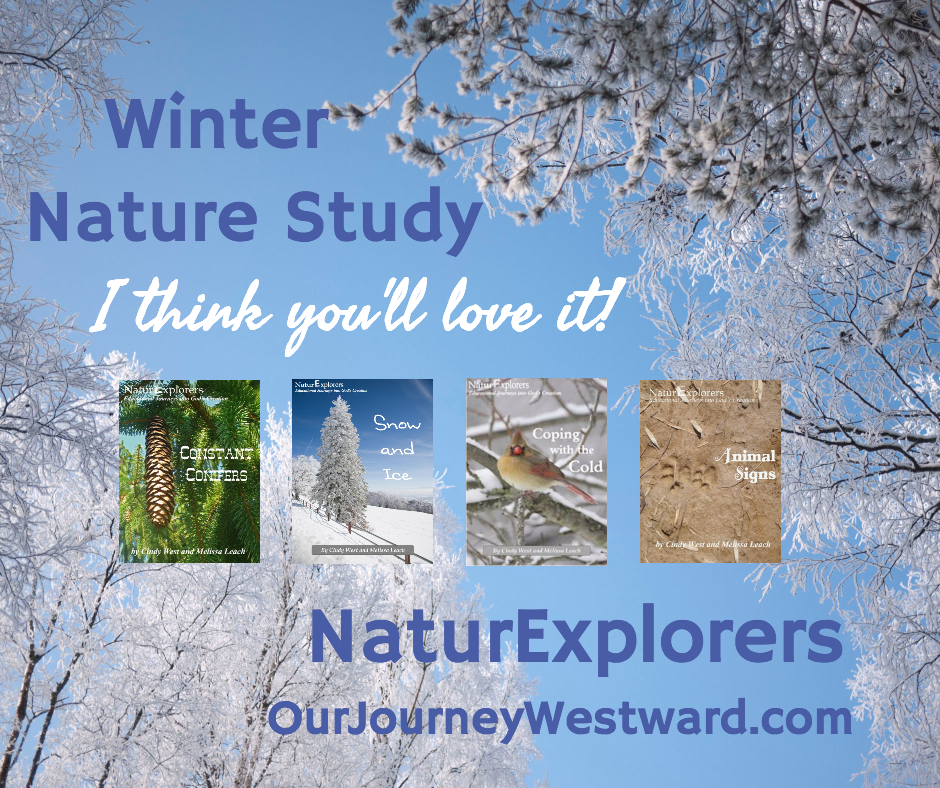 Prefer to outsource your winter nature study altogether? No Sweat Nature Study classes are another easy option to consider.
3. Learn about snow.
Borrow Snowflake Bentley from your library and then dig into these snowflake study resources from The Homeschool Scientist. She shares several fun ways to learn about snow there: a snow and ice unit study, snow measurement activity, snowflake science, and more.
4. Go on a winter nature hunt.
A nature scavenger hunt is a great way to strengthen observation skills and appreciate the winter landscapes.

Not sure what to look for? Take a look at my winter nature walk tips and grab the free winter nature hunt printable to guide you while you hunt. 🙂
5. Make a winter tinker box.
Add some hands-on fun to your nature study with this winter tinker box from Homeschool Mastery Academy. Use their detailed supply list to help you gather tinker supplies, then hand it over to your kiddos and let them get creative.
6. Do an Online Book Club.
Reading about winter is great, but take your book time to the next level with the help of an online book club. These book clubs go beyond reading and add projects, further exploration, and activities to go along with great books.

Not sure where to start? The Snowy Day Nature Book Club and Winter is Here Nature Book Club are great for elementary kiddos and The Call of the Wild Online Book Club is great for middle and high school students.
7. Make an ice melt.
You can find all the ice melt instructions over at Little Bins for Little Hands, but the general idea is to gather nature items like leaves, berries, and pine needles. Then freeze them a little at a time using a layered approach.

After everything is thoroughly frozen, your kiddos can melt the block and observe the items. You may even want to use some free notebooking pages to have them write about their observations.

8. Get artsy.
Don't think for a minute that winter-themed art projects have to be fussy. You can easily get artsy with your winter nature study with some help from You ARE an ARTist and their winter art lessons. The best part is you'll only need some construction paper and chalk pastels to get started!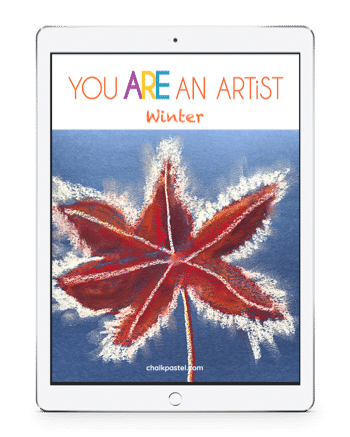 ---
Do you have tips or ideas for winter nature study? Leave a comment and let us know. We'd love to hear your ideas. 🙂