Need help with preschool at home? Here are the preschool websites I loved for lesson ideas, crafts, and curriculum in our early years of homeschooling.
(This post contains affiliate links; please see disclosure for details.)
I'm thankful that there so are many websites out there for preschool parents and teachers, but I'm extra thankful for the handful that I found myself going back to time and time again in our early years of homeschooling.
Go-to Preschool Websites for Homeschool
These are websites that I used for ideas, inspiration, and resources for our homeschool beginnings. These are also the sites where both of my kiddos laughed and learned while using. Let's take a look at these go-to websites for preschool at home.
Preschool Websites for Homeschooling Parents
1 + 1 + 1 = 1
This site is a great website for homeschooling preschoolers, especially if your child is on the younger end of preschool and is just getting started. There are lots of resources here for preschoolers, but just as many available for Tot School.
Homeschool Share
Homeschool Share – While it's not only for homeschooling preschoolers, your little learner is sure to love the ideas you'll find on Homeschool Share. For what it's worth, I don't think it's a stretch to say that you could never look elsewhere for preschool ideas and still have more than you'll ever need just through Homeschool Share. If you're tackling preschool at home, you're going to love it!
Homeschool Preschool
This one is a great resource for homeschooling preschool because of all of the preschool-specific activities, lessons, and printables available. It's definitely one to bookmark!
Teaching Mama
With printables, craft and play ideas, and seasonal learning too, Teaching Mama is one of my absolute favorites for teaching preschool at home.
This Reading Mama
This website is valuable for much more than early learning, but it's one to become familiar with if you're homeschooling preschool. It's one I turned to frequently for both of my kids because of the huge selection of printables and countless ideas for introducing and furthering reading skills.
Websites for Preschool Printables
3 Dinosaurs
I've spent a ton of time perusing 3 Dinosaurs over the years and absolutely recommend it for homeschooling preschool. I cannot say enough about the preschool printable packs. They were exactly what we needed in the preschool years!
Over the Big Moon
Character-themed printable packs always went over well with my kids, so I appreciate sites like Over the Big Moon and all of the packs offered there for free.
Royal Baloo
Yet another great website for printable packs! My favorites from Royal Baloo were the holiday-themed packs, the Do-a- Dot pages, and the printables that are made for use with the Bob Books series.
Teaching Mama
I mentioned this website already, but I can't go without saying just how much time I spent on Teaching Mama while preschooling my kids. I particularly love these printables for the younger end of preschool. They're perfect for getting started!
This Reading Mama
Also worth an extra mention, I love, love, love, the printables from This Reading Mama! They're made for hands-on learning and include an awesome variety of activities within each pack.
All in One Homeschool
All in One Homeschool is a great option for low-cost homeschooling, but it's not just for the big kids and teenagers. It offers preschool curriculum in two levels: Getting Ready 1 and Getting Ready 2. The first level focuses on learning the alphabet and phonetic sounds, while the second level advances to reading with phonics.

God's Little Explorers
We loved using God's Little Explorers for homeschooling preschool! We have the paid version, which is nice because all of the lesson plans are in one easy document. That said, the curriculum is also available for free by visiting the Motherhood on a Dime and clicking through each week's curriculum post.
Letter of the Week
No Time for Flashcards' Letter of the Week posts make it super easy to put together a doable, non-intimidating homeschool plan for preschool. It's not technically a curriculum, but it might as well be.

Posts are grouped by letters and contain plenty of craft ideas, activities, and book suggestions for each letter. Combine these with some of the alphabet printables mentioned above and you've got an easy formula for preschool at home!
Reading the Alphabet
This Reading Mama's Reading the Alphabet is designed for preschoolers who know the alphabet, but aren't quite ready to move on to kindergarten-level curriculum. It's a great in-between option and it's available for free!
Websites for Preschool Learning
Disney Junior
I can't say that all of the Disney Junior games have tons of educational merit, but the website is still a fun and safe site for preschoolers. The For Grown-Ups area here is one to check out too. It has additional crafts, activities, and recipes related to Disney Junior shows.
Fisher Price
You may not immediately associate Fisher Price with preschool websites, but this is a great website for homeschooling preschool. The games are easy for little ones to do without much help, they're age-appropriate, and lots of fun.
PBS Kids
When it comes to educational programming, there's not a better lineup than PBS — that's pretty much always been true. Therefore, it shouldn't be too surprising that the PBS Kids website has lots to offer too. While it's not exclusively for preschoolers, it's a website your preschooler will love.
Be sure to check out the For Grownups area on PBS Kids.  It has links to teaching resources as well as information and ideas for parents and families. 
Starfall
Both of my kiddos have spent plenty of time on this site throughout the years. There are benefits to paying for Starfall membership, but there are lots of free elements for kids to enjoy too. My son spent tons of time here when he was younger using the ABC and the Learn to Read activities, but my daughter enjoyed the seasonal games and songs.
YouTube Channels for Preschoolers
ABC Mouse
The ABC Mouse YouTube channel is pretty much a preschool smorgasbord. This is a one-stop channel with videos on letters, classic children's songs, early readers, math concepts, and more. If you've got a preschooler, this is a YouTube channel you need to know!
Art for Kids Hub
Most of the Art for Kids Hub offerings are for older kids, but there's also a great selection of art projects for kids who are five years and younger.

My daughter loved that these videos aren't just for big brother and that she could enjoy these art videos too. She made some adorable stuff through this YouTube channel!
Badanamu
We are some Badanamu-loving folks! The music is catchy and the characters are downright lovable. This YouTube channel has lots of just-for-fun music for your preschooler, nursery rhymes, and craft videos. The best part, however, is the Badanamu ABC videos. They're great for letter recognition and sound reinforcement.
Have Fun Teaching
We primarily relied on the Have Fun Teaching YouTube channel for its great alphabet and number videos, but there are videos for subjects including fitness, science, and sight words.
Sesame Street
My kids never watched much Sesame Street on TV, but we used the Sesame Street YouTube channel enough to consider it a go-to website for our preschool years. The available videos change frequently, but there are always plenty of short videos that encourage little ones to have fun and learn at the same time.
---
Do you have favorite preschool websites? Share them with us in the comments below… We'd love to hear from you!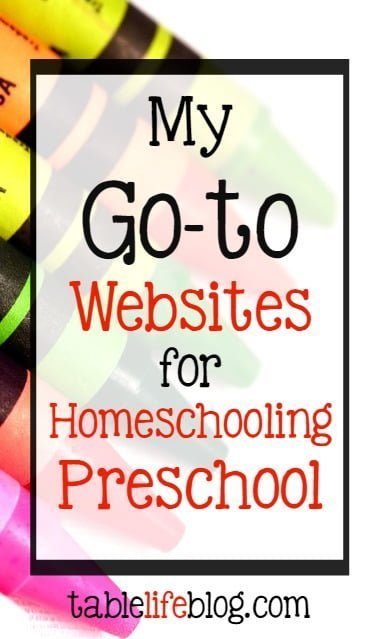 Looking for more suggestions for homeschooling the preschool years? Don't miss our Ultimate Guide to Preschool at Home!