Vincent van Gogh is undeniably one of the world's greatest artists, which means there are lots of great ways to study his incredible contributions to the art world. Today I'm excited to share one of those ways with you through a Vincent van Gogh Unit Study.
(This post contains affiliate links; see disclosure for details.)
Because both of my kids are quite familiar with this master artist already, I wanted our next Vincent van Gogh Unit Study to be different from our normal experience.
That's where Techie Homeschool Mom comes into the picture.
Learning about Vincent van Gogh with your kids? Don't miss these fantastic unit study resources. #ihsnet #homeschool
Vincent van Gogh Unit Study Ideas
My big kid loves online unit studies and this Vincent van Gogh unit study is no exception.
While working through this unit study, students explore van Gogh's life and art style through a variety of online resources.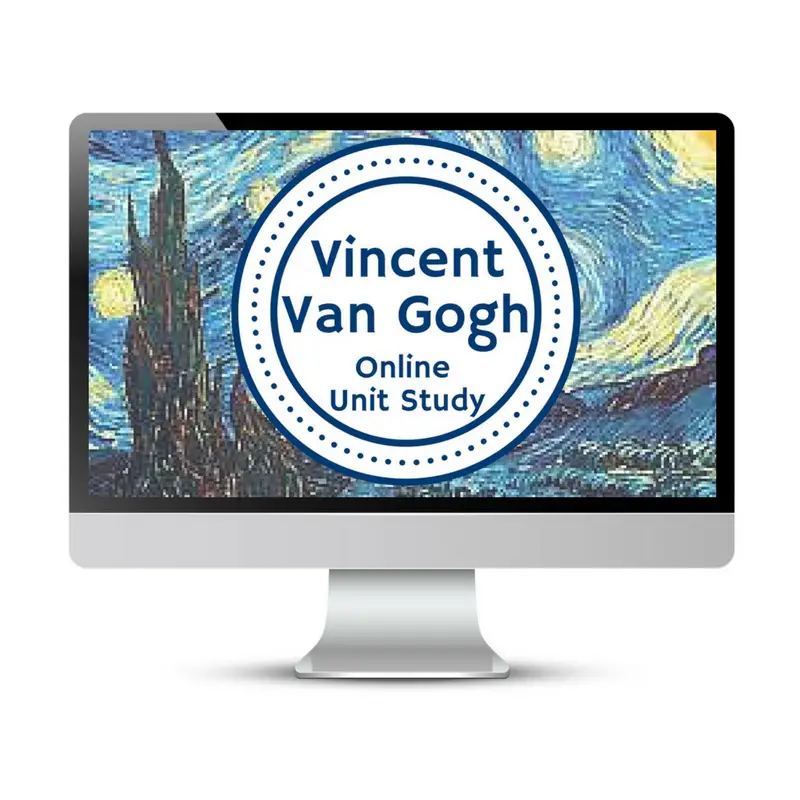 This online unit study also includes a van Gogh-style self portrait project and a techie van Gogh biography project.
We love van Gogh's paintings like Starry Night, Vase with Fifteen Sunflowers, and Starry Night over the Rhone, but it was a nice to do a completely different van Gogh-inspired art project.
Instead of one of those classic paintings, the art project for this online unit study is inspired by van Gogh's self portrait. This was a great project for my kiddo because it challenged him to experiment with different art styles than usual.
The animated biography was also a fun project for my kiddo. This project let him explore the technical and creative sides of creating this video, but also gave him an opportunity to show what he's learned about van Gogh and his work.

Here are some other things my kiddo likes about this online unit study in his own words:
It's totally interactive.
I like how the art project includes familiar techniques, but also forced me out of my comfort zone.
The lessons are quick and interesting.
I like all of the computer practice I get in the lessons.
I like being able to do animation projects in my schoolwork.
As for me, I like that this online unit study is an independent way for kids to learn about Vincent van Gogh. I also like that it's thorough, but not so intensive that it overwhelms our homeschool plans.
Vincent van Gogh Online Unit Study
Interested in getting this Vincent van Gogh Online Unit Study for your kiddos? You can learn more about it by clicking the image below.
More Vincent van Gogh
Unit Study Resources
Because we love studying van Gogh in our homeschool, we've used lots of great unit study resources learning about him over the years. For a basic overview of his life, I like this All About van Gogh profile from IDO3D. If you prefer to explore van Gogh through books, check out these 10 Children's Books about Vincent van Gogh (Pin it for later).
What to watch on van Gogh
Here are a few good videos to watch for your van Gogh unit study:
Van Gogh: Brush with Genius

– Note that van Gogh's death is covered in the 30-35 mark. Due to the sensitive subject matter, you may wish to omit this part or only use this documentary for older students.

Creative Galaxy, Season 1, Episode 5 – Follow

this link

to add it to your watchlist. It's a good introduction to van Gogh for younger kids.
Hands on with van Gogh
Want to include some hands-on activities in your study? Here are some ideas to consider:
---
Have you studied Vincent van Gogh in your homeschool? What are your favorite van Gogh resources?