Sometimes I'm amazed by how easy it is to teach art in our homeschool. Maybe that wouldn't come as a surprise if I were some gifted artist or an aficionado of finer things.
(Post contains affiliate links; see disclosure for details.)
But I'm neither of those things and that makes me even more determined to be sure that my kids have plenty of opportunities to explore and enjoy art.
That's how I've learned just how easy teaching art can be. And, sometimes the best way to teach a subject is to learn it alongside your kids. That's why I'm so grateful that there are lots of ways to tackle this often intimidating subject. Today I'm sharing my favorites with you.
How to Teach Art
When You're Not an Artist
1. Focus on Art Appreciation
Start by learning about artists, movements, and styles. You can easily do this by adding books and videos to your homeschool routine.
For videos, I like the Art with Mati and Dada series on YouTube. Not only are they short, they're also kid-appropriate, which isn't always easy to find since some of the most famous artists dealt with tough problems in their lives.
As for books to help with art appreciation, here are some to consider:
You could work these books and videos into morning time, focus on them once or twice a week, or use them to help with an art-themed unit study. Any of these would go a long way in helping your kids develop a love for art.
2. Enroll in Online Classes
An online class like Mixing with the Masters Mixed Media Workshop is another easy way to teach art in your homeschool. It's a great way for older kids and teens to study some of the world's most impactful artists and create their own masterpieces inspired by those artists.
The best part is that none of the 18 lessons are parent-led, so you don't have to involved at all, unless you want to be.
Instead, they're all taught by Masterpiece Society's Alisha Gratehouse and they're all fantastic. You and your students will love learning from Alisha and her gang (we certainly do!) and be amazed by how far you've come when the course is finished. No kidding, these courses are that good!
3. Use a DVD-based Art Curriculum
Using a DVD-based art curriculum is one of the easiest ways to teach art without actually teaching art. These are especially great for teaching fundamental principles and concepts in art at a slower pace.
Some we've used in the past are Home Art Studio, See the Light, and Mike's Inspiration Station, but there are plenty of others to explore.
4. Start with Chalk Pastels
I've also found the You ARE an Artist resources to be super helpful in teaching homeschool art. My kids love working with chalk pastels anyway, so utilizing these fantastic resources is a no-brainer for us.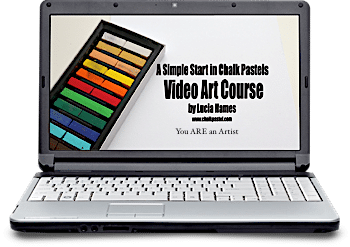 Better yet, there's now a video art course from You ARE an Artist. This course contains 39 lessons and includes techniques for students who are new to chalk pastels and for those who are more advanced.
If you haven't checked into this one yet, now is the time. It's a great way to equip and encourage your kids to get creative. Who knows, you may find yourself feeling more inspired to get creative too. After all, we learn as much from homeschooling as our kids do. 😉
5. Search Pinterest for Tutorials
Lean in close, friend. I'm about to share one of my best homeschool how-tos. It all comes down to searching. Seriously.
If you're looking for ways to teach art when you're not great at art yourself, think about what you want to study and search for your topic on Pinterest. It sounds obvious, but it's a great option if you're okay with piecing together your own lesson plans.

Want some help searching? Feel free to peruse my Art and Art Appreciation board. That's where I stash all of the cool art ideas I come across.
What about you? Do you have tips for teaching art in your homeschool? If so, leave them in the comments below so we can all learn together! 🙂
Looking for more help with art in your homeschool? Don't miss these posts: