Need to add some new summer nature study ideas to your homeschool plans? We've got you covered with a fun list of suggestions to help you learn while enjoying summer with your kiddos.
*Post contains affiliate links; see disclosure for details.*
The best part is that all of these ideas require little or no preparation from you. That's always a welcomed feature when it comes to summer learning, right? 
Summer Nature Study Ideas
1. Read about summer.
Books are a great starting point for nature study in any season, but they're perfect for summer because they allow you to keep learning while the A/C runs in the background.

As for what to read, consider picture books likeSummer Walk, Shaping Up Summer (I love how this one combines math and nature!), and Goodbye Summer, Hello Autumn. You can also refer to our seasons book list for more reading suggestions about summer in particular and seasons in general.
2. No Sweat Nature Study
Along with books, No Sweat Nature Study is another inside option that's perfect for summer. These online lessons happen twice each month and are designed with grades 1-8 in mind.

Membership also comes with access to all the previous No Sweat Nature Study classes. That means you can easily work in past lessons if you'd like to incorporate nature study weekly during the summer months.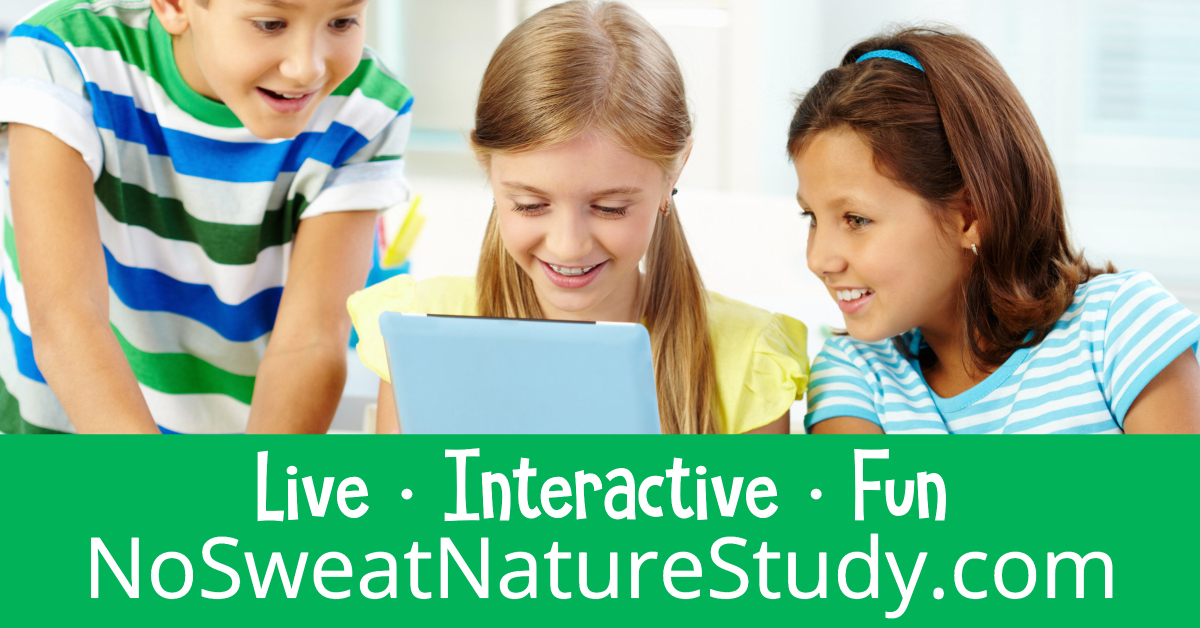 3. Go on a Nature Scavenger Hunt.
Nature study in summer can honestly be as simple as taking a walk and paying attention to what's around you. 

Keep in mind these walks don't have to be long or drawn out to be effective. The key is to provide opportunities for observation. That may look like walking in your neighborhood, a nature trail, or even a local park.

To help with observation, try a nature-themed scavenger hunt like one of these:
4. Start a nature journal.
Nature journaling can be as simple or detailed as you want it to be, but it's a fantastic way to record your time in nature this summer. The best part is all it takes is some colored pencils and a journal like this one or some notebooking pages to get started.
5. Grow tomatoes.
I've shared before that we live in an apartment. That means we have to be creative when it comes to incorporating plant-related projects into our nature study plans. That said, even we can pull off tomatoes with our limited balcony space. And if we can pull it off, I'm guessing you can also. 🙂 

Whether you opt for traditional tomato cages or hanging planters, tomatoes are fairly easy to grow and are a great way to provide the valuable learning experience that comes from gardening without really gardening.
6. Raise butterflies.
Need another way to bring nature study inside this summer? Raise butterflies and witness the butterfly life cycle up close.
You can certainly look for caterpillars outside and place them in a habitat to observe, but we prefer raising butterflies with Insect Lore Butterfly Gardens.

Regardless of the approach you choose, raising butterflies is sure to be a summer nature study project your kids will want to do over and over again.
7. Study the ocean.
Does the ocean come to mind when you think of summer plans? If so, why not study the ocean with your kids this year? Here are a few fun ideas to consider:
For younger kids, check out our preschool ocean unit. It's got plenty of ocean-themed learning ideas that are perfect for little ones. 
8. Be creative.
Bring art and nature together with our favorite summer-friendly projects:
Prefer to keep the art fun rolling all summer long? This Celebrate Summer Mixed Media Workshop will help! While it's not exclusively nature-themed, it includes several nature-inspired projects and is our favorite way to incorporate the scenes of summer into our art plans.
---
Do you have tips or ideas for summer nature study? Leave a comment and let us know. We'd love to hear your suggestions!