I don't know about you, but I love the idea of summer learning. In fact, we don't know what to do without the structure that homeschooling provides since we homeschool year round.
That said, it's been a busy year so far and I just. can't. do. all. the. things this summer. I'm all for summer learning, but this year it's got to come easily and it's got to require very little from me.
(Post contains affiliate links; see disclosure for details.)
There are lots of great learning options out there, but they're not all easy and many of them need more preparation than I can manage this year.
Need some easy, no prep ideas for summer learning? I've got you covered! #ihsnet #homeschool
So, in case you're like me and need some easy, no prep learning ideas, I'm sharing my best finds with you today. The best part is that all of these areas often get left out in the course of a regular homeschool year. That's why it's great to be able to add them in during these summer months. Let's take a look.
Easy Breezy No-prep Required
Summer Learning Ideas
1. Backyard Science
We recently moved to a new home and new area, so I wanted to be sure to include time to explore in our summer learning plans. One easy way we're doing this is with some help from the Magic School Bus Explore the Wonders of Nature Kit.
This kit is great for summer learning because it includes a guide with easy lessons and all the supplies needed to go along with the lessons. We've already jumped into this kit and are loving it so far!
Another thing to note is that it's geared toward ages five through twelve, meaning both of my kiddos can explore with it at the same time. That doesn't happen too often for me when covering science since my kids have a five-year age gap, so it's worth mentioning when it works out that way!
2. Foreign Language
I've already shared why summer is a perfect time to learn a foreign language, but an online membership for Foreign Languages for Kids by Kids is as easy as it comes. With the online membership, kids experience immersion-based Spanish lessons through videos that feature kids experiencing everyday life.
From a preparation perspective, there's nothing more to it than logging and clicking play. If your kids are comfortable navigating the website, you may not even need to do that much. It doesn't get much easier than this!
3. Art Lessons
Another easy summer learning idea is to celebrate summer with art. We're doing this with some help from Masterpiece Society's Celebrate Summer Mixed Media Workshop. This video-based e-Course is a great addition to your summer plans because kids, teens, and even you can get in on the action and get creative on the hot summer days.
This course includes step-by-step video lessons for 20 different summer-themed projects, PDF templates, and lifetime access to the course. That's especially nice because it means you can work at your own pace and even save a few projects for next summer if you wish.

Since the lessons are accessed through videos, prep time is pretty much a matter of getting out the art supplies and logging into the course. You can handle that, right?
4. Music Appreciation
Music appreciation can also be an easy idea for summer learning … if you have the right resource, that is. And, if you're looking for an easy, no-prep way to add music to your days, you can't do better than SQUILT – Super Quiet UnInterrupted Learning Time.
There are several options when it comes to music appreciation through SQUILT, but the SQUILT Musical Eras Bundles are open and go, and therefore a great match for summer learning. These digital bundles contain listening links, easy instructions, notebooking pages, and even definitions for the terms used.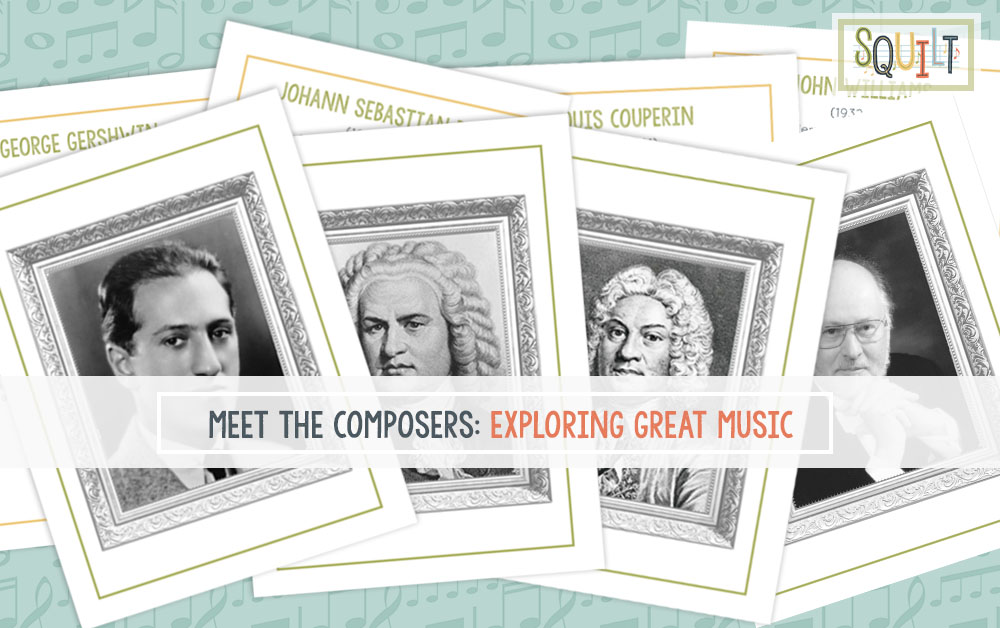 Seriously, there's no easier way to teach music appreciation than SQUILT. The best part is that you could choose one volume and focus on one of the ten lessons each week throughout the summer. That way you can keep the summer learning happening without overwhelming you or your kids.


---
Easy Summer Learning Ideas
Video Summary
Prefer a video summary of these ideas? Forgive the strange screenshot (because YouTube hates me 😉 ) and checkout the video below:
Hopefully by now you've seen that summer learning doesn't have to be complicated or time-consuming. You can keep the atmosphere of learning alive and well all summer long without lots of effort on your part. 🙂
Want some other summer learning ideas? Take a look at How to Have Your Summer and Homeschool Too.