Your kiddos don't need to take a break from creativity this summer! Instead, inspire them with these fun, but easy summer art ideas.
*Post contains affiliate links; see disclosure for details.*
What I love the most about this list of summer art ideas is that there's something here for kids of all ages. From detailed mixed media projects to fingerprint art, we've got you covered with art inspiration that's perfect for your summer months!
Our Favorite Summer Art Ideas
1. Summer Drawing Tutorials
Art for Kids Hub has been a longtime favorite resource for drawing tutorials for my kiddos. That's why it's my first stop for summer art ideas. One quick search led me to the following quick and easy summer-themed drawings: 
How to Draw a Camper
How to Draw a Ladybug
How to Draw an Ice Cream Tower
How to Draw Lemonade
How to Draw a Hermit Crab
The cool part is those are only a few of the free options you'll find there. Hop over and check out their Summer Archives to see them all. 
2. Fingerprint Art
Grab a copy of Ed Emberley's Complete Funprint Drawing Book and a stamp pad or Fingerprint Fabulous (pictured below). Then gather the kiddos for some fun fingerprint art.

While all the fingerprint drawing ideas aren't exclusively connected to summer, there are plenty like insects and sea creatures that can be used for easy summer scenes.
3. Easy Ocean Art
This easy ocean scene is one of my favorite pieces of DIY art we've made and it's still hanging in our home to this day!

The cool thing about it is that it's great for anyone — especially kiddos — who need an easy win when it comes to art. In other words, it's easy to pull off since it's composed primarily of horizontal strokes. That makes it a perfect project for those who are lacking in confidence. 😉
4. Seashell Art
Speaking of ocean art, this gorgeous seashell plaque is a seriously easy summer art idea your kids can do. An added bonus, it's a fun way to put your shell collection on display! 
Related: Summer Nature Study Ideas
5. Chalk Art
Let's face it, our world could use some beauty these days. Why not bring it to your streets with some fun sidewalk chalk projects? 🙂 Here's some inspiration to get you started:
6. Sun Prints
Can you create beautiful art without paint, colored pencils, or other typical craft supplies? Absolutely.

All you'll need is some sun art paper and items like leaves, petals, and shells to make it happen.
PS: Check out Bluest of Blues to learn how Anna Atkins used this sun art process — better known as cyanotype — to create the first book of photographs.
7. Summer-themed Mixed Media Projects
Keep the art fun rolling all summer long with this Celebrate Summer Mixed Media Workshop. It's our go-to resource for incorporating the scenes of summer into our art plans.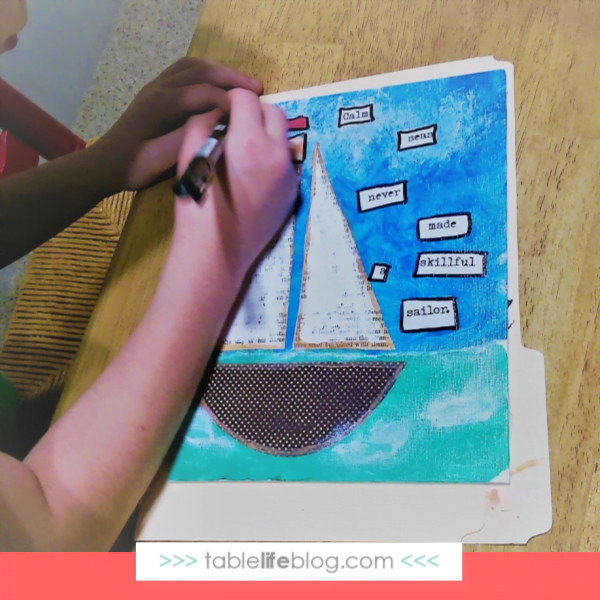 Want to learn more? See our review of the workshop for details and a peek at some of the projects my kids enjoyed from the course in the past. 
8. The Very Lonely Firefly Painting
Whether you call them lightning bugs or fireflies in your corner of the world, you'll love this painting project inspired by Eric Carle's The Very Lonely Firefly. After all, can we even call it summer if there are no fireflies dancing around at dusk?
---
Do you have tips or art ideas for summer? Leave a comment and let us know. We'd love to hear your suggestions!