We have always enjoyed year-round homeschooling, but it's not always been easy to balance summer and homeschool. If I'm not careful, I can expect too much from myself and my kids and end up missing out on the fun that comes with summer. Can you relate?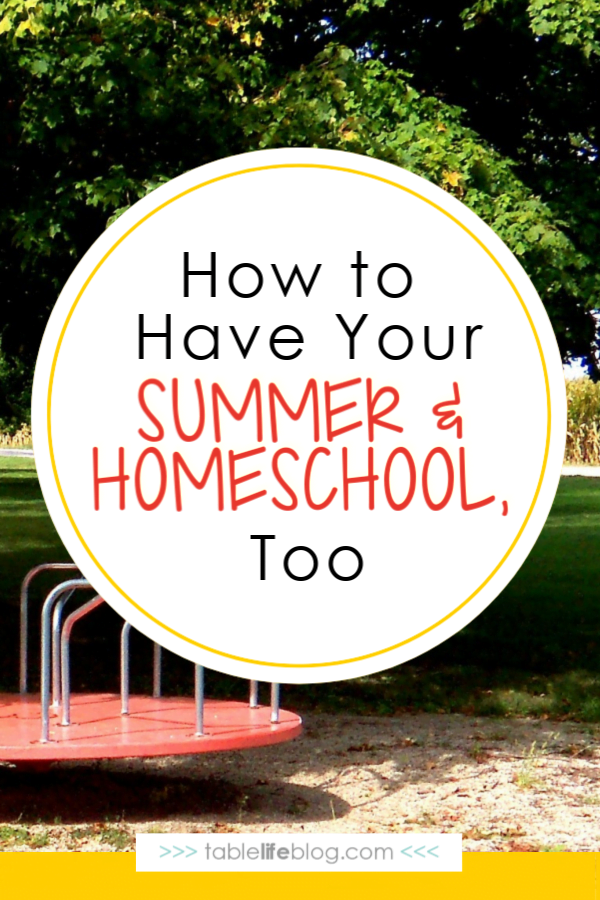 (This post contains affiliate links; see disclosure for details.)
While it's easy to get lost in the lesson plans and homeschool happenings, I've learned along the way that it is possible to enjoy summer and homeschool too. The best place to start is by lightening the load and making adjustments to your schedule. After all, summer doesn't have to be business as usual for homeschool, nor should it be.
Summer is a great time to change things up and make the most of what's happening in your family and your community. The best part is that all of this summer learning isn't just for year-round homeschoolers. Whether you're officially schooling or not, these ideas will allow your kids to have fun while continuing a lifestyle of learning.
How to Have Your Summer
and Homeschool Too
1. Let Them Lead
Delight-directed learning is where summer and homeschool naturally come together, even if you're not a year-round homeschool family. Pursuing delight-directed learning is a fantastic idea for your homeschool in every season, but summer is an especially good time because it affords plenty of time to explore interests and chase rabbit trails without the risk of getting behind schedule or taking away from other subjects.
Use this time to feed their curiosity and help them learn how to learn. These are foundations of home education, but sometimes we get so caught up in the curriculum that we need intentional time to get back to the basics of homeschool.
Talk to your kids and see what they want to learn. Use their ideas to search for unit studies, field trips, hands-on activities, and fun read-alouds to use throughout the summer months. You can certainly do the driving, but let them chart the course, and navigate their learning.
2. Visit Your Library
Most libraries — even small town libraries like we've frequented in the past — are great about scheduling activities for kids throughout the summer.

While most of those activities are lots of fun, many of them are also packed with learning opportunities. Our library programs have included summer reading initiatives, LEGO robotics classes, story time, and animal shows.
These programs are some of my favorites because they make summer learning natural and easy! You simply show up, engage, and enjoy. That no-prep, no-stress kind of learning is exactly what you need in order to have your summer and homeschool too!
Remember to register your kiddos early to be sure they don't miss out! In my experience, these programs have a limited number of openings and fill up quickly.
3. Learn on the Road
Hitting the road this summer? Whether you're heading out for vacation or visiting family, you can have your summer and homeschool too by making the most of your travels. That doesn't mean every moment has to be planned or laced with learning opportunities; it's really just a matter of researching a bit beforehand.
Before you go, ask around or do a search for interesting places, museums, historical sites, or learning centers at your vacation spot or that you'll pass while traveling to and from your destination. Don't feel like you have to do it all while traveling though. Stick with one or two "learning" stops to avoid cluttering your schedule and dealing with information overload. You want these opportunities to be fun, not stressful!
Did you have big read-aloud plans for your school year but couldn't find the time to fit them all in? Extended car time is a great opportunity to dive into the books that didn't happen in the previous months. Road trip read-alouds can help you pass the time and keep devices to a minimum, all while getting lost in the pages of a book.
Your road trip reading doesn't have to be limited to read-alouds. You can also make the most of your time on the road by listening to audiobooks while you're traveling. These are especially handy at night when daylight is gone and your driver needs a break from the glowing screens in the rearview.
Our most recent audiobook to tackle was Harry Potter and the Chamber of Secrets. You wouldn't believe what a difference it made on our ten-hour trip!
Not quite sure where to find the best audiobooks? You can snag two free audiobooks
through Audible's free trial.
4. Explore and Observe
Take advantage of your time outdoors. One of our favorite ways to do this as we enjoy our summer and homeschool too is through scavenger hunts. Nature journals, magnifying glasses, and bug catching kits are also lots of fun for exploring and observing when you're on a hike or in your own backyard.
You can also bring those observation opportunities inside for a while. We've had a wonderful experience with our butterfly garden. We started with a cup of live caterpillars, watched them become chrysalides, and waited patiently for them to emerge as Painted Lady Butterfly. Easy, natural, and amazing… does summer learning get better than that?
Looking for more nature study inspiration? Don't miss our favorite nature study ideas for summer. 
5. Have fun with art
If you have trouble incorporating art into your regular homeschool routine, summer is a wonderful time to change that! Borrow an art book from your library, peruse some art links online, and let your kiddos get creative!
Summer is also a great time to enjoy art classes. I sometimes find it difficult to make time for art projects throughout the course of a normal homeschool week, but a mixed media workshop in summer makes perfect sense! Kids can work at their own pace, explore art techniques, and avoid summer boredom all at the same time.
---
Like anything in life, the secret of having your summer and homeschool too is a matter of quality instead of quantity. Regardless of what direction you choose to go with summer learning, remember to keep plenty of open space in your schedule and to not get so caught up in learning opportunities that you forget to enjoy it.
And lastly, if you're looking for specific learning suggestions, see our easy ideas for summer learning.
What about you? What are your suggestions for enjoying your summer while homeschooling?