Looking for a creative way to explore the four seasons with your children? I've got you covered with a lovely book selection and a fun tree art project to go along with it.
*Post contains affiliate links; see disclosure for details.*
I remember the first time I read Sky Tree with my kids. We literally stumbled across it at the library, brought it home, and completely fell in love with it. In it, artist Thomas Locker beautifully shows how the life of one tree can represent the passing of time in the natural world surrounding it.

Using simple, yet descriptive text paired with stunning illustrations, Sky Tree begins with a tree on a hill on a lovely summer day and follows that tree as each season progresses. With each beautiful painting, we see the changes in the sky, the landscape, and the tree itself.
The pairing of the text and the illustrations are amazing on their own, but what makes Sky Tree so special is the way it combines nature and art.
"I have spent most of my life learning to paint trees against the ever changing sky. After all these years I still cannot look at a tree without being filled with a sense of wonder." – Thomas Locker
This sense of wonder is evident with each illustration, but it also shines through with the discussion questions included with each new season. These questions encourage readers to not only think about the science involved as the tree goes from season to season, but also to experience the beauty that's constantly on display in the life of a tree and its surrounding backdrop.
Sky Tree Art Project
My kids truly enjoy Sky Tree, but I especially appreciate the way it emphasizes the importance of observation in nature study. And, since art is such an important part of the book, we wanted to put that kind of observation to work and capture all four seasons like we see in Sky Tree, but in one painting. That's where this Sky Tree art project comes into the picture.

Here's what we used for our project:
Step 1. Prepare Canvas
We wanted our project to seem as if we were looking out the window from season to season, but experiencing a completely different view each time.
Just like we see in Sky Tree, we wanted the tree to be the constant amidst a changing backdrop. That's why we opted to use one picture of the tree, but to divide that painting into four different seasons by painting each quadrant with a different background.
To help us accomplish that, we started by placing two strips of painters tape in the middle of the canvas, one placed horizontally and one vertically.

After that, we lightly penciled in an outline of our tree and a hill like we see in Sky Tree.
Step 2. Paint Background
Our next step was to work on the background from quadrant to quadrant, remembering that we wanted to represent each season in our painting. I placed spring in the upper left, summer in the upper right, fall in the lower right, and winter in the lower left quadrant.

My daughter opted to move through her seasons differently. She started with spring in the upper left, then moved to winter in the upper right, fall in the bottom right, and then summer in the bottom left quadrant.
After painting our backgrounds, we painted the brown of our tree so it would have time to dry before moving on to the next step.
Step 3. Add Details
Once our backgrounds were dry, we added the details for each quadrant. For example, we added leaves on the ground in the fall quadrant, leaves on the tree in the spring and summer quadrants, and wispy white lines using gel pens for the winter sky.

We also used this time to layer shades of green on our tree, clouds in the sky, and sparkly silver paint on top of the winter snow.
Step 4. Paint Window
The last step of our tree art project was to remove the painters tape and work on the window. We used a pearly white paint on the window grilles and then outlined them with a silver Sharpie once our paint dried.
When the Sharpie dried, we were finished and ready to enjoy our Sky Tree art project. 🙂
More Books About Trees
Looking for a few more books about trees? Here are a few of our favorites:
In addition to these, I've got several more for you in my Books About Trees list.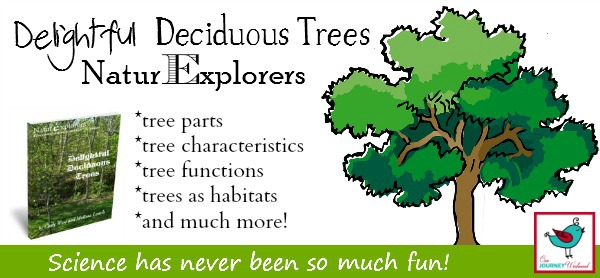 The Nature Book Club Monthly Linkup #11
We're loving our Sky Tree art project, but we're also excited to take a look at the other book-inspired ideas happening through the Nature Book Club. You're going to love all of these nature learning activities about trees and twigs! Let's take a look:
November Theme: Trees and Twigs
Nature Book Club is a monthly linkup beginning on the 20th day of each month. It's a monthly book club devoted to connecting children to nature. There is a theme for each month in 2018 and we welcome your nature book and activity related links!
Party Rules
Choose an engaging nature book, do a craft or activity, and add your post to our monthly link up.
The link up party goes live at 9:00 a.m. EST on the 20th of each month and stays open until 11:59 p.m. EST on the last day of the month. Hurry to add your links!
You can link up to 3 posts.
Please do not link up advertising posts, advertise other link up parties, your store, or non-related blog posts. They will be removed.
By linking up with us, you agree for us to share your images and give you credit of course if we feature your posts.That's it!
Be sure to follow the #NatureBookClub hashtag on your favorite social media platform. That's a great way to connect and check out these projects while they're in progress!
Here's where you can link up with us: