Finding it hard to homeschool and get it all done with life's other demands swirling around? It's time to let go of unrealistic expectations and simplify your homeschool day.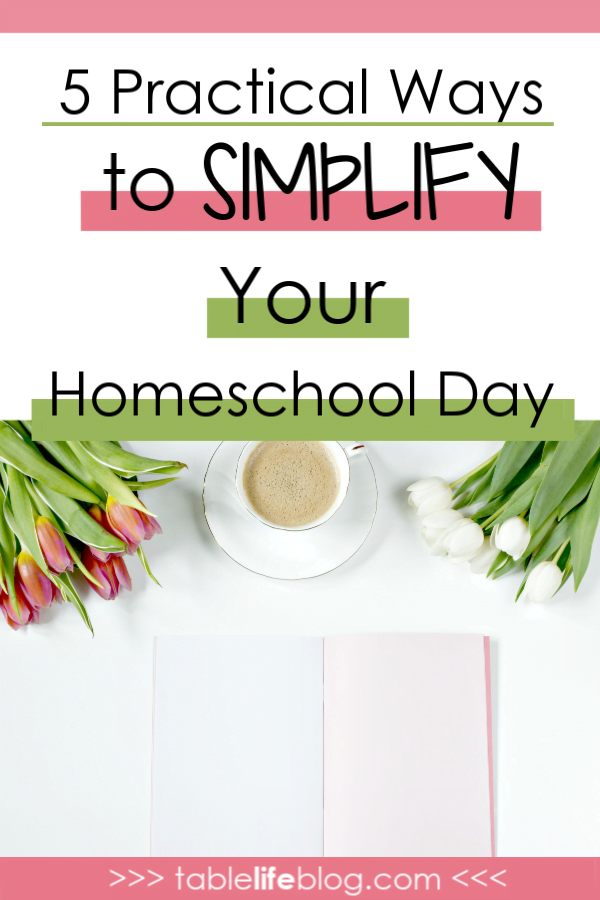 (Post contains affiliate links; see disclosure for details.)
I know what it's like to scroll Instagram, see the cool things other homeschool families are doing, and wonder how everyone is doing all this while parenting, homemaking, and even working. Over time, I stopped wondering. I learned the secret to homeschooling and getting it all done.
As it turns out, not doing it all each day is the secret to getting it all done. Are you following?
A smoother, more productive homeschool day doesn't come from doing all the things. It comes naturally when you simplify your homeschool day.

5 Ways to Simplify
Your Homeschool Day
So, how do you simplify your homeschool day? Here are some practical ideas to consider.
1. Have realistic expectations
Do you have visions of teaching eight subjects a day, snuggling up with timeless read alouds, and creating hands-on experiences for your kids … all while balancing life's other demands?
Don't beat yourself up if that's not what your homeschool looks like. All of those things are wonderful individually, but combined? It's not realistic.
Not only is it unrealistic, it's not happening. No one is doing it all.
Instead of focusing on what everyone else seems to be doing, give your average day a realistic assessment. Look at your homeschool goals. Be mindful about the non-homeschooling things you need to accomplish. Consider the point where motivation drops for you and your kids. Factor in naps, quiet time, and time for play.
Take a look at these things and then see how those fit into a normal day. Once you're aware of what has to happen each day, you can operate under realistic expectations for yourself and your kids. This helps you avoid overscheduling. As a result, you simplify your homeschool day.
2. Do less, but do it well
Another easy way to simplify is to alternate the subjects you cover on a daily basis. Tackle some core subjects each day and alternate the rest. That keeps you and your kids from being overwhelmed, but it also keeps you from missing the joy in learning.
How does that play out in lesson planning? One example is that our science curriculum has a two-day-a-week option. Our history curriculum, however, covers three lessons each week and allows one day for activities and review as needed. We do either history or science each day, but rarely both.
This is also our approach with language arts. We do some type of language arts each day, but grammar, persuasive or creative writing, and copywork don't happen every day. I focus on one area of language arts at a time and work the others in throughout the week.
By doing less each day, we're able to give more attention to each subject rather than rush through for the sake of getting it all done. And without that pressure to do it all, we homeschool in a relaxed setting and enjoy what we're learning.
3. Embrace independent work
It's more than okay to let your kids work independently. Being hands-on in your homeschool is a great thing, but it doesn't have to happen during each subject and, if it's complicating your homeschool day and causing stress, then it doesn't even have to happen every day.
Being hands-on is great, but it doesn't have to happen in each #homeschool subject.
With my older student, I currently help with math and history each day, but that's it. Other than a question or clarification here and there, that means he does his other daily subjects alone. I'm nearby, but he's old enough to have some skin in the game with his own education.
By encouraging him to work independently, I'm able to simplify my homeschool day significantly. His independence allows me to teach my youngest child, do laundry for a bit, prepare lunch, or work for a few minutes in the morning.
Better yet, embracing independent work prepares him for life. While there's usually help to be found when problems arise in day-to-day life, there's very little hand-holding when you've got a job to do. Critical thinking skills and having the discipline to stay on track go a long way in the real world.
Don't fret if you can't find the hours in the day to do it all with your kids. Be hands-on when it works best for you and work toward independence in the other areas.
4. Be flexible
Flexibility goes a long way in homeschool life. Without it, we become slaves to our idea of the utopian homeschool.
That said, flexibility is hard to define since it can be applied in many ways. What does flexibility actually look like for the homeschool family? Here are a few ways to look at it:
You can still follow most or some of the principles from specific homeschool methods without selling out to them completely and indefinitely. Being flexible in regards to your method helps simplify your days during extra busy seasons or when change is coming for your family.
For example, while you're going through a big move or taking care of a sick loved one, you may find traditional workbooks or unschooling to be a better fit than the classical plan you usually follow.
Shifting your homeschool plans to the evening or weekends also helps tremendously when you find yourself unexpectedly running errands during the week. That simple adjustment may be what keeps you from spiraling more and more behind and keeping you from being overwhelmed.
I don't work for the curriculum. The curriculum works for me. #homeschool #ihsnet
My personality lends itself to finishing all the curriculum, reading all the books, and following all the suggested plans. It's how I'm wired.
Even so, I've learned the hard way that I don't work for the curriculum. The curriculum works for me. If the curriculum isn't working, it's okay to skip a chapter and come back to it later. Or not. It's even okay to let it go altogether.
Whether we're talking methods, schedules, or curriculum, flexibility is a key factor in a simplified homeschool day. After all, you can't simplify your homeschool if you don't give yourself permission to do so. That's why flexibility matters.
5. Get help
Consider getting help for a subject or two. After all, even the Proverbs 31 women had some help in her day-to-day life!
In terms of homeschooling, getting help can happen a few different ways: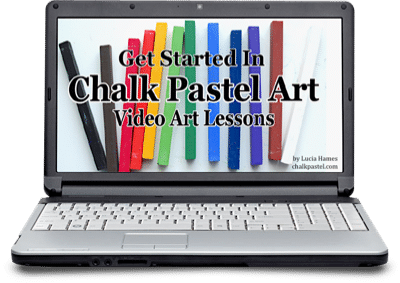 Homeschool co-ops – You may be wondering how adding another thing to your to-do list can help simplify your homeschool. I get it. But taking a class or two through the right co-op group can lighten your load at home and provide connections with other homeschoolers.
Older siblings – If possible, allow older kids to help younger siblings with their work for a subject or two. That gives you some breathing room, but also gives your kids a chance to work together.
Family and friends – Don't feel insecure about the areas that aren't your best. No one is a rockstar in every subject, but chances are you know lots of people with different skills and interests. If you're finding it tough to teach a specific topic, ask a friend or family member to jump in and help. Sure, you can't rely on this all the time, but it's good to keep in mind for the occasional problem area.
These are only a few ways to get help with homeschooling, but all of these can help you simplify by relieving some of the pressure that comes with the homeschool territory.
---
In conclusion, I hope by now you realize that you don't have to do it all. And, even if you could do it all, it's not necessarily the best thing for you, your kids, or your homeschool plans.
A packed homeschool planner may work for a while, but a simplified homeschool day has staying power because it helps to set a breathable pace and maintain a love for learning when life gets busy.
Simplified #homeschool days set a breathable pace & maintain a love for learning.
It's your turn now… do you have thoughts on simplifying your homeschool? I'd love for you to share them in the comments below!