Planning to study sea turtles in your homeschool in the coming weeks? I can help! Today I've got a fun list of sea turtle books for kids to help you learn.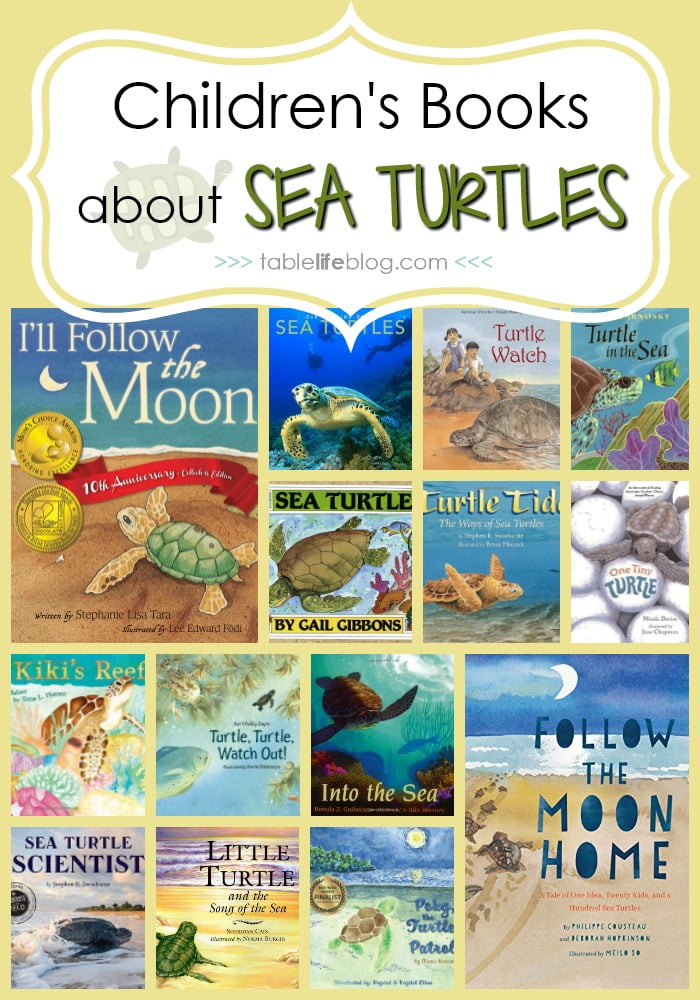 *Post contains affiliate links; see disclosure for more information.
This list of sea turtle books for kids is a good mix of fiction and nonfiction, but it's also a mix of books for younger children and elementary kids, with some books that are great for all ages.

Regardless of what you're looking for today, you've got some great reading options to help you learn about these beautiful creatures with your children.
Sea Turtle Books for Kids
1. I'll Follow the Moon
Stephanie Lisa Tara's award-winning I'll Follow the Moon is the story of a baby sea turtle as he assures his mama that he's on his way to find her.

Also, if you love I'll Follow the Moon, you'll want to consider Stephanie Lisa Tara's Turtle Book. It's a newer release, but it's a follow up book that shares lots of sea turtle photos, species information, and conservation efforts.
2. One Tiny Turtle
Nicola Davies' One Tiny Turtle is a great read if you're looking to realistically explore the life cycle of a sea turtle. Unlike many other children's books about sea turtles, this one also shares the challenges sea turtles face after they hatch, but doesn't have the expected happy ending.

Keep in mind that it's *not* a fictional picture book. Because of that, this book ends with only one surviving turtle, — hence the title — and may not be a good fit for sensitive readers.
3. Into the Sea
Into the Sea is a good option for sharing the challenges sea turtles face during their life cycle. This one has considerably more text than the other picture books on this list, making it ideal for middle and older elementary kids.
4. Follow the Moon Home
Follow the Moon Home is a great book to read if you'd like to focus on sea turtles and conservation. It tells the story of a class working together to protect the loggerhead turtles in their South Carolina beach town.

Also worth noting, author Phillippe Cousteau includes lots of tips and additional resources for anyone who wants to learn more about sea turtle tracking and conservation efforts.
5. Sea Turtles
Gail Gibbons' Sea Turtles is a great nonfiction resource for learning about sea turtles. In addition to explaining the life cycle, it also explains the difference between sea turtles and other turtles, as well as identifying the different types of sea turtles.
Please note that it does mention "the first sea turtles lived about 200 million years ago." You may want to omit that reference or use it as a talking point if you're teaching from a biblical perspective.

6. On Kiki's Reef
Most of these sea turtle books focus on the beginning and ending stages of life, but On Kiki's Reef is different because life in the ocean is the main part of this story.

It also includes a detailed listing of the other marine life mentioned in the story, which makes it a great reading option if you're studying ocean life with your kids.
7. Turtle, Turtle, Watch Out!
Another sea turtle book that focuses on the dangers sea turtles face, Turtle, Turtle, Watch Out! also shows the ways we can help with conservation and increase awareness of our environmental impact.
8. Poky, the Turtle Patrol
This one's another great option for helping younger kids understand a sea turtle's journey to the water. Also worth noting, the watercolor illustrations make this a truly lovely book to add to your marine life reading pile. 🙂
9. Sea Turtles
Looking for more nonfiction sea turtle books? At 132 pages, Sea Turtles : an Extraordinary Natural History of Some Uncommon Turtles features beautiful photography and in-depth coverage on sea turtle anatomy, life cycles and life spans, and the different types of sea turtles.
If you can't find this one, but want something similar, consider Our Amazing World's Sea Turtles or Nat Geo's Sea Turtles reader. Both are full of vivid photos and information and will be great for learners looking to learn anything and everything about sea turtles.
10. Turtle Tide
This one's another good option if you're specifically looking for picture books about sea turtles. It's got beautiful illustrations and does a great job explaining the dangers sea turtles face after they hatch.
11. Sea Turtle Scientist
Sea Turtle Scientist is a great look at what it's like to work with sea turtles. It's got lots of photos and shines the spotlight on Dr. Kimberly Stewart, Turtle Lady of St. Kitts, and her efforts to study and protect endangered sea turtles.

Because of the details and format of this one, I recommend this one for older elementary and middle schoolers or reading this one with younger learners a little at a time.
12. Baby Honu's Incredible Journey
This one's a little different from the others in this list of sea turtle books because it's written from the perspective of Baby Honu, a Pacific green sea turtle, and allows readers to follow along as he faces the challenges, danger, and beauty of the ocean.

Also worth considering, this first person, adventure-seeking perspective might make it a little easier for sensitive kiddos to learn about the predators sea turtles face as they journey to sea.
13. Turtle Watch
Saviour Pirotta's Turtle Watch tells the story of a wise man, his sea turtle friends, how he prepares the beach for them, and waits for them to return in nesting season.
14. Turtle in the Sea
Jim Arnosky's Turtle in the Sea shares the story of a mama sea turtle, her journey to a nesting spot, and her life after she leaves the nest behind and returns to the sea.
15. Little Turtle and the Song of the Sea
This gorgeous picture book shares the story of a baby sea turtle and the lyrical voice that guides her to the safety of the seas.
---
What about you? Do you have any favorite children's books about sea turtles? If so, share them with us in the comments so we can learn more!