I would've never dreamed a Kindle Fire could be such a useful tool for homeschooling preschool, but it is!  

Thanks to the great selection of Kindle apps for preschoolers, the Kindle Fire has turned into one of our favorite day-to-day resources in our homeschool. Some of these great apps make video streaming quick and easy and some of them are simply wonderful tools to reinforce preschool concepts such as letters and numbers.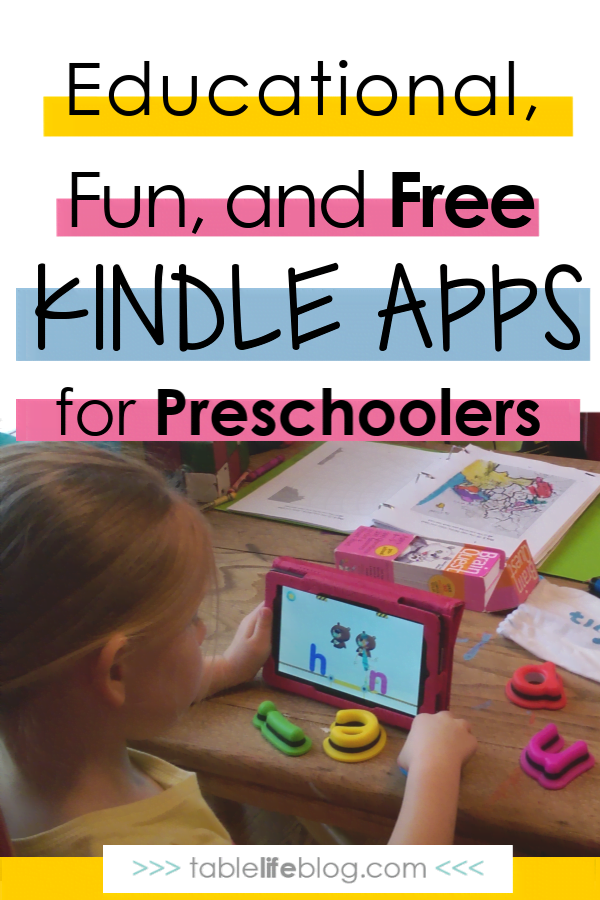 (This post contains affiliate links; please see disclosure here.)
It probably goes without saying that having a Kindle Fire is necessary to enjoy these great Kindle apps for preschoolers.  

Luckily Amazon has several Fire models available and you can spend as much on these or as little as you want.  (Can you believe there's a Kindle Fire for less than $50? That's the one my kids have. We're not fans of giving young children expensive electronics.  To each his own, right?)
Favorite Free Kindle Apps for Preschoolers
Note: while I originally wrote this in 2016, these app recommendations are current as of March 2020.
1. Starfall
Starfall.com was a great preschool resource for us when The Boy was younger.  When I found it in the Kindle App Store, I knew it was one we had to try in this format too.  

While all of Starfall's offerings aren't free through the app, there are enough free games and activities available to make this a good one to keep downloaded.
2. Nick Jr.
Do you have a Nick Jr. fan? If so, you'll want to download this fun Nick Jr. app and sign in with your TV provider. You can access a few games and shows for free without that information, but you'll get the most from this app with that login.
3. PBS Kids Video
I'm a big believer in using television viewing wisely, but not so much a believer in brainless entertainment.  If my kids are going to be watching something, it needs to be something that teaches them or inspires them.  
This PBS Kids app is one of our favorites (even for my 9 year old!) because we can be intentional with our viewing wherever we go.  All of the great PBS Kids shows are just a tap away!
4. PBS Kids Games
Your PBS fan will also want to have the Games app on hand along with the PBS Kids Video app. This one has lots of fun and educational games for all of your kiddo's favorite PBS shows. This is Kindle app for preschoolers you don't want to pass up!
5. Highlights Shapes
The Highlights Shapes app is a fun way to familiarize your preschooler with shapes and colors, while also encouraging critical thinking and problem solving.
6. Alphabet Preschool
Alphabet Preschool is probably the preschool Kindle app we've had the longest, but it's one we continue to go back to, especially for homeschooling purposes.  I use this app to reinforce Prissy's letter focus each week and give her additional practice tracing and writing the alphabet.
7. Drawing for Kids
This isn't necessarily super educational, but having a drawing app is lots of fun.  Drawing for Kids has limitless opportunities for creativity and is a favorite for both of my kids (not just my preschooler).  
8. Letter Sounds A – Z 
This is a great Kindle freebie from All About Learning Press and its designed for use with their pre-reading curriculum.  With that said, we're not currently using that curriculum, but still use this app frequently.  
It's a great tool for preschoolers because it provides clear enunciation of each letter sound with a very basic, user-friendly display.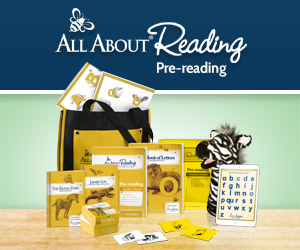 9.  Phonogram Sounds
This one is similar to All About Learning's Letter Sounds A – Z app, but focuses on letter combinations instead of individual letter sounds.  
While it's useful on it's own and a great Kindle app for preschoolers, it's even more beneficial to those using All About Spelling or All About Reading since it's designed to support those two programs.
10. Learning Letters
My daughter loved Fisher Price's Learning Letters game when she was younger. It introduces letters and numbers with familiar Fisher Price characters and animation.
---
Looking for more help with preschool?
You can find my best suggestions for homeschooling preschool in my Ultimate Guide to Preschool at Home.

In it, you'll find curriculum suggestions, hands-on learning, ideas, and more.
What are your favorite preschool apps for Kindle users?  I'd love to check out your suggestions!