Planning to study the life and art of master artist Pablo Picasso in your homeschool? Today I'm sharing my favorite books, activities, and other resources for a Picasso unit study.
*Post contains affiliate links and I received complimentary access to Masterpiece Society Art Appreciation and Mixing with the Masters for review purposes. See disclosure for details.
Pablo Picasso is one of my big kid's favorite artists, so we've spent lots of time studying his work in our homeschool over the years.
Most recently we've spent time studying Picasso using resources from Masterpiece Society, but we also accumulated a great list of resources for a Picasso unit study in past years. Today, I'm compiling all of those resources here for you in hopes it will make it easier for you to plan your study and learn about this master artist with your kids.
Studying Pablo Picasso
with Masterpiece Society
We used the Picasso unit from Masterpiece Society Homeschool Art Appreciation as the foundation of our most recent Picasso study.
This 56-page unit is an incredible way to study Picasso in a homeschool setting. It includes a biography, fun facts, quotes for copywork, and notebooking pages. It also focuses on cubism, specific art terms, and three of Picasso's most famous pieces.
Since my kiddos love a chance to get hands-on with art, we also included the Picasso workshop from Mixing with the Masters in our recent unit study. This gave them the chance to review what they learned about Picasso, but also to recreate some of his famous work.
The photo above features their oil pastel recreations of Picasso's Woman with Cap and the photo below features my little one working on her watercolor painting of Woman with Yellow Hair. These were their favorite projects from the Mixing with the Masters unit on Picasso.
If you'd like to learn more about these Masterpiece Society courses, check out my reviews for Homeschool Art Appreciation (Pin it for later) and Mixing with the Masters (Pin it for later).
Also worth noting, these Picasso units are available for purchase individually in the art appreciation course and the Mixing with the Masters course. We've thoroughly enjoyed our time working through the complete courses and highly recommend both, but it's nice to know there's an option to purchase specific units if needed.
Other Picasso Unit Study Resources
Before Masterpiece Society came along, I had to spend lots of time rounding up my own resources for homeschool artist study. That's where these other Picasso unit study resources came into the picture. They helped us learn about Picasso at home on our own and within a co-op setting.
Pablo Picasso Unit Study: What to Read
One great place to start preparing for your unit study is PabloPicasso.org. There's lots to explore on this site, but you'll want to sift through and decide what to share with your children.
There are also plenty of good reading options to go along with your Picasso study. Some of my favorites are Who Was Pablo Picasso?, Picasso and the Girl with a Ponytail, and 100 Pablo Picassos. See my Picasso book list for more great choices.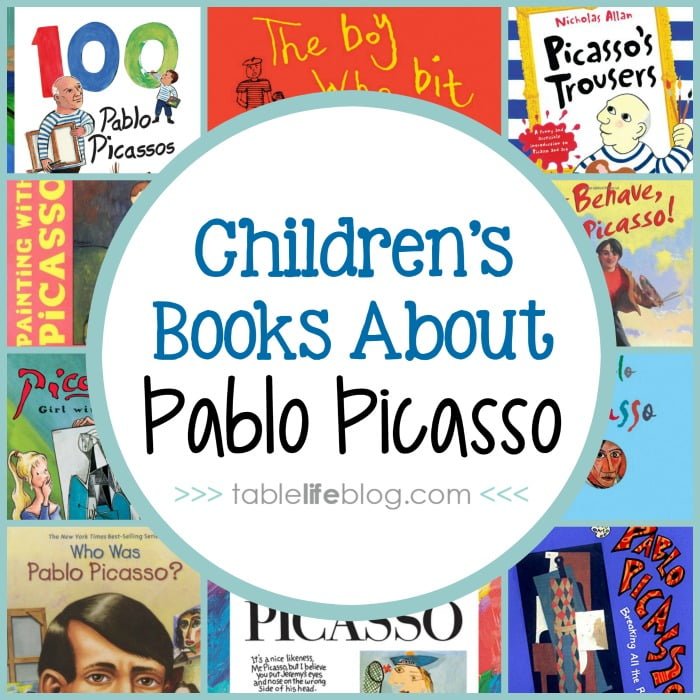 As far as more online reading, I recommend the Picasso biography from Making Art Fun. It includes a printable PDF bio, food art activity, watercolor project, coloring pages, and worksheets. It's a great option if you don't want to piece together your own study or work through a longer study.
Similarly, Ducksters' Picasso biography is made just for kids and emphasizes the significance of Picasso's art contributions.
Pablo Picasso-inspired Art Projects
We've also enjoyed several Picasso-inspired art projects through the years. Here are a few of our favorites.
Marker Cubism Face – This is a great no-fuss Picasso art project. It's especially nice if you're short on time or are working with younger kids. How to Draw a Cubist Portrait is another good option for this type of Picasso project.
Three Musicians Watercolor – This project from Making Art Fun includes a printable with instructions.
Picasso Blue Portrait – We did this with our co-op a couple of years ago and loved how these projects turned out. Also, it includes a nice printable with all of the steps.
Tribal Mask Project – These cool projects focus on Picasso's pottery work. (Note: you must be an education.com member to access the project instructions, but the membership is free.)
More Picasso Resources
In addition to reading suggestions and art ideas, here are a few other options to help you round out your Picasso unit study.
Notebooking Pages – You can find specific Picasso pages to help document your study in the Famous Artist and Picture Study Set from Notebooking Pages. The general artist study pages from Notebooking Fairy are free and would also serve this purpose.
Amazon's Creative Galaxy (Season 1, Episode 10) would be a great way to introduce younger kids to Pablo Picasso. His fearless approach to art comes up and shows us that art doesn't have to look like real life to be special. (Click here to add it to your Amazon watch list)
Roll A Picasso Art Game – This looks likes a fun addition to a Picasso unit study! In a nutshell, the game uses dice to instruct players on how to draw a cubism-inspired face.
Famous Artists Gallery – You can view ten works from Picasso through this online gallery.
---
Do you have Picasso unit study resources you would add to our list? If so, share them with us in the comments below. We would love to check into them!

If you're looking for more help with homeschool art, be sure to check out these other posts.