For the longest time, nature study was one of those things in our homeschool that I knew we should be doing. The problem was I really didn't know where to begin. I felt completely inept, unprepared, and honestly, a bit like Shelly Long's character in Troop Beverly Hills, minus the wealth.
Can you relate? Are you wondering how to get started with nature study? If so, I've got good news for you: we're talking nature study for beginners and sharing a bunch of great resources to help you get outside and get started.
*Post contains affiliate links; see disclosure for details.*
I've come a long way when it comes to nature study. Sure, I'd still take a hotel over camping any day, but I'm learning to love nature study. In fact, it's a regular part of our homeschool life and I wouldn't change that for anything!
If you're not there yet, no worries. Here are my favorite ideas and resources for getting started with nature study.
Nature Study for Beginners
When it comes to the actual act of studying nature, remember not to make it harder than it has to be. Attention and observation are the only true requirements; both will make a huge difference with the following nature study ideas.
1. Take a walk in the same place every day or a few times each week and pay attention. Observe how the location changes through the seasons and with the weather.
2. Start by learning about the plants and animals in your own backyard. This is possible pretty much everywhere, even if you're like us and don't really have a backyard.
3. Do themed nature walks. See Our Journey Westward's 100+ Creative Nature Walks for inspiration.
4. Collect flowers, press them, and keep on display or in a journal.
5. Use flowers and/or leaves for DIY nature art. Take this one step further by repeating the project each season and display in a group for comparison.
6. Make a phenology wheel and use it to record what you see from month to month. You can make your own or buy this guide from Raising Little Shoots to get started.
7. Enjoy a nature-themed scavenger hunt. These are great for encouraging observation skills and can be tons of fun. Need some inspiration? Check out my alphabet scavenger hunt, my nature hunt in the city, and my beach hunt. All are nature-themed and come with printable lists. 🙂
8. Follow the Nature Book Club. This is a monthly linkup with great nature-related activities for kids. With a different theme each month and a diverse group of bloggers hosting the club, you'll find lots of nature study inspiration for each topic. You can find my Nature Book Club posts here and follow #naturebookclub on Instagram.
9. Take pictures of anything you notice. Then check nature apps like PictureThis to classify plants or Merlin Bird ID to identify birds you encounter. Use that information to document in your nature journal or inspire more investigation.
10. Become familiar with the trees, plants, and animals in your local parks.
11. Plant something. A garden is great way to observe nature, but if the thought of that seems overwhelming, start with an indoor herb garden with the help of a starter kit.
You can also choose a single pack of seeds from your local home and garden store and go from there. Planting, nurturing, and observing one single plant will go a long way with nature study!
Nature Study Tools to Have On-Hand
Getting started with nature study will be a lot easier if you have access to the right tools. Here are the ones that go a long way whether you're a beginner, nature study veteran, or somewhere in between.
12. Nature journals – Journals are the perfect way to document your observations and encounters. While they can be elaborate and artsy, they certainly don't have to be. It's all up to you. I personally use this nature walk journal; it's simple, but it's easy to carry along and gives plenty of room to draw and write. 

Mine will work well for any age, but if you're looking for one that's designed specifically for kids, you may like this worksheet-style version my kids use.
13. Pencils, pens, and watercolors – It probably goes without saying that writing utensils go hand in hand with those nature journals. Pencils and pens are fine, but watercolors are especially nice for nature journaling. Look for watercolor sets that travel well so that you and your kiddos can use them while you're out.
Watercolor pencils are also a good option for nature journaling. They're easy to carry along, but they can be used to sketch in the field and allow the water application to wait until you're home.
14. Field guides – The best field guides will depend on your location, but it's a good idea to have a few with you when you're out. Look for small guides that are easy to carry like this Field Guide to Birds and this pamphlet-style foldable trees and wildflower guide. (These two examples are specific to my region; be sure to look for a similar version for your area.)
15. Notebooking pages – These are a great alternative to nature journals, especially if you're hesitant to use a bound book. There are several topical options and all are great for recording your nature observations.
Nature Study Books
Naturally I'm going to suggest digging into books when it comes to nature study for beginners. Books are great for referencing, exploring, and learning more at a comfortable pace. They also come to the rescue on days with yucky weather.
That said, there are lots of wonderful nature books around, but these are all especially helpful for anyone who's new to nature study.
16. Handbook of Nature Study – While it's a clunky book to take along while you're out exploring, it's a fantastic reference book to have at home.
17. The Nature Connection – This is a workbook and nature guide that comes together to train your kids to study nature through the seasons. This was a fantastic purchase for us and it's one I can't recommend enough!
18. Nature Anatomy – Beautifully illustrated and incredibly thorough, this beautiful book by Julia Rothman is one you'll turn to over and over again. I can't say this about every nature study book I've come across, but this one is absolutely worth owning.
19. The Curious Nature Guide – This is a book full of nature prompts to help you learn to see what's happening in nature.
20. Outside Your Window: A First Book of Nature – We love this book. It's a seasonal look at nature and combines beautiful illustrations with facts and poems about the natural offerings of each season. 

21. Botanicum – This is a stunning book to have on hand and it's all about plant life. It's full of incredible illustrations and is guaranteed to spark curiosity. Also worth noting, there's a Botanicum Activity Book, and poster book that nicely round out the collection.
22. Animalium – Similar in premise to Botanicum, this title is equally stunning, but focuses on the animal kingdom. It also has a matching activity book, coloring book, and poster collection.
23. Dianna Hutts Aston books – This collection of books is completely lovely. Not only are the illustrations incredible, each one opens up a world of nature and inspires wonder.
24. Drawn from Nature – We absolutely love this book! It's broken down by season and has tons of good information, but Helen Ahpornsiri's incredible art is what really makes this a standout book for nature study. All of illustrations were created from natural elements like ferns, flowers, and stems.

25. National Geographic's Book of Nature Poetry – This book combines the incredible photographs you expect from National Geographic with poetry about nature.
26. Fun With Nature – This is a great nature series for kids! It covers several nature topics and includes great information, illustrations, and activities. You can also enjoy More Fun With Nature and Fun With Nature through these smaller books. They're basically the same as the main titles, just split into different books that are easier to take along on your nature adventures.
27. The Burgess Bird Book Children – This wonderful living book is a great way to become acquainted with lots of bird species while enjoying a classic story in the process. It's the oldest title on my list, but it's one of our favorites and we've learned a ton through it.
Once you work through the bird book, be sure to move on to The Burgess Animal Book for Children and The Burgess Seashore Book for Children.
28. Keeping a Nature Journal – Like the idea of nature journaling, but don't quite understand how to help your kids dive in? This one is a huge help!
Other Fun Nature Study Ideas
29. Bug watching kits – Look for kits with safe bug collection tools and carriers with magnified viewing windows. These are great for observation and nature journaling. You can usually find versions of these at dollar stores or places like Walmart and Target, but this 7-piece kit is a great option from Amazon.
30. NaturExplorer studies – These topical studies are ideal for getting started, especially if you prefer an open-and-go approach to nature study. They provide guidance and background info for the specific topic, while also including notebooking pages, nature walk ideas, hands-on ideas, and lesson adaptations for various ages.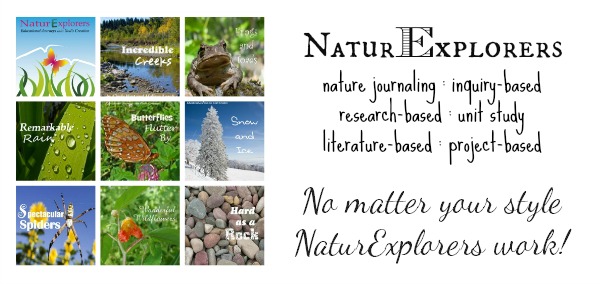 31. InsectLore Kits – We've done this before and loved it! These are great for observing nature inside your home. You can choose from butterfly gardens and ladybug kits. The general idea is that the kits allow you to set up a habitat, raise the insects, observe, and then release into nature upon metamorphosis.
32. Magic School Bus Nature Science Kit – This nature study kit is ideal if you'd like a project-based approach. It comes with an activity guide with instructions and explanations, as well as all necessary supplies outside of basic household items like vinegar and water. My kiddos especially liked the scavenger hunt, the eggshell experiment, and the DIY animal track casting projects from this kit.

33. Get artsy – Draw and paint your observations or use nature-themed chalk pastel lessons to add a fun hands-on element. This is also a great way to continue nature study on days with bad weather or other constraints that make it difficult to get outside.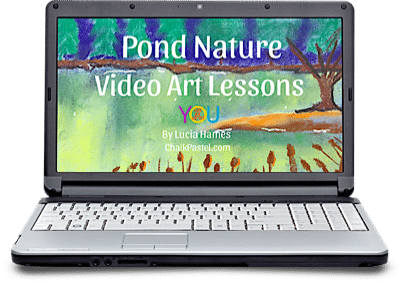 ---
In conclusion, be encouraged! Nature study doesn't have to be fussy or complicated and you don't have to be incredibly knowledgeable about any specific nature topics. It's just a matter of deciding you want to do it with your kids and taking the first step with them.
It's your turn now. What are your thoughts on nature study for beginners? What suggestions do you have for getting started?