Looking for fun gift ideas for your nature lover? Today I'm sharing nature-inspired gifts that will help your kiddo explore and continue to enjoy nature.
*Post contains affiliate links; see disclosure for details
What's even better is that these nature gifts are a great way to encourage kids who haven't quite fallen for nature to get outside and explore. Let's take a look, shall we?
Nature Gifts for Kids
1. Nature Exploration Gear
Exploration gear is a great place to start when you're shopping for nature gifts. Field tools, binoculars, and a magnifying glass are some of my favorite suggestions because they're fairly inexpensive, but they're incredibly useful for spending time in nature. Add a cargo vest to help carry them around while exploring and you're good to go!
2. Nature Journaling Supplies
My kiddos and I love nature journaling so I can confidently say that journaling supplies make great nature-themed gifts. I personally love my Nature Walk Journal because it has reference pages and plenty of room for actual journaling.
This Kids Nature Log is another good nature journal option. My kiddos both have one of these and they provide a bit more guidance on what to record or draw. Also worth noting, something like a tree diary might be a better fit for a nature lover who has specific interests.
3. Bug Catching and Observation Tools
Bug catching and observation tools can be tons of fun if you've got a kiddo who loves creepy-crawlies. Standard bug collecting tools are great to have on hand, but there are a few good options for observation.
Pop Up Habitats and an easy-to-carry Critter Shack are good options for outdoor observation, but I also like Nancy B's Bug Discovery Lab. Each container from that set serves a different purpose and provides unique observation opportunities.
4. Nature Games
Nature-themed games can be a fun way to keep your nature lover learning while having fun with family or friends. Bingo games are a fun choice for indoor nature games, but a scavenger hunt kit is a perfect way to enjoy nature games while spending time in outside.
5. Nature Books
Not surprisingly, books about nature make wonderful gifts for nature-loving kids. Fun with Nature: Take Along Guide and Anna Comstock's Handbook of Nature Study are great to help with identification and information while a workbook like The Nature Connection is a fantastic option for guiding kids through nature study.
6. Grow Your Own Kits
DIY Kits make wonderful nature-themed gifts because they often give kids a wonderful hands-on opportunity that they may not have otherwise. From raising butterflies or lady bugs to creating a terrarium, these are the kinds of gifts that continue giving long after the boxes are opened.
7. Nature-related Arts and Crafts
Speaking of gifts that continue giving, gifts that encourage creativity are a fun way to celebrate nature or to create new moments for observation. For example, flower presses and watercolor field kits are helpful for including beautiful nature finds in journals or cards while a bird feeder kit provides an opportunity to connect with nature and continue to observe.
8. Nature-related Science Kits
Nature-related science kits are a great option for nature gifts because they're essentially one-stop-shopping. Whether your kiddo is obsessed with weather or gardening, a science kit can provide tons of hands-on opportunities to explore nature.
9. Think Outside Subscription
Looking for a subscription box approach to nature gifts? Your nature lover will be super excited to receive a Think Outside box in the mail each month! These boxes come with an activity book and 3-5 items that are perfect for nature exploration.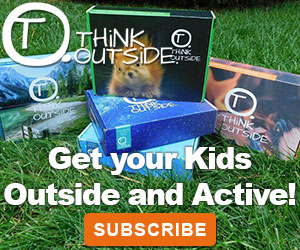 ---
Looking for more gift ideas for your kiddos? Check out these posts:
Looking for more fun gift ideas? Stop by iHomeschool Network's Christmas Gift Guide and see all the great suggestions.