Are you planning to study the Middle Ages in your homeschool? If so, you're in the right place. I've got a fantastic Medieval England Unit Study to share with you today.
*I received a free copy of Time Capsule: Medieval England for review.
Post contains affiliate links; see disclosure for details.*
My kiddos and I love exploring history in our homeschool time together. Better yet, we love finding resources that help us go beyond the surface and immerse ourselves in the culture, political climate, and day-to-day life of the time period we're covering.

That's exactly what we've found in Time Capsule: Medieval England. We're loving this chance to view the Middle Ages through the lens of those who lived it first-hand and I know you will too.  
Time Capsule: Medieval England
Unit Study Review
I'll be the first to admit that I haven't always thought of homeschool curriculum when I thought of my friend Michelle from Homeschool-Your-Boys.com, but I've been wrong about that.

While Michelle is well loved in the homeschooling community for her homeschool and parenting wisdom, it turns out that she's also the author of Time Capsule: Medieval England, a comprehensive unit study that steps back into the days of the Middle Ages.
Time Capsule: Medieval England Overview
This is my first time working with a unit study like Time Capsule: Medieval England. In the past, my kids and I approached unit studies like an extension of an area we're covering or as a way to work in a quick study of something not covered elsewhere in our homeschool materials.

Time Capsule: Medieval England opened a whole new world of unit studies for us. It's written with 2nd – 8th grades in mind and is designed to be done in a 12-week period. That said, it can be adjusted for other ages and can be spread out over a longer time period if needed.
"The goal of this curriculum is not to learn every fact possible about this time period. Instead, the Time Capsule lessons are bursting with hands-on projects to enable you and your children to not only hear about the medieval times, but also to see, hear, taste, and touch what it would have been like to have lived during this unique time period." – Michelle Caskey
All of that happens by experiencing medieval England through the following subjects:
Language arts (reading, writing, and literature)

Math

Science

Social studies

Arts (music, art appreciation, arts and crafts, photography, and drama)

Logic

History and geography
Our Experience with Time Capsule:
Medieval England Unit Study
As far as our personal experience with Time Capsule: Medieval England, I still can't get over the thoroughness. I've literally got 350 pages of discussion points, activities, games, and instruction to help me bring medieval England to life for my kids.

They're happy enough to learn through read-alouds and discussion, but the chance to add games, creative elements, and research (that one's especially fun for my big kid!) has made this unit study better than I ever dreamed.
This variety is especially nice since my kids are five years apart and enjoy lots of different learning opportunities. I definitely don't have a one-size-fits-all scenario in my homeschool and Time Capsule: Medieval England covers all my bases!
We've had lots of busy days this summer so we're just now finishing the section that focuses on life as a peasant, but we're excited about experiencing the Middle Ages through the eyes of the tradesmen, knights, monks and nuns, barons, and royals in the coming weeks. 
Where to Find This Medieval England Unit Study
I've got great news for you if you're ready to learn more about Time Capsule: Medieval England. You can find it over on Amazon and the best part is that it's available in print and Kindle editions.
Time Capsule: Medieval England
This complete unit study is available in print and Kindle editions on Amazon. You can even see a sample through the button below!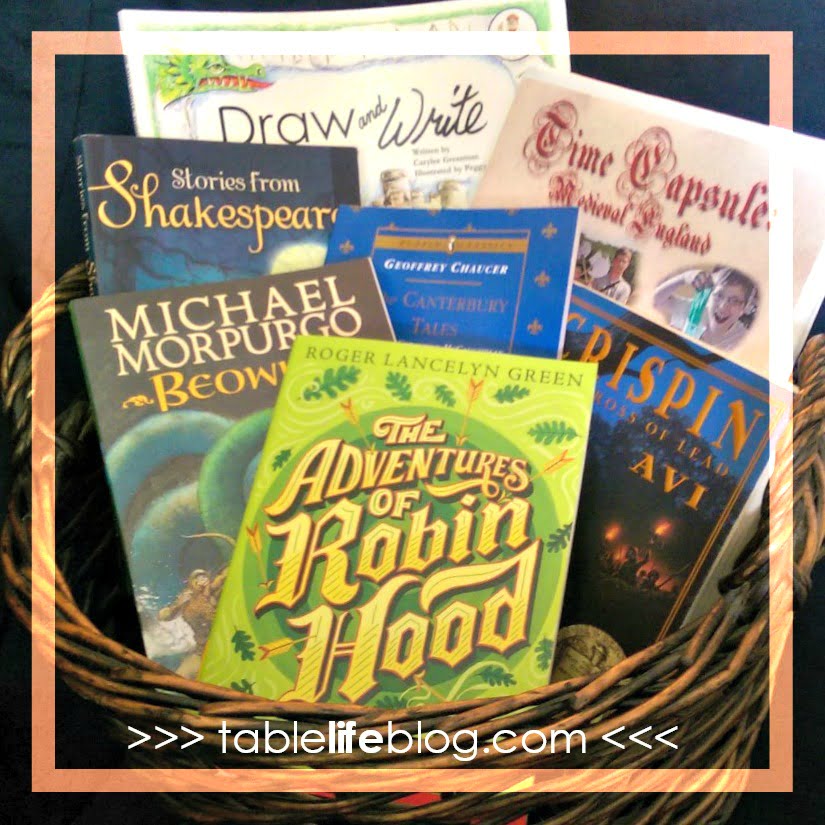 I also want to encourage you to
visit Michelle over at Homeschool Your Boys
and follow her on your favorite social media platforms. You can find her through the links below:
---
This post is linked with iHomeschool Network's Back to Homeschool Gift Basket Giveaways. My giveaway has ended, but you're welcome to check out the other baskets by clicking the image below!