Are you planning to study the life and work of Mary Cassatt with your children? Good news: we've been studying the American painter in our homeschool and today I'm sharing a list of children's books about Mary Cassatt books to help you learn.
*Post contains affiliate links; see disclosure for details.*
Some of these books about Mary Cassatt are ideal for younger children and some are better for older kids who can handle more details. Also, some feature reproductions of Cassatt's work, while some highlight her story through illustrations that are unique to that particular title. Regardless of what you're looking for, you'll find something here to help you as you study Mary Cassatt in your homeschool.

Children's Books About Mary Cassatt
1. Mary Cassatt
Mary Cassatt from Mike Venezia's Getting to Know the World's Greatest Artists series is a great place to start if you're studying Mary Cassatt with kids. It includes reproductions of Cassatt's work, fun illustrations, timelines, and biographical information on Cassatt.
2. Mary Cassatt: Extraordinary Impressionist Painter
Barbara Herkert's Mary Cassatt is another great reading choice for studying Mary Cassatt with your children. It's a colorful, picture book presentation about Mary Cassatt and, with minimal text in each spread, it's ideal for younger learners.
3. Mary Cassatt: Portrait of an American Impressionist
I like Tom Streissguth's Mary Cassatt for older kids. This biography is around a hundred pages long and includes illustrations, photos of Cassatt, and reproductions of her work.
4. Suzette and the Puppy
Joan Sweeney's Suzette and the Puppy is a charming picture book to read while learning about Mary Cassatt. It tells how Little Girl in the Blue Armchair came to be and includes suggested discussion points at the end.
5. Mary Cassatt: Family Pictures
I always love to include books from the Smart About Art series when we're learning about a new artist because they're written from the perspective of a kid. In Mary Cassatt: Family Pictures, readers learn about Cassatt through a class report. That means it's an easy read and includes the kinds of facts and points that particularly appeal to children.
6. A Child's Book of Lullabies
This title isn't necessarily a children's book about Mary Cassatt, but it's a lovely way to introduce your children to her work. A Child's Book of Lullabies features music and lyrics for 14 lullabies and pairs them with Cassatt's paintings of mothers and children. While it doesn't include much information about Cassatt, there's a detailed timeline of her life and career at the end of the book.
7. Baby Loves
Another wonderful way to introduce Mary Cassatt, Baby Loves from the Metropolitan Museum of Art features 16 full-page reproductions of Cassatt's work. Also, each spread includes only a couple of words, making this book an ideal choice for a child who doesn't do well with lengthy descriptions.
8. Quiet Time with Cassatt
Got little ones? No worries, you can still introduce them to Mary Cassatt with Quiet Time with Cassatt. This board book from from the Mini Masters series combines lovely pieces from Cassatt with short, rhyming text to make a perfect reading choice for your littlest learner.
9. The Life and Work of Mary Cassatt
The Life and Work of Mary Cassatt is a good compromise if you're looking for a children's book about Mary Cassatt that isn't too long, but still includes examples of Cassatt's work along with a timeline, glossary, and listing of where Cassatt's paintings can be found.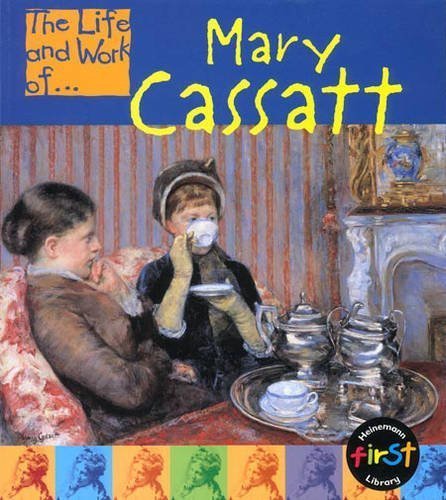 10. First Impressions: Mary Cassatt
First Impressions: Mary Cassatt is another good biography option for learning about Cassatt. It provides information on Cassatt's formative years, but focuses on her life after moving Paris and includes illustrations and reproductions of Cassatt's work.
---
Looking for more reading suggestions to help you study the world's greatest artists? Here are some you'll want to check out: