If you're looking into high school science plans for your homeschooled teen, you know that it can be tough to find solid options that cover life sciences from a creationist perspective. That's where this Life Prep Biology class can help!

It brings quality science instruction and the Christian worldview together in an online course that's designed to engage students while also giving them a strong life science foundation. Sounds great, right?
*This is a sponsored post and I was compensated for my time writing it. I received free access to College Prep Science's Life Prep Biology course, but I was not required to write a positive review. Also, this post contains affiliate links; you can see my full disclosure for details.*
You may remember me mentioning College Prep Science when I shared how to know if you should outsource high school subjects. More recently I mentioned College Prep Science when I talked about how my teen is tackling high school chemistry labs from home. Those science lab options have definitely made things easier for us in the upper grades, so I suspected we would have the same kind of experience with their Life Prep Biology course. 

It turns out that I was right about the course, but before I get into what we've learned thus far, here's a quick overview for you.
Review: Life Prep Biology with College Prep Science
College Prep Science offers online college prep courses for chemistry, human anatomy and physiology, biology, and more. In addition to those college prep courses, there are several life prep options available. That's where our Life Prep Biology course enters the picture.
Like other College Prep Science courses, this biology class is taught by former college professor and homeschool father Greg Landry. So, not only do students receive quality science instruction, they receive it from someone who understands homeschooling and supports this approach to education.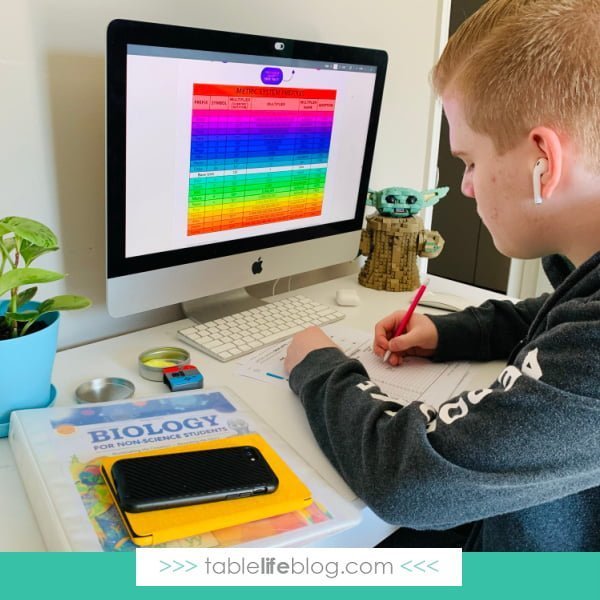 Along with an emphasis on critical thinking, research, and reason, the class covers the following biology topics:
Basic biochemistry
Human genetics
Human anatomy and physiology
Cellular respiration and photosynthesis
DNA and RNA
Ecology
Human anatomy, physiology, and lots more!

The class itself meets once a week for two semesters and is designed with students in grades 8-12 in mind. Also, while students are encouraged to attend the live classes when possible, recordings are available for those who can't attend the weekly live class.
Biology from a Christian Perspective
I mentioned earlier that this class stands out from lots of high school biology options because science and Christianity exist together in this course.
I believe we should think critically, deeply, creatively, and biblically." God is glorified as we explore His Creation in depth… illuminating His creation – revealing His glory!

Professor Greg Landry
By approaching biology this way in the high school years, students learn that science and Christianity aren't mutually exclusive, and instead how they're divinely connected.
Why Choose College Prep Science's Life Prep Biology Course? 
There are plenty of reasons to add this Life Prep Biology course to your homeschool plans for high school, but these three stand out for us.
1. It's ideal for students who *don't* love science.
College Prep Science's Life Prep Biology course is ideal for two types of students: teens who don't plan to be science majors and for those who don't plan to attend college after high school graduation.

Better yet, these life science classes appeal to students who aren't especially enamored with science. This means they learn what they need to know without the overwhelm that often comes with science on the high school level.
It gives students a firm foundation and basic understanding of the biological world that surrounds us. It prepares them for life – to move into adulthood with a keen understanding and appreciation of God's magnificent creation! It is a standard high school level Biology course and taught from a Christian worldview – just not at the level of rigor of our college-prep course.

College Prep Science
This is super helpful for us because my son plans to go into creative writing. Studying science is still beneficial to him, but it's definitely not his primary focus!
2. There's more to it than online lectures.
This biology class is a standout among the other homeschool science options because it's a great mix of online learning, reading, notetaking, and assignments. That mix is perfect for easing homeschooled students into the types of learning they can expect in college.
This combination of approaches is my son's favorite thing about the course. He likes being able to watch the lectures, work through the assignments, read from the assigned text In Six Days, and do experiments in the virtual biology lab. This breaks up the content and reinforces what he's learning in the class.
Did you snag these *free* science goodies?
College Prep Science has an awesome list of free science offerings waiting for you. Take a look at them through the button below!
3. Students receive invaluable support.
Lastly, this College Prep Science biology course stands out because, while the instruction happens online, students aren't left to figure it out for themselves. If they have questions or concerns, they know Professor Landry is a message away.

Also worth noting, he goes above and beyond to communicate and help when help is needed. I have been blown away by how gracious and helpful he is when my son and I have reached out with questions about the class.
Learn More About Life Prep Biology
Visit College Prep Science to learn more about Life Prep Biology, see available dates, and register for the course. While you're there, be sure to check out the other course offerings and even test drive the virtual science labs.
In closing, I happily recommend this biology course for anyone homeschooling high school. If you want stellar science instruction taught from a Christian perspective, this is the perfect fit!