Let's face it, we all have good intentions when it comes to incorporating holidays into our homeschool plans. Since those good intentions don't always become a reality, it's good to have a stash of no-prep needed, last-minute homeschool Christmas ideas.
(Post contains affiliate links; see disclosure for details.)
Whether you're homeschooling through Christmas or taking a break, some last-minute homeschool Christmas ideas can save the day in a busy holiday season. Not only can these ideas can add some normalcy to a crazy time of year, they can also help us focus on why we celebrate. What's not to love about that combination?
Never got around to your #homeschool Christmas plans? Take a look at these last-minute ideas.
5 No-Prep Needed, Last-Minute
Homeschool Christmas Ideas
Here's a look at five of my favorite no-prep needed, last-minute homeschool Christmas ideas:
1. Christmas Around the World Unit Study
Want to explore Christmas Around the World with your kids, but don't have time to do the prep work? Good news: you can still make it happen… even if you're looking for a last-minute Christmas solution for your homeschool.
This packet from Homeschool Planet works with your existing Homeschool Planet subscription and gives you everything you need to research Christmas traditions from 14 countries. It even includes printables to help you record all you learn together.
Not sure you're up for a research-based project? No worries, the unit also includes all the links needed to complete the packet. That means you won't need to track down anything. Just log into your Homeschool Planet and

Need Christmas Around the World inspiration independent of Homeschool Planet? We've got 100 Ways to Study Christmas Around the World for you!
2. Christmas Pastel Art
We love Christmas art and we've done lots of it this year, but there's no doubt that all of our mixed media art takes time and planning.
If you don't have an abundance of time or time for planning, some Christmas pastel art may be a better match for you. After all, if you've got chalk pastels and construction paper, you've got everything needed to get started.
You can find some fantastic Christmas pastel tutorials on Hodgepodge or dig in to You ARE an Artist's Christmas-themed video lessons.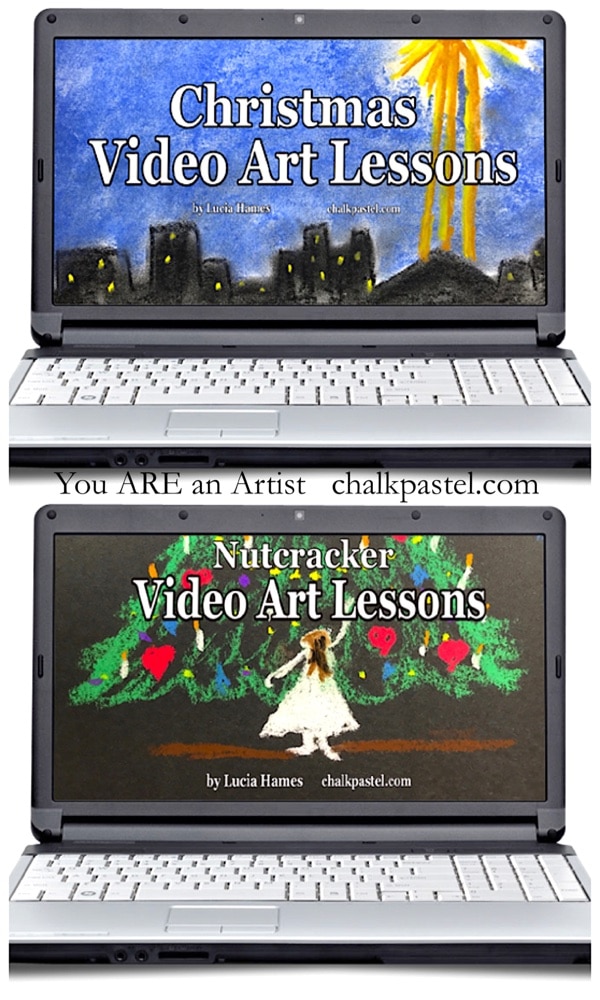 Either way, your kids will love these Christmas art projects and you'll love that you can do them with no advanced planning. You can literally say, "Let's do a project with pastels" and get started five minutes later! It's a beautiful thing. 😉
3. Music of Christmas
Music in Our Homeschool's Music of Christmas mini-course is another great no-prep homeschool holiday solution. It consists of six main lessons, but includes bonus lessons to use for alternates or if you have additional time.

Also, these lessons are only 15 minutes long, making them short, sweet, and easy to fit into your already full December days. Better yet, it's completely open-and-go with information, videos, printables, and a quiz to go along with each lesson.
4. Nature Study Through the Holidays
I love, love, love homeschool resources that are versatile, low-stress and cover more than one area. That's what's great about this Advent Nature Study. Since it can be done once a week or every day, it can even be used to, gasp, start an Advent study halfway through December.
If needed, combine some components from weeks one and two for the sake of catch up. Then use the rest of the time to savor this study. That may not be the recommended way to use it, but it's flexible enough to work that way.

If you add Nature Study Through the Holidays to your homeschool plans at the last minute and wonder how to get it all done, don't stress. It can take two Advent seasons to get through the nature study components. Choose what works for you now and save the rest for next year.
5. Christmas Copywork
If you don't have time for a unit study or adding extras to your normal homeschool routine, some Christmas copywork might be a better fit.
Copywork is easy to implement because it's print-and-go. Better yet, adding copywork to your homeschool plans knocks out handwriting, grammar, and language mechanics in one assignment.

Not quite sure how to get started? You can use scripture (Luke 2 is a good go-to), lyrics from favorite Christmas hymns or carols, or quotes from your favorite Christmas movies or books. There's really no right or wrong way to approach it!

Once you know what you want your kids to copy, grab a notebook or some free Christmas notebooking pages and let them start. It's that easy!
---
Hopefully something here will help you include Christmas in your homeschool plans this year.
Do you have some good last-minute homeschool Christmas ideas to share? I'd love to hear about them in the comments below!
Looking for more cool things to do at Christmas? You can also find awesome Christmas ideas for your homeschool over at Christmas in Your Homeschool from Rock Your Homeschool.