I love having a designated space for our homeschool, but our school space comes with challenges.  We're homeschooling with an open floor plan and we don't have the option to close the door and leave messes for another day.
(This post contains affiliate links; see disclosure for details.)
Instead, we have to deal with our homeschool messes day by day and mess by mess in order to keep them from inviting chaos into our calm.
Homeschooling with a kitchen/dining room combination
The dining room pulls double duty for many homeschool families, but it's not always an obvious fit if that dining room connects to the kitchen.  That's been the case in all of our homes and it comes with challenges.
In our last home, our kitchen and dining room were separated by a breakfast bar.  We had sliding glass doors to the left and a hallway and living room opening to the right.  That left us with one wall to use for homeschool storage and display.
The challenge of storage is fairly easy to address.  Through a few well-placed bookshelves behind the dining table, homeschool resources can be accessible, yet tucked away when not being used.   Keeping most of our hodgepodge-looking resources near the bottom shelves and keeping our top shelves cleanish helped prevent our open shelves from being an eyesore.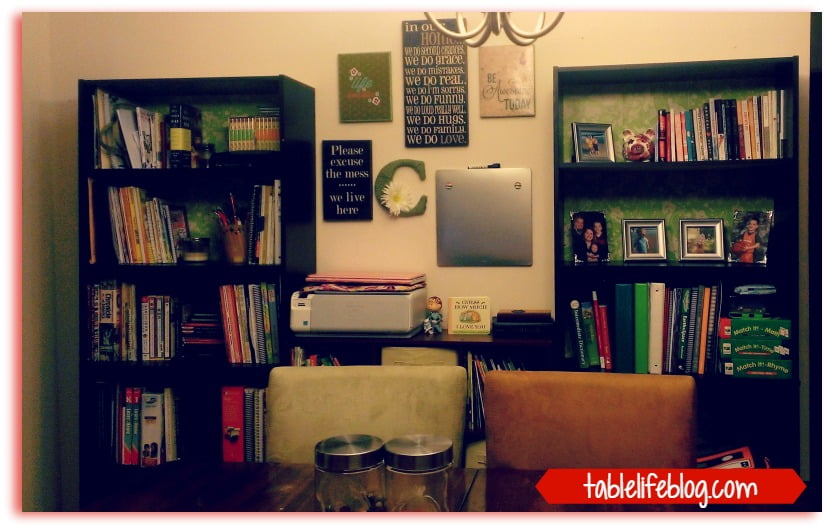 Another challenge with using your kitchen/dining room combination for homeschooling is choosing wall art carefully.  We found that it was best to only display items that we would use in the room even if it we weren't using it for multiple reasons.
If we wouldn't hang it in a homeschool room, it didn't make the cut in the schoolroom/dining room combo.  If we wouldn't hang it in our dining room, we left it out.  Respecting all the functions of our multipurpose area was the best way to resist the urge to turn our school space into a miniature classroom or a stuffy dining room.
Homeschooling when the schoolroom is open to everything
Though our dining room and homeschool no longer share the same space, the floor plan in this home is more open than the last.
Our designated schoolroom comes with its own challenges because it's open to four areas of our home.  In particular, our schoolroom is visible when someone enters our home and is responsible for first impressions.  It's also visible from the back entry, connected to the kitchen, and open to our dining room.
We still don't have a ton of wallspace for our homeschool room, but we've learned to make the most of it.  Our open floor plan only allows space for our school table and a few bookshelves.  Thankfully we've learned that's all we really need.
It's rarely spotless and Pinterest-perfect, but we know the importance of keeping it under control.  Here are some tips we've learned along the way.
Tips for Homeschooling with an Open Floor Plan
1. Don't let your school space become a catch-all!
Be disciplined about protecting your homeschool space.  It's easy to drop your belongings in your school area when walk in the house.  It's even tempting to think of it as a Harry Potter-style room of requirement, especially since it's not being used for homeschool every moment of the day.
Allowing the school area to be a catch-all is a terrible idea for a couple of reasons.  The first is that nothing is actually put away — the problem is left unsolved and exposed.  It's best to put things where they belong from the start rather than putting it off until tomorrow or the next day.  Otherwise the clutter will grow and take over.
The second is that it's hard to focus when the space becomes a catch-all.  We don't keep a spotless home, but there's no peace when clutter abounds.  We simply can't thrive with disorder all around.
Guard your school space, friend!
2. Put it away at the end of your day.
There will be times when projects carry over from day to day or maybe even week to week.  Those things may get a pass on the "put it away" rule, but clearing the supplies, books, and daily resources makes a huge difference in keeping the clutter under control.
You can only put it all away at the end of the day if you have somewhere to put it.  Bookshelves are essential to homeschooling with an open floor plan.  We may not always homeschool in our schoolroom, but all of our resource live in one place and they're easy to find because of our shelves.
Closed storage is equally important.  We don't have a closed cabinet, but our storage baskets and canvas storage cubes help tremendously.  They help us keep our clutter under control by providing a home for school supplies, books, DVDs, and things of that nature.
3. Assess and purge regularly
When homeschooling with an open floor plan, treat your space like it's prime real estate.  It's tempting to hold on to every homeschool resource you've ever used or expect to use at some point.  Trust me, I get it.  But, every other month I take a look at my shelves to see what I'm no longer using.  That helps keep clutter at bay and gives me motivation to sell, donate, or store items that aren't used frequently enough to earn my valuable shelf space.
It's also helpful to consider your space when choosing materials and curriculum. Hear me out. I'm not suggesting that you allow your homeschool space to dictate your curriculum.
However, it's smart to consider where you're going to put it all before making purchases.  If there's no room for new items, free up some shelf space before adding more.  Adding new items when there's no room isn't the answer!
4. Choose your wall decor accordingly.
You have every right to use all sorts of wall charts and bulletin boards in your homeschool space. However, when you're homeschooling with an open floor plan, it's wise to look for art options that are cohesive with the other rooms in your home.
I touched on this when I mentioned using a kitchen/dining room combo for school, but it's important for any open floor plan homeschool setup.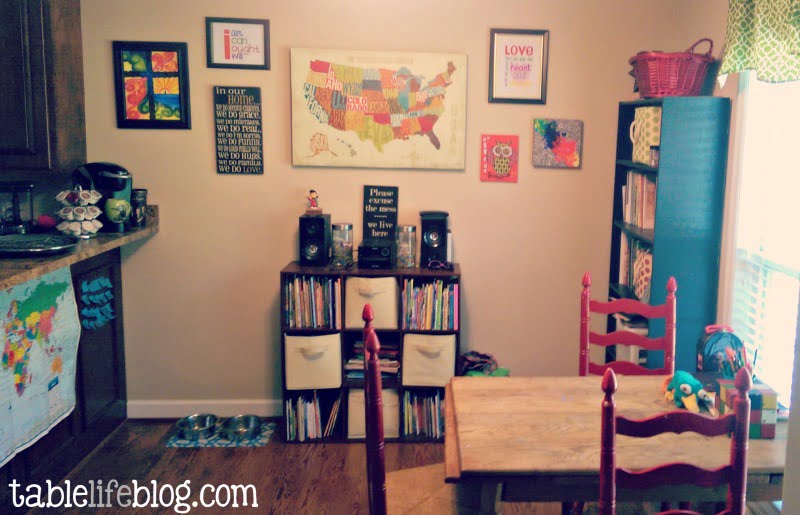 Since our schoolroom is visible from four areas of our home, it's important to us for our artwork to be functional and interesting, yet unified with the rest of our home.  Our focal wall currently contains:
This focal wall works well for us since it's clearly visible from many angles and room.  We have other items displayed in our schoolroom, but they're not visible from every angle.
For example, we make the most of our space by displaying our large world map under the bar that divides our kitchen and schoolroom.  It's not ideal, but it's not out of place because it's not noticeable from the other rooms.  Also, our alphabet poster isn't visible unless you're in our schoolroom.  It doesn't fit the feel of the other rooms, so it's not in a place where everyone will see it.
---
We haven't mastered homeschooling with an open floor plan, but we're making it work the best we can.
Do you have tips for homeschooling with an open floor plan? Leave a comment and let me know.  I welcome your suggestions!