There are lots of ways to let your kids get hands-on this Christmas, but one of my favorite ways is to incorporate Christmas into our homeschool lesson plans.   Between all of the unit studies, geography studies, arts, copywork, and everything else, there's no shortage of options for homeschooling at Christmastime!
(This post contains affiliate links; please see disclosure for details.)
With all of those wonderful ways to make Christmas a part of your homeschool, how on earth do you choose? I've sifted through my Pinterest boards and bookmarked sites so you don't have to get overwhelmed with the choices! After some sacrificial pinning and researching, I've narrowed my list to 10 Favorite Homeschool Christmas Resources!
Some of these are resources we've used or are currently using and some are things that have caught my attention when I've been browsing.  I'm sure you'll find something to help your kids get hands-on this Christmas!
Awesome Ideas for
Homeschooling at Christmas
Be sure to take advantage of all the nifty PIN IT links after most of the resources! 
1. Advent: Nature Study Through the Holidays
This Advent-themed Nature Study guide is one of my absolute favorite resources for homeschooling at Christmas. In fact, we've had this guide for a few years now and we still look forward to breaking it out when December approaches.
These Christ-centered lessons are a wonderful way to get outside with your kiddos while preparing your hearts for the Christmas season. It includes nature walk suggestions, reinforcement activities, notebooking pages, scripture readings, and hymn suggestions.
2. Advent Copywork
Blessed Learners has a free Advent Copywork collection. It contains 24 days of scriptures for copywork and is a wonderful way to help children reflect on the beauty and gift that comes with Christmas.
3. SQUILT Christmas Carols
3.  We've been working through SQUILT volumes for a couple of years in our homeschool and also loved adding SQUILT Christmas Carols to our lineup.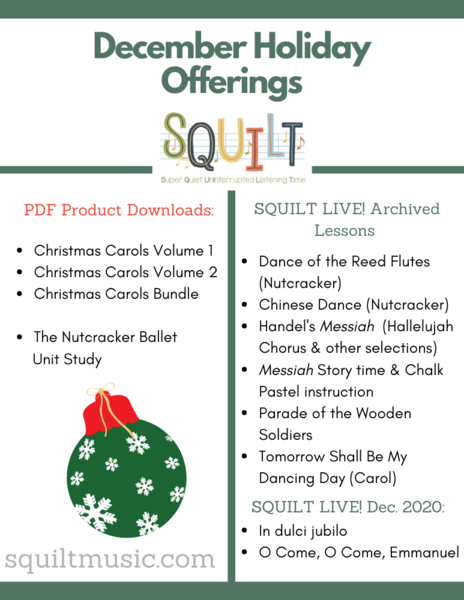 Not familiar with SQUILT? SQUILT is an effortless approach to music appreciation for all ages.  When it comes to your Christmas homeschool plans, you can choose from SQUILT Christmas Carols or Nutcracker Unit Study.  Either would make a great addition to your homeschool plans for Christmas!
4. Christmas Around the World
Can't commit to a month-long Christmas study? Check out my list of 100+ Christmas Around the World Resources.

You can use this list in a few different ways: you could choose a country to study in depth, study an entire region and compare/contrast traditions and beliefs, or study Christmas around the world with a brief overview of countries. (PIN IT here)
5. A Victorian Christmas
Studying Victorian times in your homeschool?  NIA Unit Studies' A Victorian Christmas would be a great match for you!  Through crafts, cooking, literature, books, games, and more, students can step back and time and experience Christmas through Victorian Eyes.  (PIN IT here)
6. Christmas Printables for Preschoolers
This Little Home of Mine has a great roundup of Christmas printables for preschoolers.  (PIN IT here)
7. Winter Wonderland Mixed Media Workshop
We love all of the Masterpiece Society Workshops; the Winter Wonderland e-course is no exception!  These projects are perfect for your Christmas art plans!  The best part is that you get lifetime access to the course; if you don't have time to do all of the projects, you can use the course again in future years.  (PIN IT here)
8. Homeschooling Through the Nativity Unit Study
Intoxicated on Life has a Homeschooling Through the Nativity Unit Study  available for free.  It covers language arts, handwriting, art, and even drama!  (PIN IT here)
9. A WWII Christmas
A WWII Christmas from Trica Goyer, Sara Sundin, and Cara Putman is a wonderful (& FREE) way to explore Christmas during the 1940's.  This series includes lesson, printables, recipes, and more.
10. Christmas-themed Nature Book Clubs
This online book club for Dr. Seuss' iconic How the Grinch Stole Christmas digs into Christmas traditions, art projects, food, and lots of Whoville-inspired fun or this one for Mr. Willowby's Christmas Tree.
---
What are your favorite resources for homeschooling at Christmastime?  I'd love to hear what has worked for you.  Let a comment and let me know!
There's plenty more fun stuff happening over at iHomeschool Network's Christmas Hopscotch.  Grab your coffee and take a look around.