Looking for a homeschool typing program for your kids? Good news: I've got an affordable, comprehensive typing solution to share with you today. The best part is it's the only typing program you'll ever need!
There's a giveaway at the end… don't miss it!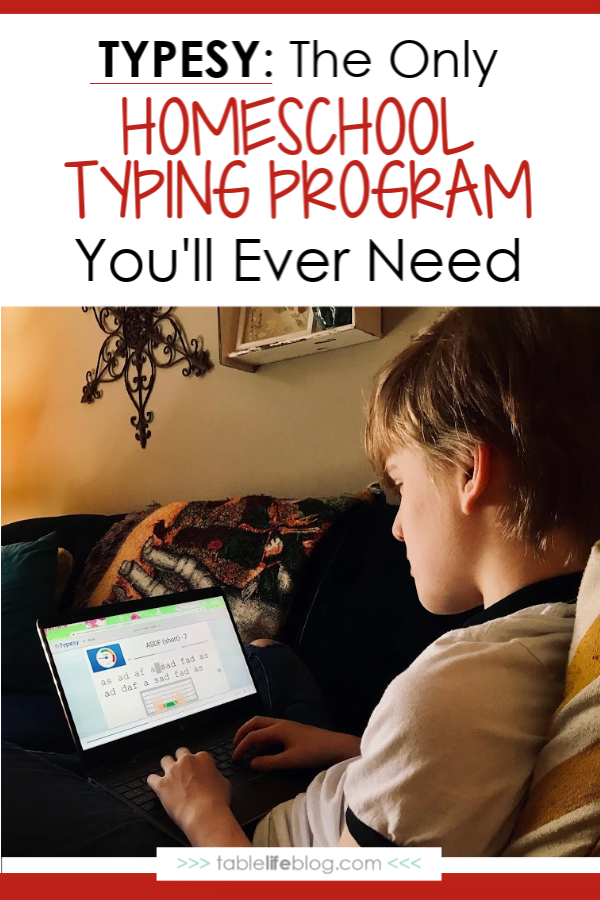 *This post is sponsored by Typesy and I have been compensated for my time. Also, I received free access to Typesy for review purposes. As always, I was not required to write a positive review and all opinions are my own. See disclosure for details.*
If you're anything like me, you know your kids need typing skills. You know we live in a digital world and how important typing skills are to you as an adult. I'm sure you're also aware that today's kids will need those skills a lot earlier than we did.

Even so, it can be hard to find a keyboarding program that does more than introduce students to typing. There are programs out there, don't get me wrong, but the ones we've tried in the past were usually great for one of my kids, but not both.

It's kind of the Goldilocks scenario, but for keyboarding. This homeschool typing program is too boring and that program looks like it's for little kids. Unfortunately none of the programs seemed just right.

That all changed when we found Typesy. It turns out our "just right" option was out there and I'm excited to tell you about it!
All About Typesy's Homeschool Typing Program
Typesy Homeschool Edition is a subscription-based touch typing program that uses interactive lessons, instruction videos, and games to teach keyboarding.

Typesy is completely ad-free and features more than 1600 typing lessons and 17 games that allow students to practice and learn while having fun.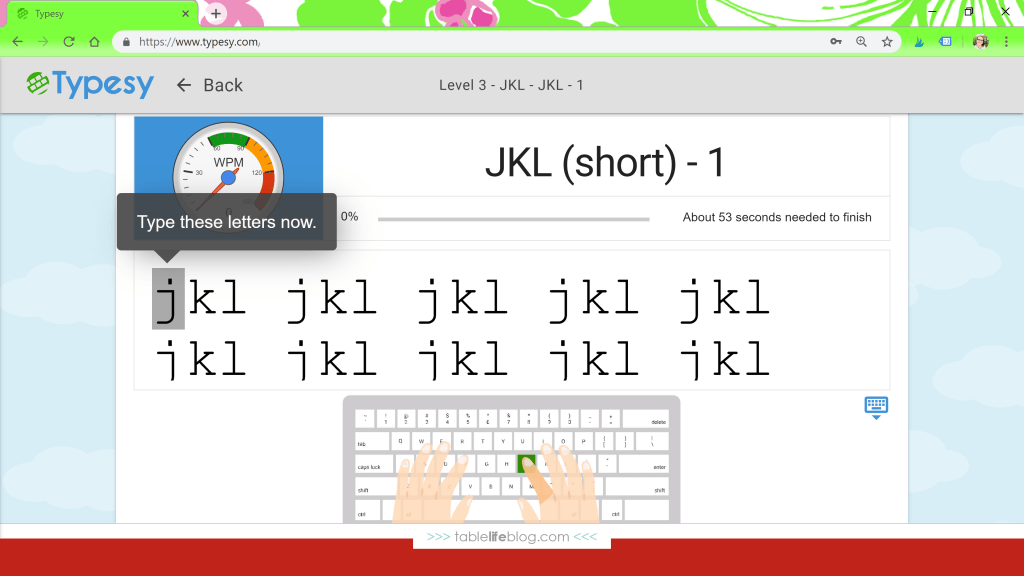 In addition to Typesy Homschool Edition, Typesy has options for schools and individuals who wish to learn typing or improve their typing speed and accuracy. Lastly, just in case you need help, Typesy features 24/7 support for your account.
Why You'll Never Need Another Homeschool Typing Program
As a recovering homeschool freebie hoarder, I understand the temptation to go for the free typing options and never stray from them. Well, you know that whole "you get what you pay for" expression? It rings true for keyboarding programs also.

We've used a few different free typing programs over the years and my kids used them to get comfortable with the keyboard. That was great, but they didn't progress much beyond that.

Because of that, we hopped from free program to free program and missed out an any consistent training from our previous typing instruction.

That's why I'm especially grateful for Typesy. It's also why I can say it's the only homeschool typing program you'll ever need.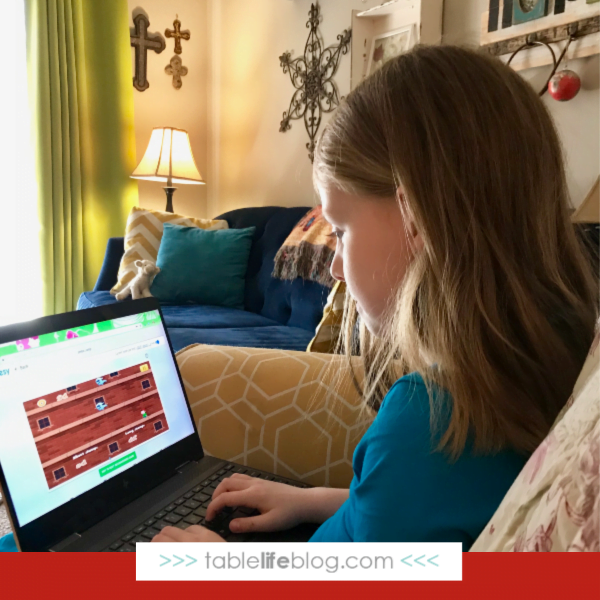 1. Typesy is thorough.
Since it's a homeschool typing program, Typesy is so much more than typing drills. Typesy is an adaptive curriculum that uses muscle memory and repetition to teach keyboarding.

This adaptive learning element is what makes Typesy such a great resource. Each lesson is customized to your student's current skill level through a proprietary algorithm.

What's more is that students immediately know if more practice is needed before moving on to the next lesson and they specifically know what areas need improvement.
You'll never need anything else to teach keyboarding because all of that muscle memory is reinforced through practice exercises and fun games (seriously fun games that my kids LOVE!).

Simply put, Typesy works.
2. It's budget-friendly.
Regardless of which subscription you chose, Typesy is incredibly affordable. What's more is there are three high-value, low-cost subscription options for homeschoolers:
Homeschool Family – This one allows up to four students and two parent/admin accounts.
Large Family – This subscription includes access for three parent/admin accounts and ten students.
Homeschool Co-op – I love that Typesy has this co-op option. It includes 10 admin accounts and up to 30 student accounts. Better yet, it's possible to negotiate other co-op usage terms for larger groups. How cool is that?!?
Ready for the seriously affordable part? These subscriptions cover you for five years! So, when you look at that family subscription cost and divide it by five, that comes out to less than $14 per year… for your entire family.
By the way, that five-year subscription also means your access won't be interrupted in the next six months because you forgot to renew. Once you subscribe, you're covered for years! 🙂
3. Typesy works on most devices.
You'll never need another homeschool typing program because you probably already have a Typesy-friendly device in your home. I love this feature because my husband and I both work from home, but my kids don't have their own computers or iPads.

Typsey works on Apple and Windows computers — super helpful since we have both — and iPads and Chromebooks. Because of this, my kids can grab an available device and practice without having to wait for a specific device to free up.

The best part is that it automatically syncs, so there's no need to panic if your child needs to switch devices mid-lesson.

4. It's easy to manage.
The Typesy admin account provides access to lots of valuable tools to help you manage your account. Your admin/parent account allows you to monitor account information, add new students, create assignments and tests, and even request specific reports if you need them for your homeschool records.

The parent/admin side also makes it easy to keep up with your child's progress. You can easily view how much time is spent on lessons, specific exercises, and games. You can also track lesson dates through this dashboard.
5. It's great for all ages.
Remember that Goldilocks reference earlier? Another awesome thing about Typesy is that it truly works for all ages.

Typesy is just right because it's not gimmicky or character-based, meaning my tweenager doesn't think it's beneath him. (You know how those tweenagers can be, right?)

On that same note, Typesy works for my seven year old also. She loves it just as much as my big kid because it's still fun and motivating for her.

All that to say, it's not easy to find things that appeal to both of my kids. If you have similar struggles with your kids and their homeschool resources, you'll love Typesy! You won't have to buy different programs for different age groups. This really works for everyone!
Getting Started with Typesy
(+ a Typesy Giveaway!!!)
Ready to learn more about this comprehensive typing program? Head to Typesy.com to get all the details about Typesy Homeschool Edition and chose your subscription.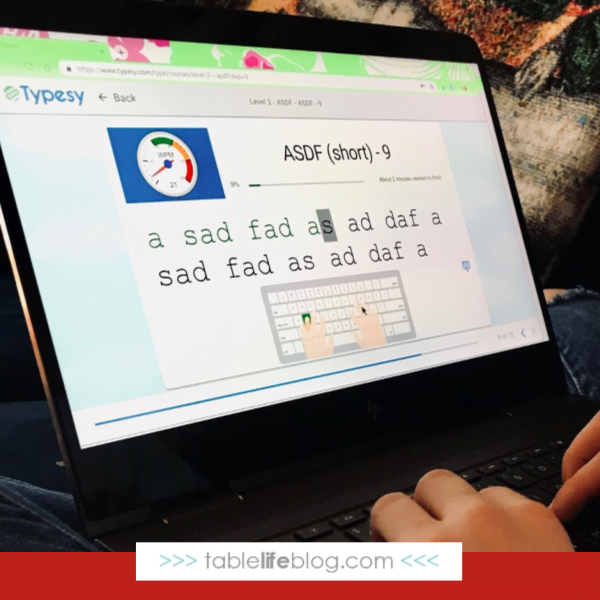 Lastly, don't miss this awesome Typesy giveaway! Use the giveaway widget below to enter. If you win, you'll be one of 10 lucky homeschoolers who will receive a Typesy subscription! 🙂
a Rafflecopter giveaway