It's always interesting to look back a few years and take note of the things that have changed and the things that have been constant in your day-to-day life. I did that recently by reading one of my own blog posts where I shared a glimpse into a typical homeschool day for us and how we were usually finished by noon each day.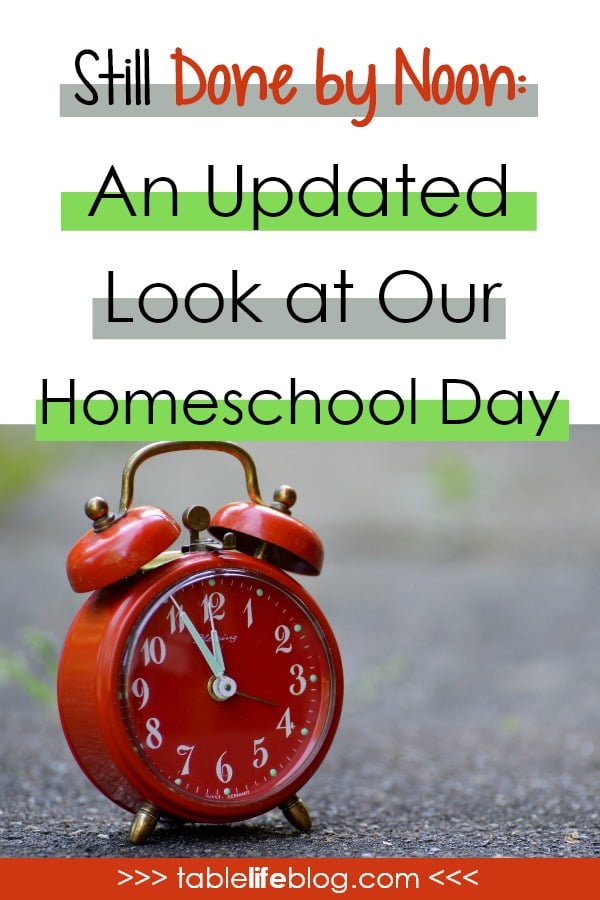 *Post contains affiliate links; see disclosure for details.*
As much as I like looking back at that Done By Noon post, I'm reminded of just how different things are in our homeschool now. First of all, my kids were doing preschool and 5th grade work at the time. Now they're finishing up 1st and 7th grade. Time is flying!
Secondly, we sold our house and we're homeschooling from a much smaller space now. That presents some interesting challenges in the course of a day.
One thing hasn't changed, though. We're still usually finished by noon or pretty close to it.

An Updated Look at a
Typical Homeschool Day
When I last shared a glimpse into our typical homeschool day, I worked one-on-one with both of my kids for a significant time each day. That was easily manageable because my youngest was a preschooler at the time and only required about 30 minutes of focused preschool instruction. That short amount of focused attention for her afforded me plenty of time to work with my then 5th grader and be finished with everything by lunchtime.
Now that my kids are nearing the end of 7th and 1st grades, things are quite different. Both require one-on-one time and it takes some balancing to pull it off in the course of a normal day.

Our Homeschool Day
Our homeschool day starts somewhere between 8:30 and 9:00 a.m and, while we still don't follow a set schedule, we rely on homeschool planning to keep us on task each day. In other words, somewhere between 8:30 and 12 we've got a list of things we aim to accomplish and we're not too particular about the order in which we accomplish them.
Here's an example of what that looks like for my 6 year-old:
All of those Ambleside readings vary from day to day and change each term, but we're usually able to finish around noon each day if we stay focused. That's especially important because while I'm working through all of that with my youngest, my 12 year-old works independently.
Here's an example of daily independent work for my 12 year-old:
At some point in the morning, I give my 6 year-old a play break and spend some time working through a Learning Language Arts Through Literature lesson with my big kid.
My one-on-one time with those language arts lesson are usually finished within 20 minutes or so, which allows me to jump back in with my younger kiddo.
Once I finish working through the next thing with her and he finishes his language arts lesson, we take a quick break.
At this time I make myself some matcha or coffee, glance at my email and notifications, and bring everyone back together for our history lesson for the day. Although this lesson from The Mystery of History isn't a part of her curriculum, my little one usually colors or builds with magnet tiles while I read.
By the time all of this is finished, it's usually somewhere between noon and 12:30. Then we make lunch, eat, and I read from our current read aloud.

How We Spend Our Afternoons
We're usually finished with our daily work by noon on a typical homeschool day, but it's rare that we're able to work art, music, or nature study into our mornings. Instead, we work those into our afternoons here and there throughout the week.
For example, we may spend Monday afternoon working on a Mixing with the Masters lesson on Mary Cassatt or Edgar Degas, but we may spend Tuesday and Thursday afternoons at the park or playing games with friends.
We also spend time each week doing nature study or going on a nature walk. Sometimes that walk happens around our apartment complex, but we aim for a quick trip to the beach or our closest nature trails at least once a week.
Lest you think my kids have every afternoon planned for them, there are plenty of afternoons where we're home and they're playing, reading, working on crafts and projects, or hanging out together while I work. There's a nice balance of downtime, time with friends, and projects like art that sort of blur the lines between "school" and fun.

Planning Comes First
The thing to keep in mind is that none of this happens on its own. There's an efficient planning process that has to happen each week to help us start on time and finish our day when we like.
I'm a Type A, ISTJ, list-loving homeschool mom, so I spend time each weekend planning the next two weeks of homeschool for one kiddo and gathering all of our needed resources for both of them for the upcoming Monday morning.
I have a foot in two different homeschool worlds; that's why I alternate who I'm planning for and it's where planning every week comes into the picture. Planning for only one of my kids each week makes the process smoother, less time-consuming, and more focused.
Having a good grasp on my homeschool to-do list and being ready for Monday morning goes a long way in our homeschool. In fact, having a plan in place is the very thing that keeps us running smoothly each day.
Related: Homeschool Planning That Works series - If you need to breathe new life into your planing process, this series of posts is for YOU!
In closing, being done by noon is certainly a perk of the homeschool lifestyle, but I also realize it may not always be possible. As my kids get older and their course loads become heavier or more challenging, we may need to make adjustments to this homeschool routine we've grown to love.
If that's the case, we'll make those changes and adjust to a new normal day. Until then, we're going to enjoy this homeschool season we're in and all that comes along with it, including being able to finish up by noon.