Looking ahead to a new year of homeschooling is always exciting for me.  I might be in the minority, but gathering all of my homeschool catalogs and reading curriculum reviews is my idea of a great Friday night. (Don't make fun!)  I enjoy the process of researching materials and curriculum planning for our upcoming homeschool year.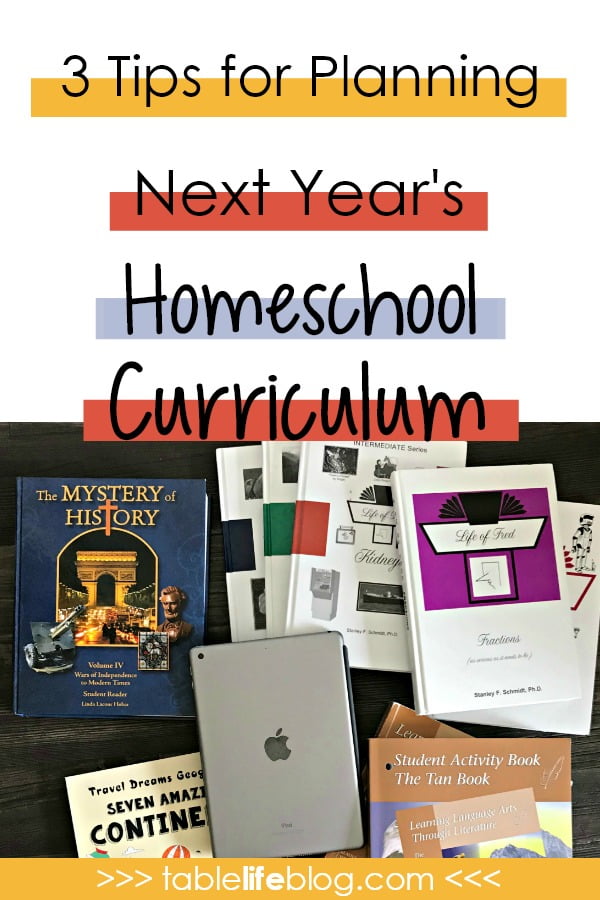 (This post contains affiliate links; see disclosure for details.)
That said, making homeschool decisions isn't always easy, even for me.   It's taken me several years to learn to sift through the limitless curriculum options and map out the best plan for our homeschool needs. Here are some tips I've come to rely on throughout the my years of curriculum planning.
Homeschool Curriculum Planning
1. Consult your plan
If you're following a specific method for homeschooling, it's likely that you already have a general idea of your curriculum needs for the upcoming year. That's not the case for us, though.  Since we're eclectic homeschoolers and incorporate several methods into our homeschooling, this part of the planning process involves assessment based on previous years and time reviewing homeschool planning guides.
Before moving forward, I spend time looking back, asking questions, and evaluating.  What did we truly learn? Where were the struggles? What curriculum clicked? What curriculum became a chore?  What did we enjoy?  All of these questions help me know what topics may need to be addressed again and what curriculum choices to avoid or continue with in the upcoming year.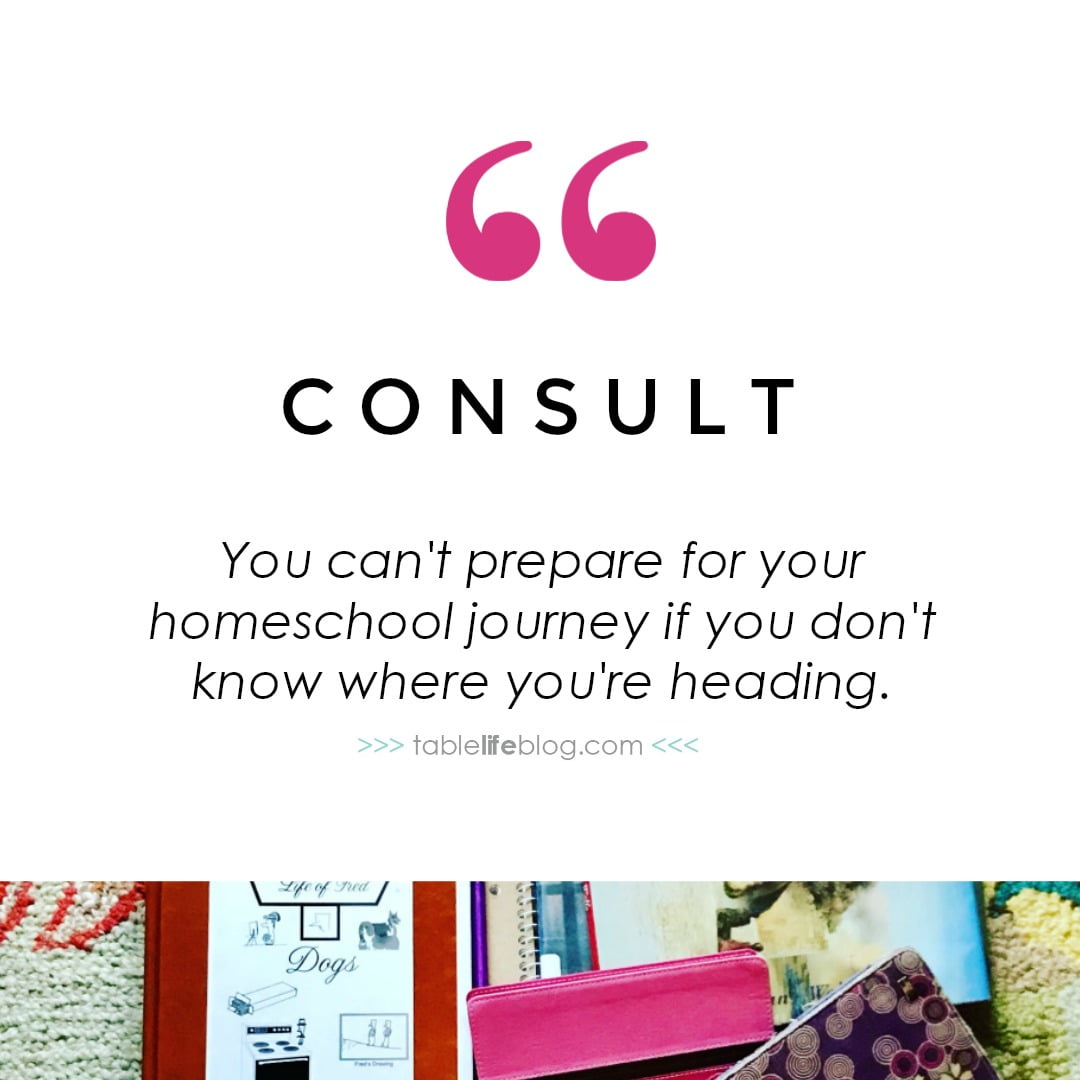 I no longer need all of the planning books I used when we began homeschooling, but I still consult my favorite guide, Home Learning Year by Year, each year as I plan. This one has always been a great help to me because it gives suggestions for what topics to cover within subjects and a general idea of when to cover them.  (Blueprint Homeschooling is also a great guide for this type of planning!)
Regardless of what kind of plan you use — a curriculum guide or method-specific plan — it's crucial to consult the plan.  You can't prepare for the journey if you don't know where you're going!
2. Take Inventory
After evaluating our previous year and reviewing my homeschool guides, I have the direction I need to prepare for a new year of homeschool.  That's where the curriculum planning comes into the picture.  I've found that the best way to get started with planning is to take inventory.
Unless you specifically want to go a different direction in your homeschool, taking inventory is a must!   You may already have what you need to teach specific subjects or, at the very least, supplement them.  You may even discover that you have a good start on your homeschool curriculum just by checking your bookshelves!
I take inventory of all of our resources by checking our homeschool shelves, kids' books, and digital homeschool resources.  My flash drives are a gold mine … I'd be crazy not to check them before purchasing anything new since that's where I store freebies and great deals I've scored throughout the year.
3. Hunt with Purpose
The library hunting and shopping begins once I know our direction for a new homeschool year and take inventory of the resources we already have.   This part can get tedious and stressful, but I've found that starting early helps the curriculum hunt go smoother and lessens the stress.  I usually start my curriculum hunt in spring so that I have plenty of time to round up the resources I need.
I'm mindful of our homeschool budget as I shop, checking several retailers for the items I need.  Some of my favorites for homeschool shopping are Amazon, Homeschool Buyer's Co-Op, Christian Book Distributors, and Rainbow Resource Center.  I also spend time checking eBay and local sources for curriculum for our new homeschool year.

I rarely stray from shopping online, but acknowledge that shopping online isn't the only way to go.  In fact, I bought a barely-used Math U See teacher guide and box of manipulatives from a local homeschool parent for $25 last year.   That was definitely last year's score of the year!
When purchasing new curriculum, I check for details regarding additional resources that are needed.  If other books are required, I check my local library systems to see if I'll be able to borrow what I need.  I prefer borrowing any supplemental books since most are only needed for a few weeks at a time.
Homeschool Curriculum Planning Worksheet
*Free Printable*
Consulting my plan, taking inventory of my resources, and shopping are all an important part of planning for a new homeschool year, but those steps can take months to complete.  

Because of that, keeping an organized account of my planning progress is a huge help while I'm gathering our homeschool curriculum.  This helps me remember what I'm looking for and what I've purchased or already have.
---
Are you preparing for a new year of homeschool?  What are your tips for curriculum planning?