Need inspiration for hosting poetry teatime with your homeschool group? I've got a year of homeschool co-op poetry teatime themes waiting for you here!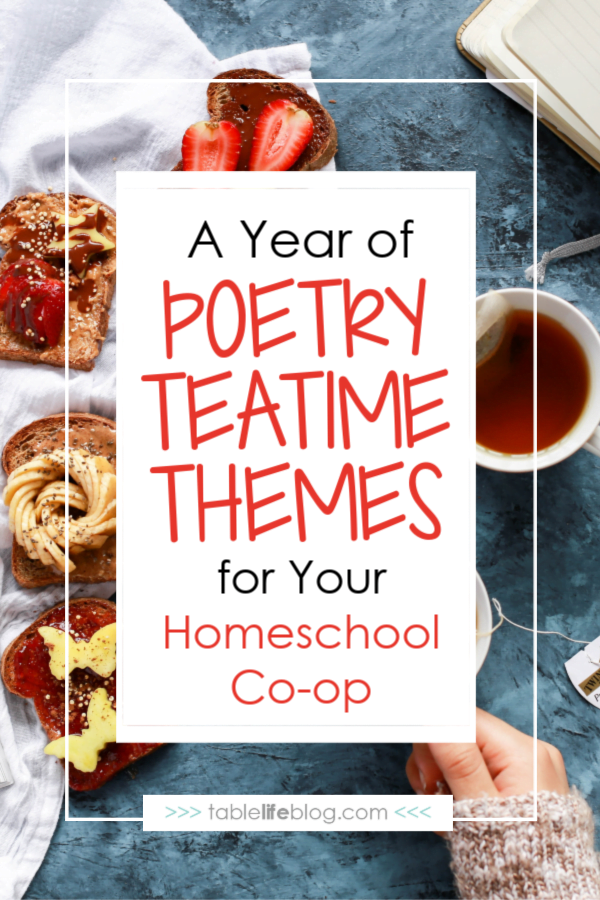 This post contains affiliate links; see disclosure for details.
When it comes to facilitating poetry teatime at home with my own kids, I'm all for keeping it simple, but special. That changes a bit when you're facilitating poetry teatime as a class through your co-op.

Instead of simple and relaxed, homeschool co-op poetry teatime usually has to last a certain amount of time and hold all kinds of attention spans.

So, while poetry and tea may be plenty for your home setting, a co-op setting may need fun snacks, decorations, and some kind of hands-on activity to go along with your poetry readings.

That's where these teatime themes come into the picture. Poetry Teatime themes make it easy to plan a fun co-op class while introducing and enjoying poetry with your students.
Before we jump into those themes, keep in mind that it's nice to have poetry collections like A Child's Book of Poems and A Child's Garden of Verses on hand for your homeschool co-op Poetry Teatime classes.

These are great for weeks that don't require highly specialized collections or for those weeks when you can't seem to get to the library to borrow a specific book.
I also recommend having an electric tea kettle on hand for facilitating teatime in a co-op setting. Since timing is everything when you're working with a schedule, having an electric kettle makes it so much easier if your classroom isn't near a kitchen.
Lastly, consider asking each family to take turns providing the treats for your teatime themes. That allows them to have some ownership in the experience and partner with you to make it all happen. You might even be surprised by how much the kids and parents enjoy participating this way!
Now that all of that's out of the way, let's get on to those Poetry Teatime themes.
Homeschool Co-op Poetry Teatime Themes
Winter Poetry Teatime Themes
1. Stopping by Woods on a Snowy Evening and coffee filter snowflakes make for a perfectly lovely Winter-themed Poetry Teatime. In fact, you can make some example snowflakes and use those as your primary decorations.

For food, pretty much any tea works well for this theme, but snowflake cookies are a nice treat. See Hide the Chocolate or Everyday Graces for more inspiration.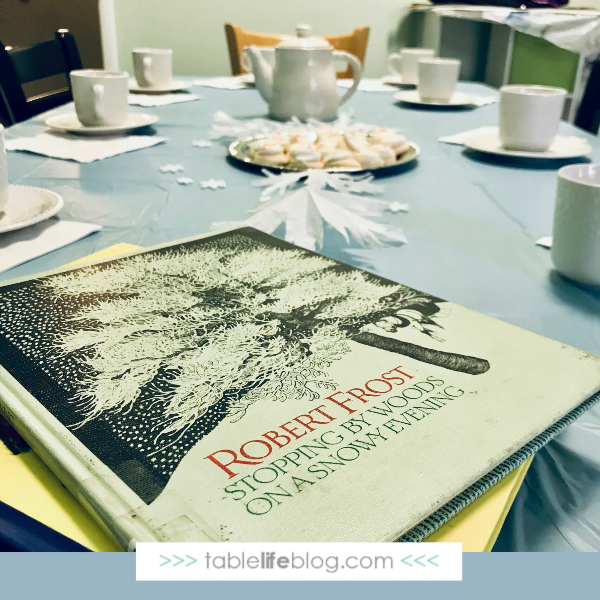 2. Christmas Poetry Teatime is another fun idea for your homeschool co-op. Basically, think of anything you'd do for a Christmas party, but add poetry from The Night Before Christmas. You could also add a fun global twist with titles like these:
3. Valentines Poetry Teatime is easy to plan. Affordable decorations are plentiful, Valentines treat recipes are all over Pinterest and in the grocery store, and you can do a traditional Valentines exchange for your activity.
4. Chinese New Year Poetry Teatime is another fun option for your winter Poetry Teatime lineup. You can visit an Asian market for easy treats and read from Chinese and English Nursery Rhymes.
5. You could also host a Black History Month Poetry Teatime by reading from African American Poetry and including a quick art project.
Spring Poetry Teatime Themes
6. Welcome the new season with Springtime Poetry Teatime. You can read from Sing a Song of Seasons, A Year of Nature Poetry, or National Geographic's Book of Nature Poetry. This one's also nice because you can keep your hands-on time simple by creating cute fingerprint insects.
7. Like any of the themes centered around holidays, it's easy to find decorations and treat ideas for St. Patrick's Day Teatime. For ours, we read from A Pold O' Gold and we enjoyed Irish breakfast tea with soda bread and fudge.

For decorations, I kept it simple with a green tablecloth and scattered plastic gold coins I found at our dollar store. We also kept it simple with our activity by doing this simple Skittles Science demonstration.

8. It's always fun to celebrate Dr. Seuss' birthday with kids each March, so this Dr. Seuss-inspired teatime is a fun idea to incorporate into your co-op class.
9. Earth Day and Arbor Day are also great themes for Poetry Teatime at your homeschool co-op. You can turn to National Geographic's Book of Nature Poetry for your readings and go on a nature walk when teatime ends.
10. Technically you could host Winnie the Pooh Poetry Teatime anytime of year, but we found it to be a nice spring theme. We read from When We Were Very Young and Now We Are Six and made character balloons when we finished our honey vanilla tea.
11. Combine history and poetry with Memorial Day Poetry Teatime with a reflective reading from In Flanders Fields. As for activities, consider making memorial poppies or writing a thank you poem to send to soldiers who are actively serving.

Summer Poetry Teatime Themes
12. Patriotic Poetry is another fun way to bring history and poetry together, but this one can have a more upbeat and celebratory feel.

Look for The Poetry of US or a similar collection reflecting your home country to find appropriate poetry selections. Then do a quick Pinterest search to find matching snack ideas to enjoy with this teatime theme.

13. Don't forget about Summertime Poetry Teatime! You can use Sing a Song of Seasons, A Year of Nature Poetry or National Geographic's Book of Nature Poetry. for your poetry selections, serve lemonade or iced tea with S'mores bites, and make sun prints with this special paper.
14. Brave Writer's Poetry Teatime site has some fun suggestions for World Cup Poetry Teatime. You can find all their teatime suggestions here.
Fall Poetry Teatime Themes
15. A Fall Poetry Teatime comes with lots of easy and fun options. 🙂 You can use the same poetry books from spring and summer teatime here, plus you can serve cider or cranberry apple tea and choose from a billion pumpkin spice treat recipes. As for your hands-on time, you can go on a leaf hunt and make leaf rubbings to finish out the class.
16. Nourishing My Scholar's Halloween Poetry Teatime Picnic might be the sweetest thing we've seen in a while. And in a co-op setting? Well, I think we all know how much kids love any excuse to wear those Halloween costumes. 😉
17. Need some inspiration for Thanksgiving Poetry Teatime? The Organized Homeschooler has you covered here.

Poetry Teatime Themes for Any Season
18. My co-op class loved our Nursery Rhyme Poetry Teatime. We read from Mary Engelbreit's Mother Goose, snacked on goldfish and animal crackers, and did a fun Humpty Dumpty STEM challenge. For other ideas related to this theme, see Poetry Teatime's Nursery Rhymes and Lullabies post.
19. Bedtime Poetry can also be lots of fun. You could invite your kids to come in their PJs and read from Switching On the Moon.
20. Math and poetry? Yes, please! Consider Marvelous Math and Math Poetry for your poetry selections for a Math-themed Poetry Teatime. As for something to keep little hands busy while listening and reading, Angela at Nurtured Roots suggests tangrams. Such a fun idea!
21. Beatrix Potter's Nursery Rhyme Book is a great one to have on hand for a Beatrix Potter-inspired teatime. Also, there's some great inspiration for activities, food, and decorations over on the Poetry Teatime site.

22. I'm sure you can imagine how much fun a Super Silly Poetry Teatime can be. You can use Story Cubes for a silly poetry writing activity, serve emoji cookies or cupcakes with the tea, and read from your favorite Shel Silverstein books.
23. Shakespearean Poetry Teatime is another fun idea for your homeschool co-op class. You can use Poetry for Kids: William Shakespeareas your main resource and get some activity ideas from Not Before 7. The best part is that it has an art tutorial inspired by A Midsummer Night's Dream that fits nicely with this theme.
24. Spectacular Science and The Poetry of Science are great resources for this Science-inspired Poetry Teatime. It's also a good time to keep tea and treats simple so that you can find a quick science activity to match a couple of your poetry selections.
25. Let kids celebrate their favorite animals with All About Animals Poetry Teatime. You can find animal snacks to serve with your tea, read from the National Geographic Book of Animal Poetry, and have fun with these animal action cards or something similar.
26. All you'll need for Sidewalk Chalk Poetry Teatime is a box of sidewalk chalk, your favorite tea and treats, and a copy of Where the Sidewalk Ends. For more ideas, check out this sidewalk chalk party.

27. This may seem too similar to Animal Poetry theme, but a Playful Pets Poetry Teatime allows your students to celebrate their family pets. For this one, read from the back section of National Geographic's Book of Animal Poetry or something like The Poetical Cat and then have kids share photos of their pets or write poems about them.
Poetry Around the World
For poetry weeks that center around specific countries or continents, I recommend using Over the Hills and Far Away, Voices: Poetry and Art from Around the World, or My Village. These are generally easier to find than searching for poetry collections for individual countries or continents.
28. Host African Poetry Teatime for your co-op class by serving trail mix or caramel coconut balls with your tea. Then you can teach your class to play African board games.
29. Japanese Poetry Teatime is the perfect time to focus on haiku and Japanese culture. You can read from The Cuckoo's Haiku, a lovely nature-inspired selection, serve green tea and rice crackers, and make origami during your class.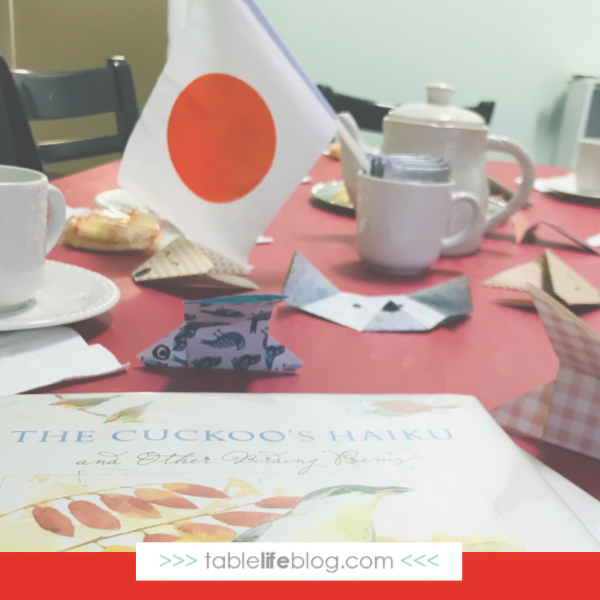 30. When you're done with Japanese poetry, move on to Latin American Poetry Teatime. You can go with standard teatime fare like finger sandwiches with Mexican Wedding Cookies and make maracas with spoons and duct tape.
31. Keep your Downunder Poetry Teatime simple by serving Chocolate Crackles with your favorite tea and then going on a brief walkabout with your students.
32. For a Middle Eastern Poetry Teatime, consider serving barazek with your favorite tea and then play a game like Nim that's popular in the region.
33. You can break out your favorite recipe for scones and English cucumber tea sandwiches for your European Poetry Teatime. When you're finished reading and snacking, you can finish your class with a craft or activity to match your focal country.
Poet Spotlight Weeks
When it comes to poet spotlights in your poetry teatime, most won't require elaborate decorations or a themed tea and treats setup.

Instead, you'll want to go with basic teatime recipes or even simple snacks like cookies from the store and let your chosen poets be the centerpiece.
34. Interested in a Jane Yolen Poetry Teatime? Check out this post from Hide the Chocolate and this Jane Yolen interview on the Poetry Teatime site for ideas.

35. You can read from Poetry for Kids: Robert Frost if you'd like to host Robert Frost Poetry Teatime.

36. Poetry for Kids: Carl Sandberg is a great resource for your Carl Sandberg Poetry Teatime.

37. You can find ideas for an Edgar Allan Poe Poetry Teatime here.

38. Poetry for Kids: Walt Whitman and Walt Whitman Words for America are good reading selections for Walt Whitman Poetry Teatime.

39. You probably don't think of Roald Dahl when you think of poets, but your co-op class could have lots of fun with a Roald Dahl Poetry Teatime. You could take inspiration from Adventures in Mommydom for food ideas, read from Roald Dahl's Revloting Rhymes, and do a writing activity to round out your class.

40. You can get a copy of Poetry for Young People: Henry Wadsworth Longfellow and check out Homeschool Share's post for help with Henry Wadsworth Longfellow Poetry Teatime.

41. You could read from a Poetry for Young Poeple: Langston Hughes and That Is My Dream! for a Langston Hughes Poet Spotlight in your teatime.

42. Host a Maya Angelou Poetry Teatime with some help from her Poetry for Young People volume and these suggestions from this Poetry Teatime post.

43. If you've already got a copy of A Child's Garden of Verses, you can use that for your Robert Louis Stevenson Poetry Teatime. If not, borrow a copy of his Poetry for Young People volume and see this post for more ideas.

44. Lewis Carroll Poetry Teatime is another theme that sparks lots of creativity and fun. Most kids associate him with Alice's Adventures in Wonderland and Alice Through the Looking Glass, but they'll love diving into Poetry for Young People: Lewis Carroll.

45. Another fun Poet Spotlight to explore with your class, Rudyard Kipling Poetry Teatime will help kids see a different side of this beloved storyteller. You can use the Poetry for Young People Rudyard Kipling volume or read selected poems in the Just So Stories for this one.

46. You'll want Poetry for Young People: William Butler Yeats on hand for your William Butler Yeats Poet Spotlight.

47. You can enjoy E.E. Cummings Poetry Teatime by reading from I Carry Your Heart with Me or using these ideas from The Usual Mayhem.

48. Use Poetry for Young People: Edward Lear and these ideas from Homeschool Share for an Edward Lear Poetry Teatime.

49. Robert Browning's Pied Piper of Hamlin and Poetry for Young People: Robert Browning are good resources for a Robert Browning Poet Spotlight. You can also get ideas for this teatime theme here.

50. Check out Poetry for Kids: Emily Dickinson and these riddle poems from Teach Beside Me to help plan your Emily Dickinson Poetry Teatime.

51. The Poetry Teatime site has good suggestions for a William Wordsworth Poetry Teatime.

---
52. Lastly, Kids Choice Poetry Teatime is a perfect way to end a semester of co-op. It's a good opportunity for kids to share poems they love with their classmates or prepare to share in an end of the year program.
What about you? Do you have suggestions for homeschool co-op poetry teatime themes? Share your inspiration in the comments below! 🙂