I've come across my share of go-to resources in my 10+years of homeschooling. One of those go-to resources is Homeschool Buyers Co-op.

Hopefully you're already familiar with all the Co-op has to offer, but in the event you're not, I'm sharing my favorite Co-op membership perks today so you can also reap those rewards!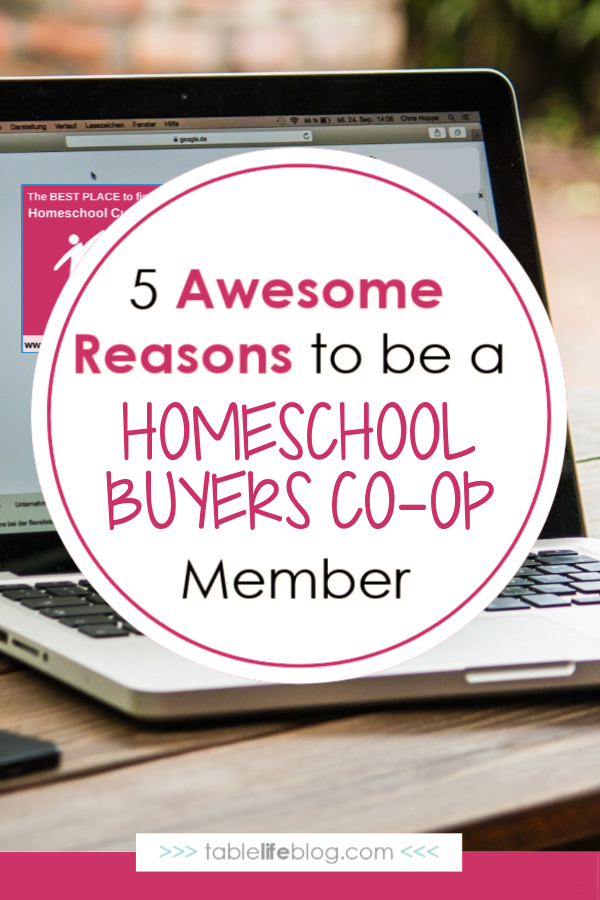 *This is not a sponsored post; I've been a co-op member for years and want to share my observations with you. Affiliate links, however, are included. See disclosure for more information.*

I joined Homeschool Buyers Co-op back in 2016 simply because I found it to be the lowest price around on the volumes from The Mystery of History we needed. Since membership is free, I knew I had nothing to lose when I created an account and started shopping.

Since then, I've learned my way around and discovered there's so much more to the Co-op than I ever imagined. That's why I want to share these Co-op membership perks with you today!
5 Reasons to Become a Homeschool Buyers Co-op Member
1. Members save money through GroupBuys!
Public and private school systems are often able to take advantage of price cuts from educational publishers and vendors because they need to buy large quantities of curriculum at a time.

As homeschoolers, we're not really in a position to negotiate similar deals because we're not buying in bulk and we're not buying the same things year after year until new editions are released.

That's where Homeschool Buyers Co-op comes into the picture. They negotiate these school system-like deals — GroupBuys — on behalf of their members. In turn, homeschool families like yours and mine are able to save considerably.

The GroupBuy savings range from 15% all the way to 95%. Those percentages add up to something big when you're able to purchase quality resources and not settle for less!
2. There are lots of members-only freebies!
In addition to those GroupBuys, Co-op membership has several other perks that are such a help to homeschooling families. There are lots of free curriculum trials, free diploma templates, and even free printable homeschool ID cards.
There's also a database of homeschool friendly scholarships, field trips, and free teaching resources.

In addition to the freebies, you'll find teaching information, a listing of homeschool conferences, and seasonal learning fun. 🙂
3. You earn credit toward future purchases.
One of my favorite things about being a Homeschool Buyers Co-op member is the opportunity to earn SmartPoints. As a member, you can earn points through your own Co-op purchases, sharing field trip information, telling friends about the Co-op, and just for joining!

Once you accumulate these SmartPoints, you can redeem them for cash or use them as credits to purchase homeschool curriculum. That's been a huge help to me year after year because it allows me to purchase exactly what we need — regardless of cost — without any big blows to our homeschool budget.
4. You can spend less on your favorite homeschool resources.
I'm always looking for ways to stretch my homeschool budget without compromising the quality of my children's education. That's another way Homeschool Buyers Co-op saves the day for us.

Those group buys mentioned above make it easy to spend less on well-loved homeschool resources. Here are few curriculum options you can find for less at the Co-op:
5. It's a great place to discover new resources.
I've shared before that Reading Eggs has been a huge part of my daughter's journey to reading. Well, the cool thing about that is that I first discovered Reading Eggs through Homeschool Buyers Co-op.

The Co-op is also where I first discovered the Magic School Bus Science Kits we love using for hands-on science fun and Animation-ish, the animation software my big kiddo loves so much.
In addition to discovering new core resources like Reading Eggs and the Magic School Bus science units, Homeschool Buyers Co-op is also a great place to find help with electives for your homeschool.

For example, you can find help with American Sign Language, Drivers Ed, coding, chess, cooking skills, and more.

Lastly, the Co-op is a great place to discover supplemental resources. Here are a few I discovered through Homeschool Buyers Co-op:
There are plenty of other supplemental options there, but these are just a few I discovered throughout the years of my Co-op membership.
---

In closing, I invite you to hop over to Homeschool Buyers Co-op and become a member. Membership costs you nothing, but it pays off faster than you might imagine!

What about you? Have you discovered other reasons to be a Homeschool Buyers Co-op Member? Tell us about them in the comments below so we can check into them. 🙂