Feeling overwhelmed by all the homeschool curriculum options for high school? No worries! Here's our list of go-to high school resources to help you narrow down your search.
*This post contains affiliate links; this means I could receive compensation if you click through and take action through one of them. See my full disclosure for more information.*
It's awesome to have as many curriculum options and resources for upper grades of homeschooling as we have available in the younger years. That said, all of those options can make it overwhelming when the time comes to make curriculum selections and work toward your overall high school plan.

The good news is that you don't have to go through the high school years stressing over which resources to trust. Instead you can hone in on a group of tried and true resources that work well and meet you where you are in this season of homeschooling. That's where this list of go-to high school resources for homeschoolers comes into the picture.
Our Favorite Homeschool High School Resources
Language Arts for High School
1. Learning Language Arts Through Literature
Looking for a way to incorporate all high school language arts elements through one curriculum? Our top recommendation is Learning Language Arts Through Literature because of the way they integrate grammar and composition with quality literature selections.

There are four high school volumes available:
World Literature – Early literature, epic poetry, creative writing, and more
British Literature – Novels and poetry along with poetry interpretation and comparisons
American Literature – Short stories, poetry, and novels along with essay writing and literary interpretation
Literary Criticism – Short stories, plays, books, poetry, and essays
Related: See our Review of Learning Language Arts Through Literature to learn why we choose it year after year in our homeschool.
2. Book Clubs & Courses from LA4K
These Online Book Clubs and courses from Literary Adventures for Kids are another great language arts option for the high school years of homeschooling. They're especially helpful if your teen likes the idea of adding some tech to your literature studies. Better yet, you can choose from their high school membership, poetry studies, or collections like the Banned Books Literature Series.
I also want to mention that they offer more than literature studies for teens. You'll also find courses like their Study of Japan and High School Psychology there.
History for High School
3. Beautiful Feet Books
I'm all for teaching history through literature at any age, so naturally Beautiful Feet Books is our go-to for teaching history on the high school level. Here are the history courses they have available:
If you aren't familiar with Beautiful Feet Books and their literature approach to teaching history, keep in mind that there's more to it than books alone. The books themselves are the foundation for each assignment, but they also include a good variety of research and writing assignments, book and movie suggestions, project ideas, and recommended resources for learning more.
Science for High School
4. Sabbath Mood Homeschool
We have two primary resources for tackling science in the high school years, one being the science units from Sabbath Mood Homeschool. These units have helped us include Charlotte Mason-inspired learning in our high school science studies, which is something I didn't expect in this season of homeschooling.
5. College Prep Science
The Sabbath Mood units contain plenty of lab experiments and hands-on learning opportunities, but College Prep Science is our go-to for meeting science lab requirements. While I like the idea of lots of at-home experiments, the Virtual Science Labs offered through College Prep Science are a better fit for us.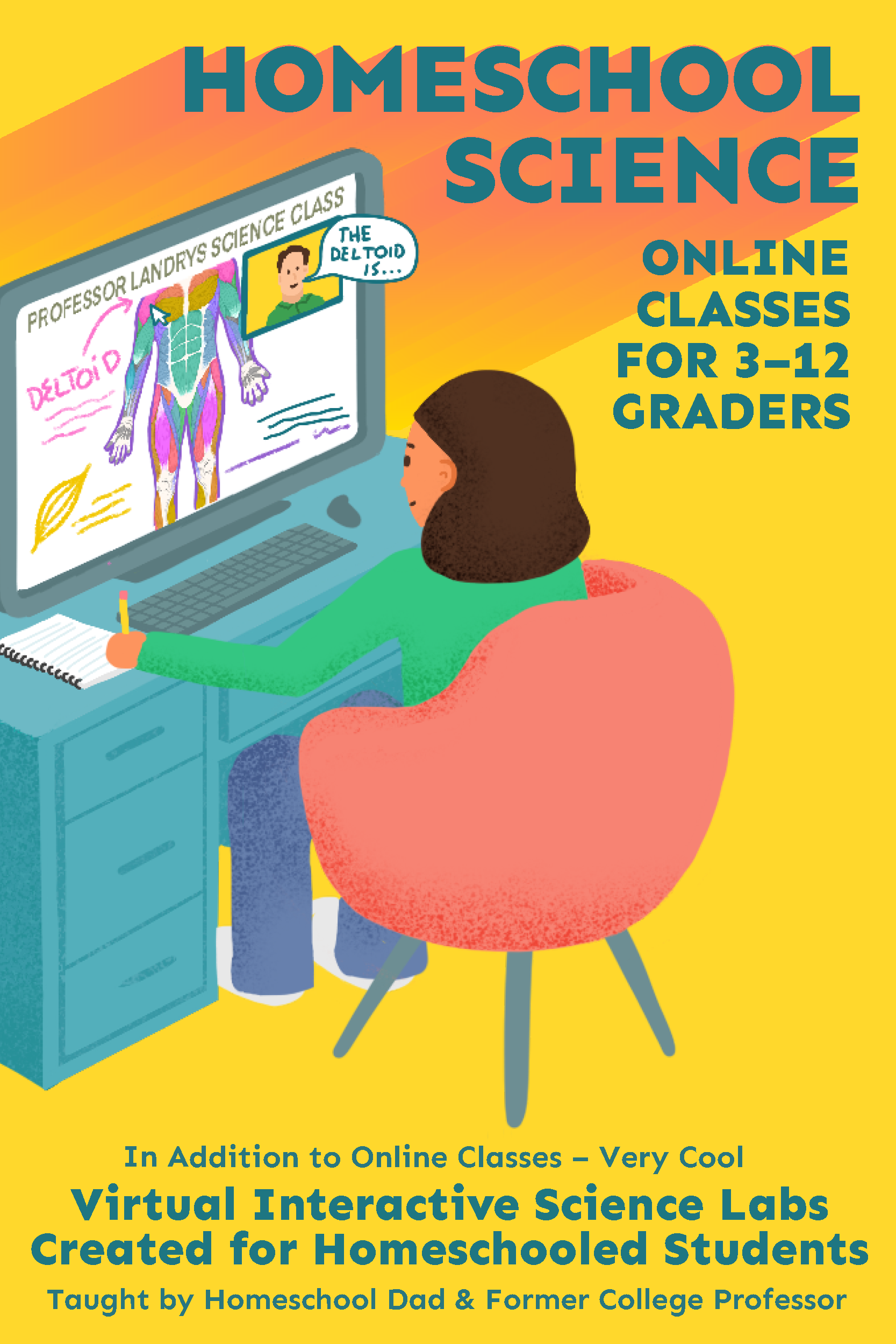 College Prep Science also offers online classes with labs. This option makes it easy to outsource high school science and while earning a full science credit in the process.
Even better, they offer traditional science classes and life prep classes. These life prep options, like Life Prep Biology, are perfect for teens who don't plan to be science majors or attend college at all.
Is your teen planning to take the ACT? If so, don't miss College Prep Science's ACT Bootcamp. Not only does it help students prepare for the ACT, it also provides credit for one semester of test taking and study skills.
Math Resources for High School
6. Life of Fred Math
For math at the high school level, we (still) love and recommend Life of Fred. This series is proof that you can continue to educate outside of the box… even in the high school years.

While they have volumes that cover getting ready for high school, the high school math series technically starts with Beginning Algebra and even allows students to dive into university-level mathematics if they wish.
7. Mr. D Math
If you're looking to outsource high school math, Mr. D Math is the way to go. With live and self-paced math courses from pre-algebra to pre-calculus with trigonometry, you'll be in wonderful hands.

In a nutshell, Mr. D Math is ideal for anyone looking for homeschool math classes rather than homeschool math curriculum. Life of Fred is math curriculum that can be done independently or with parental help, but Mr. D Math's classes don't require parent guidance. They happen online and are a great fit for parents who prefer not to teach high school math.
Electives and Fine Arts for Homeschoolers
Mr. D Math
Speaking of Mr. D Math, they can help you cover lots of ground as you homeschool high school! In fact, you might be surprised by how many subjects you can cover under the Mr. D umbrella.

My son is currently working through their self-paced ASL I class and plans to continue on to ASL II through Mr. D Math next year. But beyond ASL, here are some other Mr. D Math electives to keep in mind:
8. 7Sisters Homeschool
7Sisters Homeschool has a huge selection of literature guides, co-op resources, and even career exploration resources, but it's also one to know if you're looking for help with electives.

There's a lot to explore on their website, but I especially appreciate how they make these kinds of elective courses so accessible for homeschoolers:

One more thing about 7Sisters Homeschool: Their How to Create High School Transcripts Guide has been a huge help and I recommend it for anyone planning to homeschool high school. It's the best $13 I've spent in a long time!
9. Masterpiece Society
Masterpiece Society is our go-to for all things homeschool art and that doesn't end in the high school years. From artist study to art instruction via Art School, they've got it covered.
Worth noting, all of the high school art resources above are available through your Masterpiece Society Studio membership. If you're a Studio member, there's no need to purchase any of them individually!
10. Music in Our Homeschool
Think you're on your own for music in the high school years? Think again.

Music in Our Homeschool can help in several ways and that's why it's an excellent addition to our list of go-to resources:
In closing, remember that you don't have to spend your final years of homeschooling stressed by curriculum choices! By sticking with a group of quality high school resources, you'll prevent potential overwhelm and maintain consistency for planning, learning styles, and budgeting in the process.
What about you? Do you have a list of go-to high school resources for your homeschool? Leave a comment and tell us about them.