Looking for some new Harry Potter gift ideas for your favorite Muggle? I've got some magically marvelous suggestions for fans of all ages.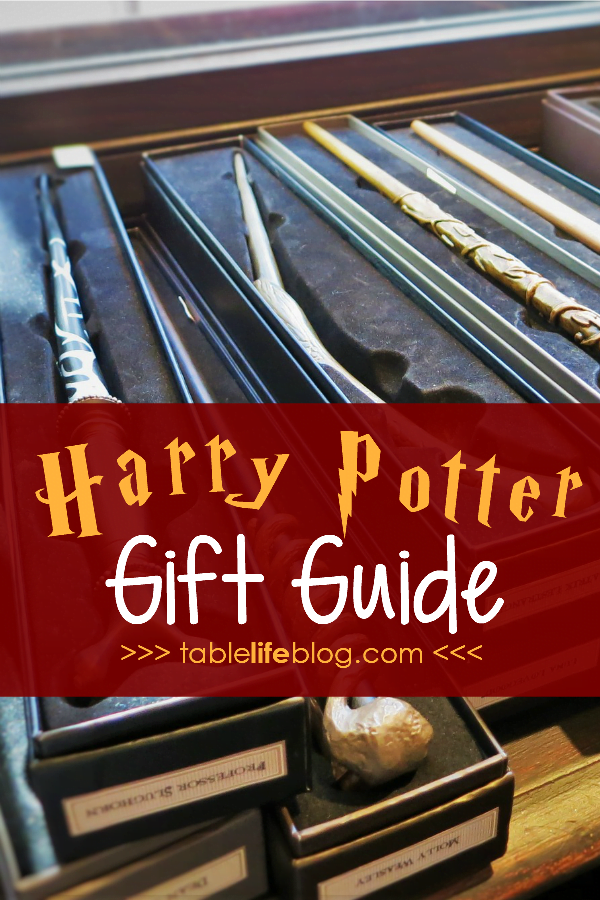 *Post contains referral links. See disclosure for details.*
This Harry Potter Gift Guide contains a good mix of ideas for younger fans and older fans, but it also contains a good mix of well-known Harry Potter items and less common ideas that any Muggle would be thrilled to receive. Grab your butterbeer and take a look.
A Magically Marvelous
Harry Potter Gift Guide
1. Harry Potter Books
Chances are that your Harry Potter fan already owns the complete series, but there are several other book options that make great gifts. My favorites for gift giving are The Hogwarts Library, the illustrated books, Harry Potter and the Cursed Child, and these Hogwarts house editions of Harry Potter and the Philosopher's Stone.
2. Harry Potter Games
Harry Potter-inspired games like Trivial Pursuit, Triwizard Maze Game (similar to the classic Trouble game), Clue, and Wizard Chess make fun gift choices. If you prefer games that come in a smaller package, consider playing cards and house crest cards.
3. Cuddly Harry Potter Gifts
If you're looking for Harry Potter gift ideas, you can't go wrong with a snuggly option like Hedwig, Fluffy, Fawkes, or even Buckbeak, everyone's favorite hippogriff. I'll also mention that Scabbers is available, but I think we can all agree that no one really wants Scabbers hanging around the house.
4. Harry Potter Movie Gifts
Looking for gifts specifically related to the Harry Potter Movies? The Complete 8-Film Collection is a great place to start, but you may also want to consider options like Fantastic Beasts and Where to Find Them or books about the movies. My kids personally like Extraordinary People and Fascinating Places and Amazing Artifacts.
5. Writing Gifts
My kiddos and I drool over writing gifts whenever we see them. Since we love journals and notebooks, you can imagine how much we like the Harry Potter house journals and Moleskine journals.
There are also several good pen options out there for Harry Potter fans. The wand pen makes a great inexpensive gift, but you could also consider a nice quill set if you're looking for something special.
6. Harry Potter Clothing and Accessories
Harry Potter clothes and accessories also make wonderful gifts. Scarves and shirts are a great place to start because there are lots of options available. There are also fun jewelry options for Harry Potter fans. They range from inexpensive like golden snitch watches to this time turner necklace.
7. Fun with Harry Potter
Wands, robes, and 3D puzzles are great options if your Muggle would enjoy a play-inspired gift. If you're feeling especially adventurous, Professor Dumbledore's favorite jellybeans can be lots of fun, assuming you don't get the earwax-flavored beans. 😉
8. For Muggles Only
There are some Harry Potter gift ideas that are best labeled "for Muggles only." These are the gifts you'd never find at Hogwarts, but they're pretty cool anyway. Vinyl MacBook stickers, key chains (like this one I have), coffee mugs, and wallet cases all fall into this category.
9. Harry Potter Decor
Perhaps Harry Potter-inspired decor would make a better gift for your favorite fan. If so, check out the Lumos Light Switch Decal, this amazing throw pillow cover, this tapestry throw, and these beautiful Harry Potter watercolor prints.
10. Harry Potter Collectibles.
When the other Harry Potter gift ideas don't quite fit, it may be time to turn to collectibles like this light up Triwizard Cup or this Quidditch Set.
Rather give a few items from a series of Harry Potter collectibles? The POP Movie action figures and Magical Creatures collections are good options because both have plenty of figures from which to choose.
---
Can you think of some other Harry Potter gift ideas I didn't mention here? If so, let me know in the comments so that I can check them out soon.
Want more Harry Potter-related fun? Don't miss my *FREE* Harry Potter Printables and my J.K. Rowling Unit Study.
Looking for more fun gift ideas? Stop by iHomeschool Network's Christmas Gift Guide and see all the great suggestions.