Looking for ways to incorporate the inspiring messages from Hamilton into your learning plans? We've got a fun Hamilton art tutorial for you to enjoy with your kids!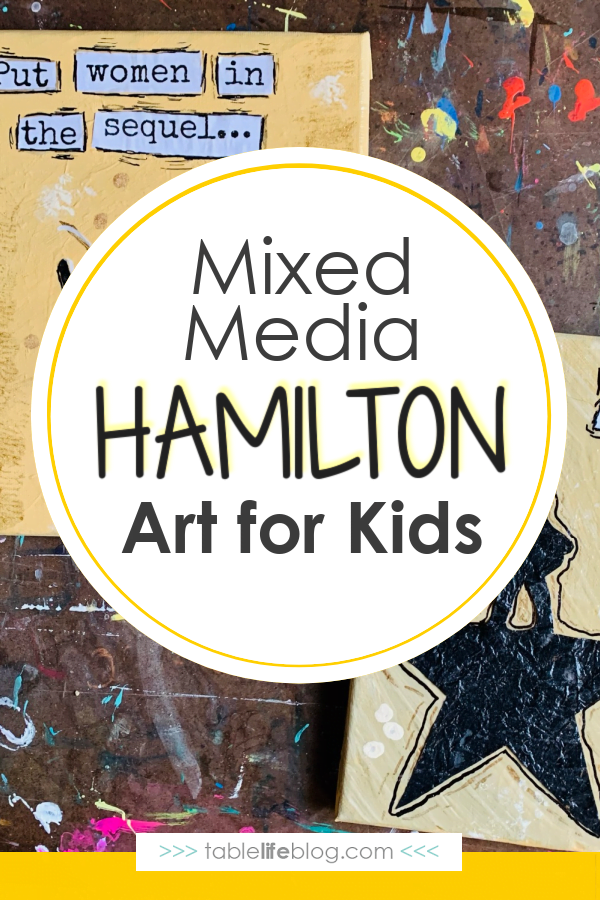 *Post contains affiliate links; see disclosure for more information.*
We're working through colonial history and the American Revolution in our homeschool this year. That means we're constantly discussing notable figures like George Washington, Ben Franklin, Thomas Jefferson, Alexander Hamilton, and Marquis de Lafayette.
Between that and our daydreaming about getting tickets to see Hamilton on Broadway, watching it nonstop (HA!) on Disney+, and playing the Hamilton soundtrack on repeat, it only makes sense that we'd eventually turn all of this into a kid-friendly Hamilton art project, right?
Mixed Media Hamilton Art for Kids
In particular, this mixed media Hamilton project is awesome because none of the steps require major precision. This means it's great for giving kids practice with several art process and materials while setting them up for a win.

It also allows you to focus on their favorite parts from the musical (read: the especially kid-friendly parts) and bring those into the project for a meaningful, fun art experience.
Not sure if your kiddos can handle a multi-step project like this? No worries, mixed media art is perfect for kids because it allows them to take breaks between the steps. They can work for a few moments and then knock out a math lesson or run off to play during a drying stage.
Mixed Media Hamilton Art: Supplies Needed
Ready to get started on your Hamilton art project? For this one, you will need the following supplies:
Canvas panel or stretched canvas
Acrylic craft paints (We primarily used Folk Art paints in golds and yellows.)
Paint brushes
Black scrapbook paper (You can purchase a themed package of paper or buy individual textured sheets from a craft store like we did.)
Black Sharpie
Paper towel or napkin
Pencil
Scissors
Paint pens (optional)
Typed phrases from Hamilton lyrics (optional)
Template (optional – I purchased this one because I didn't trust my sketching abilities. 😉 )
Be sure to have all the needed supplies on hand before you begin. The supply list for this project is a bit long, but you probably have most of these things on hand if you've got artsy kiddos.
Step 1. Prepare the Canvas
Begin by painting the surface of the canvas with your chosen paint colors. This will provide the background for the artwork and can be a single color or a blend of colors.
If you choose to mix your selected colors, consider lightly "painting" your canvas with water first. This will create a smoother blending of colors during the painting process.

We used a mix of yellow ochre and French Vanilla for ours, but any yellow or golden shades will work. (One of my kiddos also added some drips of black paint to the mix to break up the golden tones.)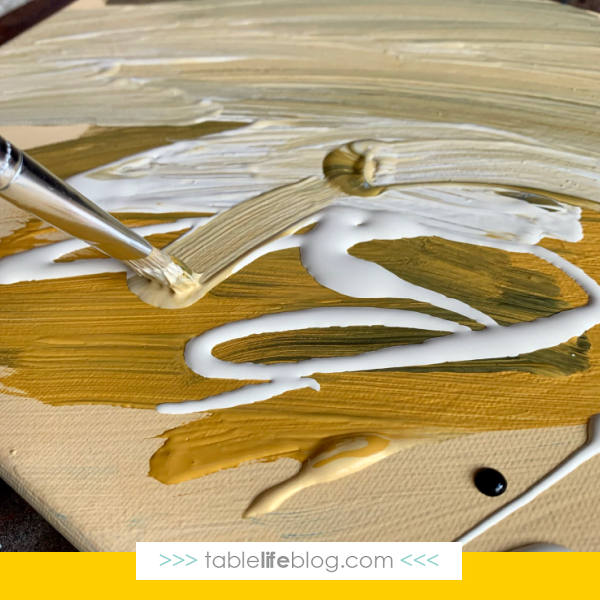 Also worth noting, I've mentioned before that I don't save all of my kids' art projects and that we sometimes paint over used canvases for new projects. This was one of those cases; that's why you don't see a blank canvas in any of these photos.
Step 2. Add Scrapbook Paper
Prepare the scrapbook paper elements while waiting for the painted canvas to dry. This part can happen in one of two ways, but we'll start with the easiest.

If you or your kids can draw a Hamilton-like silhouette to use for the project, go for it. Trace that silhouette onto the black scrapbook paper, cut it out, and put it aside.

If you're like us and wanted some help in this area, no worries. You can use graphics like these as a template. Simply open the file, adjust it to your desired size, and print.

Next, have your kiddo "color" the back side of the printed paper with pencil. When the back is covered, flip it over and place it on top of the black scrapbook paper.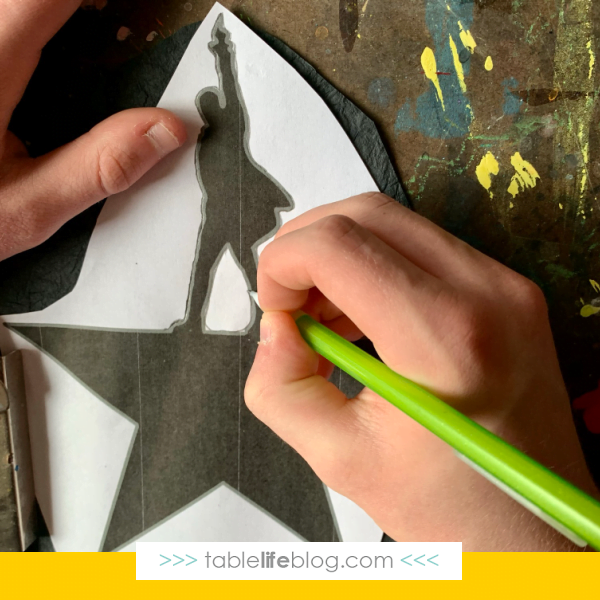 Bearing down carefully, trace over the outline of the graphic. This will make an outline of the graphic on your scrapbook page.
Next, cut out the Hamilton graphic from the scrapbook paper. Then glue it to the dried canvas using Mod Podge and a sponge brush.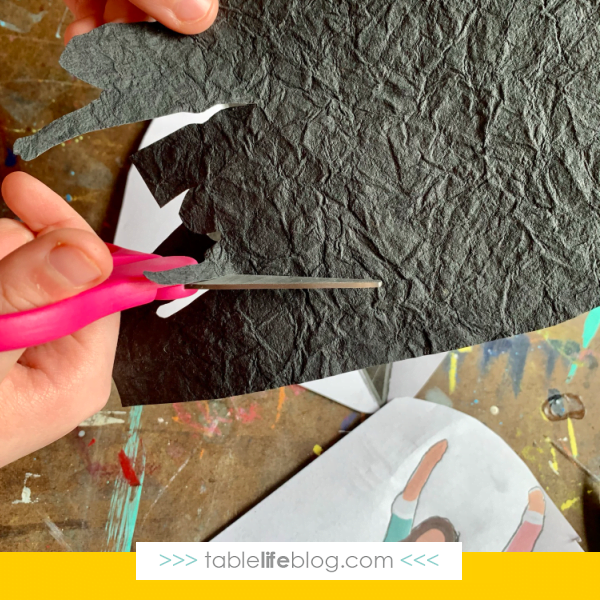 This is also a good time to prepare the paper strips for the printed lyrics. You can use one of these or type up your own and print it. Next, cut your chosen phrase into strips and glue it to the canvas.
You can write this in later using a paint pen if you prefer.
Step 3. Outline and Accent
There's lots of room for individual touches in this step of the project. Choose from a couple of these accent ideas or use all of them to complete your artwork.
With a pencil eraser and an accent color from your paint selections, gently stamp dots of paint onto the canvas. You can also achieve this accent using a Q-tip.
Once the surrounding areas are dry, use the Sharpie to outline the silhouette and paper strips. You can also repeat this step with a paint pen.
Scrunch a paper towel together and use it to dab paint splotches in the blank areas of the canvas. This fills in the empty spots and can also add shimmer if using a glitter-paint blend.
If an artist gets a little zealous in this step, you can remove some of the accent paint by continuing to dab with a clean paper towel before it dries. This especially works well for any paint dots or scrunching accents. Dabs of the original paint color can also be added to cover accidents if needed.
Step 4 – Seal and Enjoy!
Seal the mixed media art with one complete layer of Mod Podge over the entire canvas. When that sealing layer dries, your Hamilton mixed media art is ready to display and enjoy!
To hang it, you can attach a ribbon loop to the back of the canvas using hot glue gun or simply frame it. You can also enjoy your completed Hamilton art by displaying it in a tabletop stand like this. Either way, it will serve as a fun reminder of the important messages from Hamilton.
---
Looking for more American history learning inspiration? Check out the following ideas: