Introducing my kids to women artists is one of my main goals for artist study in our homeschool this year. That's why I've been busy rounding up a list of Frida Kahlo books to share with them. Today I'm sharing my list so you can enjoy these books with your kids.
*Post contains affiliate links; see disclosure for details.*
Most of these titles are familiar to me now, but a few of these are on my wishlist. But old or new, I know they'll be great additions to your homeschool shelves or a Frida Kahlo unit study you may be planning.
Frida Kahlo Books for Kids
Here are ten children's books to consider if you're studying Frida Kahlo with your kids.
1. Who Was Frida Kahlo?
Who Was Frida Kahlo? is a great kid-friendly Kahlo biography. At 112 pages, it's a great source of information on Kahlo's formative years, her personal life and relationships, and her contributions to the world of art.

2. Frida Kahlo: The Artist Who Painted Herself
Frida Kahlo from the Smart About Art series is a fun book report-style presentation of Kahlo's background, life, and art. The information itself is good, but kids will particularly appreciate the illustrations and facts randomly found throughout the book.

3. Frida
Full of bold illustrations and easy-to-read text, Jonah Winter's Frida is a great way to introduce younger children to this famous artist. It's engaging, to the point, and includes notes from the author and illustrator in the back.

4. Me, Frida
Me, Frida is good for highlighting Kahlo's first time away from Mexico and her complicated relationship with husband Diego Rivera. It tells the story of her time with him in San Francisco and how her experiences there influenced her art.

5. Frida Kahlo
I haven't personally read Mike Venezia's Frida Kahlo, but each book in the Getting to Know the World's Greatest Artists series includes a fun overview of the artist's life and art. Also worth noting, the books contain several full-color reproductions of the artist's work, timelines, and engaging illustrations.

6. Frida Kahlo
Frida Kahlo from the Little People, Big Dreams series is another great way to introduce younger kids to Kahlo. It's biographical in nature, but uses simple text and fun illustrations to tell Kahlo's story. It also includes photos of Kahlo, additional information, and a timeline of her life.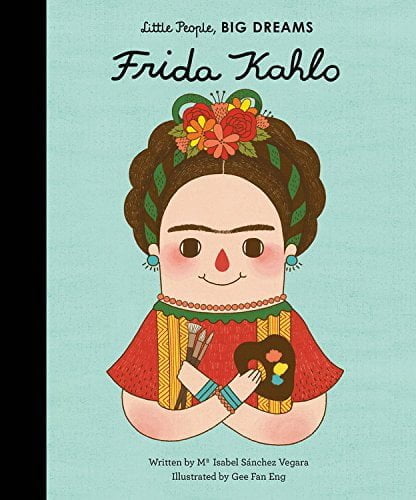 7. Frida Kahlo and Her Animalitos
A love for art and a love for animals come together in Frida Kahlo and Her Animalitos. This picture book not only shares the unique relationship Kahlo had with her pet monkeys, dogs, eagle, turkeys, fawn, and cat, but it also shares how those interesting pets inspired her artwork.

8. Frida Kahlo: The Artist in the Blue House
I found Frida Kahlo: The Artist in the Blue House to be a great resource for studying Kahlo's artwork. It includes reproductions and kid-friendly insight regarding relationships and significant events happening in Kahlo's life to go along with each piece.

9. Frida Kahlo and the Bravest Girl in the World
Anholt's Artists Books for Children are some of my favorite books to share with my kiddos, so it's no surprise to find Frida Kahlo and the Bravest Girl on this list. This lovely picture book tells of Kahlo painting the portrait of a scared little girl and includes Anholt's illustrations, as well as reproductions of some well-known pieces from Kahlo.

10. Viva Frida
A Caldcott Honor Book, Viva Frida isn't necessarily going to help your kiddos learn all about Frida Kahlo and her art, but this picture book does provide colorful look at the world as Kahlo may have seen it.

---
Looking for more books to read about the master artists? I've got several more lists for you in the posts below: