I don't usually make too big of a deal out about Valentine's Day.  Is that terrible of me?  Hubby and I can normally arrange a date night somewhere around that time, but other than that, it's not too different for us.  I don't really know why, but this year I feel like turning it up a notch. I don't know if it's because the kids are exchanging valentines with their friends or what, but I suddenly find myself engrossed in all things pink, lots of hearts, and warm, fuzzy sentiments.
All this talk about Valentine's Day has made me actually want to do a little decorating.  Nothing extreme, but I found myself thinking that a couple of Valentine-related prints would look great on the piano right now.
I played around with a few options, but found myself drawn to scripture instead of song lyrics or cute sayings.  I don't know about you, but when I think of scripture and romance, I immediately think of Song of Solomon.  If you haven't spent time in Song of Solomon in a while, this might be a nice time to do so with your spouse, wink wink.
Scarcely had I passed them when I found the one my heart loves…
~Song of Solomon 3:4 (NIV)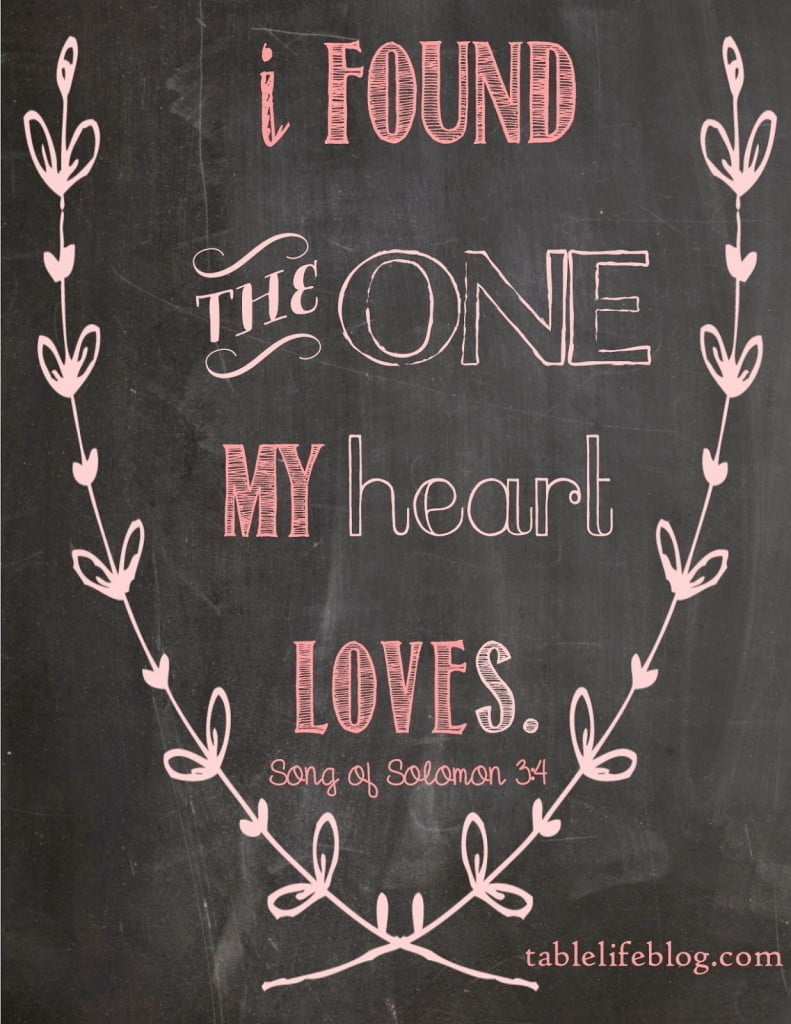 Get the free printable here.
 My beloved is mine, and I am his: he feedeth among the lilies.  ~Song of Solomon 2:16 (KJV)
Get the free printable here.
While I love those verses from Song of Solomon, I had 1 John 4:19 in my mind the entire time I was working on those prints.  How on earth can I open up God's Word, think of verses that focus on love, and then not go back to the love that matters most?  I just can't do it.  So now, we find ourselves with two extra, unplanned prints.  After all, we can only love because He does:
We love because he first loved us. ~1 John 4:19 (NIV)
Get the free printable here.
Oh, and Jeremiah 31:3.  When I think about the way God loves me (and you), it overwhelms me.  I'm so very undeserving, but He loves me all the same:
The LORD appeared to us in the past, saying: "I have loved you with an everlasting love; I have drawn you with unfailing kindness. ~Jeremiah 31:3 (NIV)
Get the free printable here.
Feel free to download, print, and use however you like.  I plan to have mine printed through Snapfish on to 8 x 10 paper and then frame them.  You could also use them for a decoupage canvas or wood project in lieu of framing.  (They are formatted to be 8 x 10 prints.)  Enjoy!
Here they are: