You know that homeschool to-do list that you never quite get around to because the budget runs out? Good news: you can officially cross learning to type off that list. Today I'm excited to tell you about the free typing games and lessons I've found!
*This post is sponsored by KidzType and I have been compensated for my time. As always, I was not required to write a positive review and all opinions are my own. See disclosure for details.*
Learning about KidzType came at the perfect time for me. You see, my second grader has asked about learning to type for months, but I've had a hard time finding a program that works with her age and our midyear homeschool budget. I mean, I'm thrilled that she wants to learn, but I wasn't exactly thinking about her typing skills when I made my purchases at the beginning of the school year.
Tell me I'm not the only one.
The Importance of Typing Skills
Here's the thing: I may not instinctively rank typing skills up there with math, reading, history, or science, but the reality is typing skills aren't negotiable anymore. When I consider that typing skills have been a part of my daily life since I was a teenager in the 90s, I can only imagine how much more my children — who happen to be digital natives — will need these skills in the future.
Our kids will certainly need typing skills in the future, but we don't have to look to their futures to understand why typing skills matter. Learning how to type benefits them right now. Between online learning, narration, composition, and casual communication, we can't really justify any move that places typing on the back burner.
That's why I'm excited to share KidzType with you. Ideal for elementary kids, KidzType focuses on touch typing and uses step-by-step tutorials, exercises, and games to keep kids engaged while they become familiar with keys and increase typing speed. The best part? It's all free. 
Fun and Free Typing Games for Kids
There are a few different options for learning to type with KidzType and all of them are great for learning to touch type.
Not familiar with the touch typing? KidzType has you covered with this infographic and the video below:
Now that you know a little about it, here are the ways KidzType helps with touch typing:
1. Free Typing Lessons
KidzType offers typing lessons broken down into several groups:
home row
top row
bottom row
shift keys
numbers
symbols
Each grouping offers six to nine lessons for kids to work through and each grouping builds on the last completed group of lessons.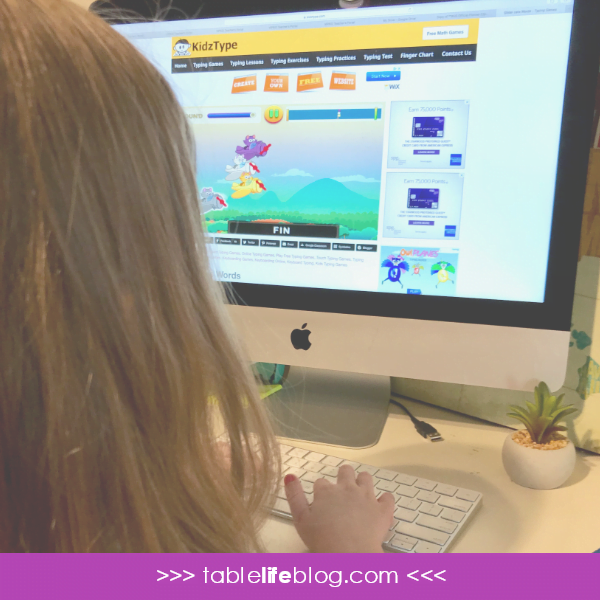 2 . Free Typing Games
The free typing games from KidzType are great for independent learning. There are several game options and themes and most come with options to focus on specific rows, keys, or difficulty levels.

While those games are particularly good for reinforcement or fun typing practice, the Dancemat Typing game provides explanations and interactive guided typing practice that spans over four levels.
3.  Free Typing Exercises and Practice Activities
The typing practice option offers lots of timed practice broken down by rows, key groups, sentences, and paragraphs. Also, since they can be done in one, two, or three minute increments, they're great for quick reinforcement during an especially busy homeschool day.

KidzType also offers typing exercises in addition to the practice options. These short exercises are similar to the practices and can be used individually or along with the lessons or practice options.
Get Connected with KidzType
Ready to get started with KidzType? Visit them at kidztype.com to learn more about this budget-friendly option for learning to type. You'll also want to follow KidzType on Facebook so you don't miss any of the fun new things they're working on for us.
Lastly, be sure to check out Type Dojo, KidzType's sister site. It offers a free typing test that can be used to check your kids' progress. You can also use it to test your own typing skills. 🙂

It's your turn now. Do you have any favorite tips or resources for teaching kids to type? Share them with us in the comments below.