Looking for eastern North Carolina field trip ideas to work into your homeschool plans? Here are some fun and educational spots you'll love!
We're still learning our way around eastern North Carolina, but we've found some great places for field trips in our time here.  Whether you live in eastern North Carolina or may be visiting soon, be sure to add these locations to your to-do list. They are the spots you don't want to miss if you're looking for homeschool field trip ideas!
10 Fantastic Eastern North Carolina
Field Trips for Homeschoolers
1. Tryon Palace in New Bern
Tryon Palace is best known for being the location of North Carolina's first state capital and is the perfect field trip for anyone wanting to experience a taste of colonial NC.  Not only is Tryon Palace home to the first Governor's Palace, it also has living history demonstrations, historic homes for touring, 16 acres of gardens, and the North Carolina History Center.
2.  North Carolina Aquariums
There are a few different aquarium locations to choose from for North Carolina field trips, but the Fort Fisher location is our favorite.  Complete with touch pools and interactive experiences, the aquarium is naturally a good match for homeschoolers or any kids who love ocean creatures.  We personally enjoy the free admission they provide to homeschool families each year.  How great is that?!?
3. Cape Fear Museum of Science and History
We love the Cape Fear Museum!  Since we've only lived in North Carolina for a few years, this place is gem to us because it's helped us understand more about the science, history, and culture of NC's lower Cape Fear region.  This is a great place for homeschool field trips even for those who aren't new to the area, though!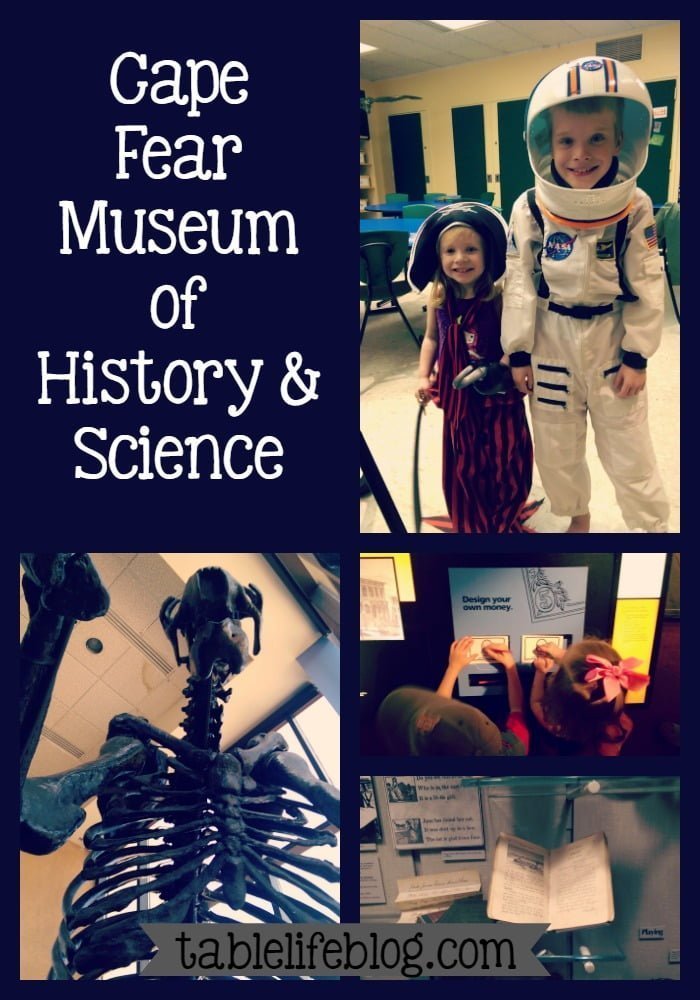 4. USS North Carolina Battleship
Studying World War II?  The USS North Carolina is where you need to be!  Japanese radio announcers claimed six different times that this battleship had been sunk, but she survived and has much to offer her visitors.  I can't think of a better way to step back in time and view World War II than to experience it through the eyes of those who served so bravely.
5. North Carolina Maritime Museums 
There are three coastal locations, but each of the NC maritime museums are unique and are great choices for homeschool field trips.  From Blackbeard's Queen Anne's Revenge to marine life and conservation to shipwrecks, these museums have more than enough to keep your kids busy and engaged.
6. The Children's Museum of Wilmington
Wilmington's Children's Museum is such a fun place for a field trip, especially for younger kids!  Here you'll find an awesome toddler room, Teddy Bear Hospital, and Port of Call, just to name a few exhibits.  These are great, but our favorite children's museum features are the Art Room and Courtyard.  My kids can't get enough of these!
While there are actual field trip programs available, we prefer just to visit as a family.  We still get to take part in all the museum offers that way and do it at our own pace.
7 . Karen Beasley Sea Turtle Rescue and Rehabilitation Center
There's great work happening at the Sea Turtle Rescue and Rehab Center and, while educational programs aren't available year-round, there is much to learn here.  And even if you forgo the actual Rehab Center, attending a sea turtle release also makes for a great homeschool field trip.
8. Liberty Hall
Liberty Hall is an antebellum home belonged to one of the area's earliest settlers and gives visitors a look at life in the early 1800s.  You can get the general idea of what to expect by viewing the guided tour on the website, but it's definitely worth seeing in person.
9. Moore's Creek National Battlefield
The Revolutionary War comes to life during a field trip to the Moore's Creek Battlefield!  This battlefield is homeschool-friendly and offers programs that showcase colonial clothing, musket demonstrations, and tours through the historic site. Bonus: their website includes a ton of free teacher resources for your field trip!
10. Airlie Gardens
This spot was one of the first places we learned about when moving to the area and we're so glad we didn't miss out!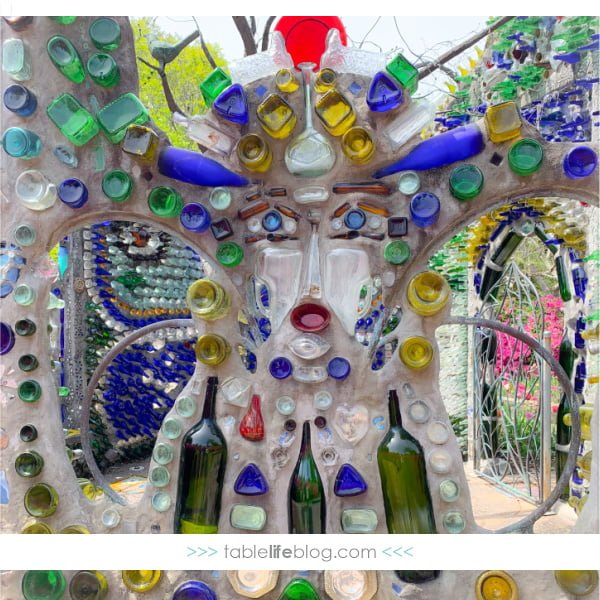 Airlie Gardens is a great place for homeschool field trips because you can find gardens, walking trails, historical structures, a mosiac-style chapel made from glass bottles inspired by artist Minnie Evans, and an oak tree that's been around for more than 400 years all in one place!  While we've enjoyed all of these aspects of Airlie Gardens, the Tranquility Garden and all of the butterflies there just might be our favorite.
This list of Eastern North Carolina field trip ideas is by no means exhaustive.  This area has tons to offer homeschool families and these are just ten fantastic locations to visit!