Looking for some fall nature study inspiration for your homeschool? Good news: I'm sharing my favorite easy nature study ideas to help you enjoy this beautiful season with your kiddos.
*Post contains affiliate links; see disclosure for details.*
The best part? All of these ideas are easy to pull off, which is especially nice with the hustle and bustle involved with settling into a new homeschool year.
Fall Nature Study Ideas
1. Read about fall.
Books are always a great place to begin with nature study because they help us understand what's happening around us and prepare for what we'll likely see outside.

You can check out my full list of books about fall, but here are a few of my favorites:
2. Study deciduous trees.
Looking for an all-in-one approach to fall nature study? I love this NaturExplorers Delightful Deciduous Trees unit.

This guide focuses on observation and explores parts of a tree, the life cycle of trees, and different kinds of trees. Also, it includes notebooking pages, nature walk ideas, and suggestions for more than 50 hands-on activities. It really is a great all-in-one stop for your fall nature study plans!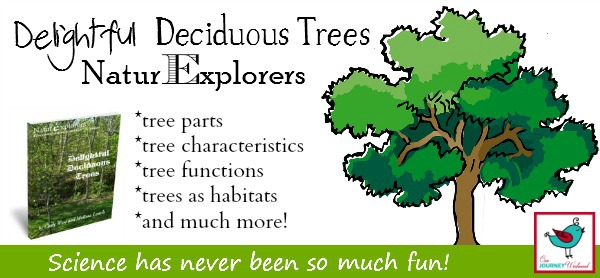 3. Learn why leaves change color.
Speaking of deciduous trees, don't miss this Leaf Chromatography post from Teach Beside Me to explore why leaves change color in the fall.

After all, watching the canopy of colors in the trees is one of the most fascinating (and beautiful) things about fall. That makes it a perfect time to learn about leaves and what causes them to change.
4. Go on a Fall Nature Hunt.
There's nothing like a fall nature walk. The mild fall temperatures make it easy to be outside for hours taking in the colorful landscapes and the sounds of scurrying animals. The best part is some of our best, most productive nature study moments happen by simply walking through the woods in fall.

Does a simple walk through the woods sound too good to be true? Print this Fall Nature Hunt and enjoy a nature-themed scavenger hunt while you're walking. 🙂
5. Grow Indian corn.
We're apartment dwellers, which means we have to be creative when it comes to incorporating anything plant-related into our daily nature study. Sure, there are lots of options for indoor plants and patio plants, but we're still really limited in our specific unit.

All that to say, I love this idea for "growing" Indian corn at home. It doesn't get much easier than a pan, water, and a cob of Indian corn! Be sure to take a look at the instructions and check out the project follow up so you'll know what to expect.
Related: Nature Study for Beginners: 33 Ideas to Get You Started
6. Map animal migration
Fall is migration season for birds, snakes, Monarch butterflies, and even some animals. Incorporate migration into your fall nature study with this Migration Mapping Activity from Teach Beside Me.
7. Get artsy.
Celebrate the beauty of fall through easy art projects like this DIY leaf art project. This project is especially nice because you can work it into your nature walks and it's one even your youngest kiddos can create with some help from you or older siblings.
I'd be remiss if I didn't also mention one of our favorite art e-Courses from Masterpiece Society, The Art of Fall. We love the beautiful mixed media projects from this workshop and turn to them each fall. In fact, we keep some of these on display year round!
8. Make a bird feeder.
Observe birds in your backyard with these DIY bird feeder ideas from The Homeschool Scientist. There are several feeder projects here, but there are some seriously easy options. In fact, there's one that only requires birdseed, peanut butter, and an empty toilet paper roll.
---
What about you? Do you have tips or ideas for fall nature study? Leave a comment and let us know. We'd love to hear from you!