I don't know any homeschool parents who would deny the importance of nature study, but I know plenty who find it a little daunting. That's why I'm happy to share my favorite easy nature study ideas today.
(Post contains affiliate links; see disclosure for details.)
Nature study is easy in theory, but it's not always an easy thing to pull off. When we lived in a house with a pond in the backyard and another across the street, nature study was, well, natural. We couldn't walk to our mailbox without finding something cool to observe.
After that, we bought a house that was lovely, but the yard wasn't the nature smorgasbord we had before. Our property had seven trees and we planted all seven of them when we moved in. Other than that, we had grass, insects, and the occasional furry thing running near the back of the property.
Need help with homeschool nature study? Here are 10 ideas nearly anyone can enjoy! #ihsnet
Even so, newer construction isn't the only reason nature study may be difficult to pursue. Here are a few other nature study road blocks:
living near a busy road
living in the suburbs or city
apartment living
health restrictions
extreme temperatures
These are just a few reasons you may find it difficult to incorporate nature study into your homeschool routine. Thankfully, there are lots of easy nature study ideas that nearly anyone can enjoy. Let's take a look at some of them.
10 Easy Nature Study Ideas
Nearly Anyone Can Enjoy
1. Keep It Simple
As tempting as it may be, do your best to keep nature study as simple as possible. After all, nature study shouldn't be complicated. It's essentially the discipline of learning to see what's in front of you.
Focus on observation and encourage your kids to pay attention to things that often go unnoticed. You don't have to allow lots of time for this each day, but encourage your kids to observe what's around by using as many of their senses as possible.
2. Keep a Nature Journal
The best place to start with nature study is to keep a nature journal. A simple notebook will work perfectly well, but a more guided kids' nature journal is another good option to consider.
We also like to use mixed media journals for this so that we can easily turn our nature study into art projects. My kids do this by sketching what they see outside and adding color through chalk pastels or watercolors a few days later. It helps them take one observation in nature and make it even more memorable.
3. Follow a Unit Study
If you're like me, you understand the concept of nature study, but do better with some direction. That's why I love NaturExplorers. These studies come with everything needed for easy nature study no matter your season or surroundings.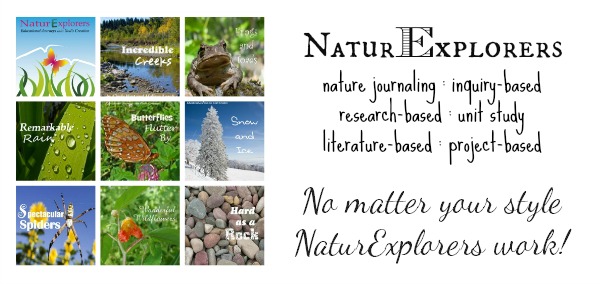 4. Explore Your Backyard
Long hikes and nature walks are nice, but they aren't needed for successful nature study. Chances are you have plenty of good stuff to study in your own yard. Observe insects, leaves, grass, flowers, and anything else of interest. You can even compare and contrast your findings from season to season.
No backyard? I get it. We had yards in the past, but now we live in a third-floor apartment and we have no yard to call our own. Regardless, we head downstairs and easily find some small area to study on a regular basis. We also visit one of our local parks or the beach at least a few times each week.
5. Bring It Inside
If you don't have easy access to nature where you live, research ways to bring nature inside your home and study it there. Consider an indoor herb growing kit, terrarium, or indoor plants.
None of these will substitute for in-depth nature study, but they'll provide something to observe and enjoy regardless of your location or weather.
6. Use Notebooking Pages
Maybe you don't want to follow a particular unit study, but need a little more direction than a nature journal provides. If that's the case, notebooking pages could be exactly what you need for easy nature study in your homeschool.
7. Take a Field Trip
Need a change in your nature study scenery? Visit your closest zoo or botanical gardens. Our aquarium even offers tons of great opportunities for easy nature study!
That said, you probably can't manage frequent visits to these field trip locations. Don't worry, your favorite local park is a great nature study location and you may even be able to work a visit into your normal homeschool routine. This is an especially good solution if you don't have much of a backyard to explore.
8. Make a Bird Feeder
My ornithophobia keeps me from implementing this one myself, but it's an inexpensive and easy nature study idea, you know, if you're into this kind of thing.
Not only are bird feeders an easy way to study nature, they're also fun to make with your kiddos. If you need some bird feeder inspiration, don't miss these easy to make bird feeders from The Homeschool Scientist. (Pin it for later)
Once you've made your bird feeder, use a bird guide to learn more about the birds who are visiting your feeding spot and have your kids record what they've observed in their journals.
9. Study Insects
No matter where you live, chances are you have some insects around for observation. Use that to your advantage by using a bug kit to study them. Use your kit for observation and the Ultimate Bugopedia to learn more about them. Then have your kids draw them in their journals and write a few facts of interest next to their sketches.
Not feeling the bug kit? Try raising butterflies instead. This is a fascinating, yet easy nature study idea that only takes a few weeks to complete and leaves a lasting impression.
 10. Use TV Time to Reinforce
TV time is wonderful for easy nature study. There are several Magic School Bus episodes on Netflix that explore different nature topics, while shows like Wild Kratts, Nature Cat, and Kratts' Creatures are available through Amazon Prime.
If you prefer to stick with documentary-style viewing, do a quick Amazon or Netflix search on your nature topic of choice and add your findings to your watchlist.
You may not be able to implement all of these ideas, but hopefully you've found some nature study options here that will work for your homeschool.
Do you have other easy nature study ideas to share? I'd love to hear about them in the comments below!
Need more help with nature study? Don't miss my nature gift guide and this post about how I'm learning to love nature study.