It's no secret by now that art is an important part of our homeschool. Both of my kids love learning about artists, recreating famous works, and experimenting with their own ideas. All this love for art is a wonderful thing, but it's also been a source of stress at times.
You see, regardless of how much my kids love art, I've learned over time that some aspects of art simply aren't doable in the daily rhythm of our homeschool and our family. Weekly and monthly? We can make those happen, but art on a daily basis takes some consideration. You might even say I had to develop a strategy.
The good news is that we're about a year into our strategy and I can honestly say we've hit our sweet spot when it comes to daily homeschool art. So if you've been searching for easy art ideas for your homeschool, I think you're going to be surprised by just how simple it is to give art a spot in your daily routine.
*This post contains affiliate links; see disclosure for details.*
Not only is it easy to include art into your day-to-day homeschool plans, but it can also be no-fuss, fun, and quick. What's not to love about that, right?
Today I'm happy to share the three ways we make time for art every day in our home.
3 Easy Solutions for Homeschool Art
Before I share my three easy solutions for homeschoool art, it's important to note that the key here is balance. We include art every day, but it doesn't come in the same package each day. Some days are artist study, some are hands-on and creative, and some are a fun spin on picture study.
There's no rhyme or reason to what shows up and when, but these are the three things that help our art world keep spinning in between the detailed projects that show up from month to month.
1. Can You Find It Books
We stumbled across the Can You Find It? series at our library last year and I couldn't be more grateful. These books are a game-changer when it comes to picture study. Each book in the series contains a collection of diverse paintings accompanied with an I Spy-style list of items to look for in each painting.
It may not sound like an effective way to include art in your daily homeschool routine, much less a legitimate approach to picture study, but I've seen what happens with these books. Each painting invites you to look, look again, and again for details that may not have initially popped out at first glance.
One picture at a time, all that looking makes an impression. In fact, while I sort of expect my youngest kiddo to know famous pieces from artists like Mary Cassatt and Vincent van Gogh, she surprised me a few days ago by referencing a painting by Dana Van Horn.

Put simply, Van Horn's Jeff Kleckner at Work isn't on my radar when it comes to artwork and it's not one I've given much thought to outside our time studying it in Can You Find It, Too? But it made enough of an impression on my six year old for her to mention it in conversation completely unprovoked. She knows that piece because we've looked at it closely and carefully time and time again.
Again, this fun approach to picture study may not be traditional, but it works and it's an easy way to add art to your homeschool.
2. Biographies & Picture Books
In addition to our favorite look and find books, we also regularly include picture books and biographies about artists in our daily reading selections.
This reading focus is often there to help us learn more about the main artist I'm covering with my kids each month, but I also use this time introduce new artists or influential people who may not fit the mold of typical artist study.
I love using books for these introductions because they help my kids make connections and see that art has a place across many disciplines.
The Girl Who Drew Butterflies is a great example of this sort of reading selection. This book shares the story of naturalist Maria Merian and how she used art to document insect metamorphosis. She's certainly not someone who comes to mind when discussing great artists, but her art and observations greatly influenced science as we know it.

We also use artist biographies and picture books to highlight favorite artists we haven't studied in a while. For example, we've read nearly all of the books from Anholt's Artists Books for Children series, but they still make regular appearances in our reading pile.

Books like these go a long way in helping us reconnect with artists we've studied previously without interrupting our current artist study or adding to our homeschool to-do list.
3. Chalk Pastels
Lastly, chalk pastels are a ridiculously easy way to include art in our daily homeschool routine. We love doing all sorts of art projects, but all art projects aren't created equal when it comes to the daily grind. We're blessed to have lots of different homeschool art resources available at all times, but we don't always have time for multiple steps, lots of moving parts, and extensive cleanup.
That's where chalk pastels save the day. These projects are usually quick and require only a few supplies: pastels, construction paper, and paper towels. That means there's no pressure to round up my supplies, block out a significant chunk of time, or deal with a messy art area for half the day.
It probably goes without saying here that chalkpastel.com is the perfect place to find chalk pastel inspiration for your homeschool. From history-focused pastels projects to seasonal tutorials to to the You ARE an Artist! Video Art Lessons, you'll find plenty of chalk pastel tutorials to keep your artists happy without adding any overwhelm to your already-busy day.
Also, if you're interested in an annual membership for the You ARE an Artist Clubhouse, check out the Video Art Lessons Sampler.
Clubhouse Membership only opens for a brief time each quarter and the current purchase window is almost over. That's why you want to check out that sampler. It will help you determine if Clubhouse Membership or a topical course like American Landmarks would be a better fit for your plans. Either way, you'll quickly see what I mean about pastels being a ridiculously easy way to add art to your homeschool day!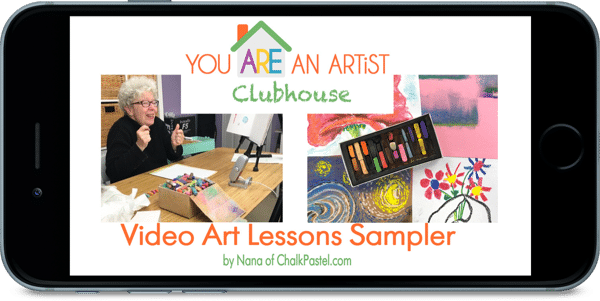 In closing, be encouraged about art and its place in your homeschool! Remember, it doesn't have to be fussy or time-consuming. It's really just a matter of building habits and making time for observation each day.
Looking for more help with homeschool art? Check out these posts: