Looking for easy ways to incorporate Earth Day into your homeschool plans? You're in luck! We've got a fun selection of books to help your kids learn about Earth, celebrate its beauty, and make it a better place for the generations that follow. 
Even better, these beautiful books can all be enjoyed individually, but they make the perfect Earth Day Morning Basket when combined!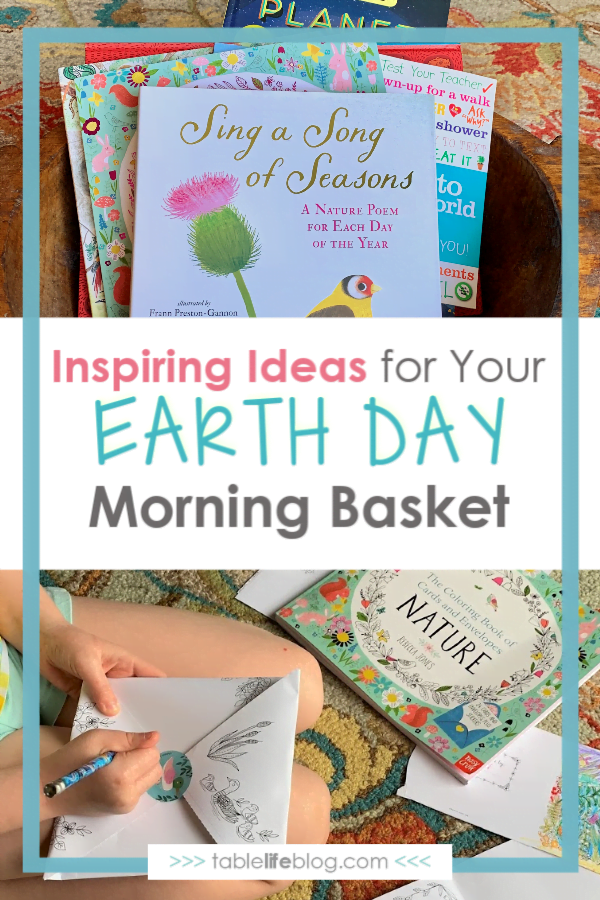 *I received these books for free and was compensated for my time writing this.
As always, all opinions are my own. See disclosure for further details*
Books are my favorite way to include special days in our homeschool plans. Even so, I don't always have extra time built into our days for additional reading. That's where our morning basket comes into the picture.

We always make time to work through our basket full of books. That's why adding books about the natural world to our basket is such an easy way to include Earth Day in our homeschool.

Thankfully it didn't take me long to round up the perfect group of resources. I found everything I needed for our Earth Day basket at my first stop, Candlewick Press. Since it was super easy for me to create my Earth Day basket, I want to make it just as easy for you to create yours!
Earth Day Morning Basket Ideas
Before jumping into these Earth Day selections, keep in mind that you don't have to use a morning basket in your homeschool to appreciate them.

These books are all wonderful options for strewing. They're also great non-textbook options for earth science and nature study that can be enjoyed any time!
1. Many: The Diversity of Life on Earth
I remember the first time we borrowed Many from our library. We read through it, feasted on the beautiful illustrations, and closed the book feeling awestruck by the diversity of life at work around us.

More importantly, we also felt spurred on by the reminder to protect the all these living things; that's why I love having our own copy to include in our Earth Day basket.
We have learned that every kind of living thing is a part of a big, beautiful, complicated pattern… Human beings are a part of the pattern, too, and we need to make sure it stays big, beautiful, and complicated… – Nicola Davies, Many
From microbes to elephants to feather mites, Many does a wonderful job explaining the connections between life on earth and reminding readers how we as humans impact these connections for better or worse.
2. Planet Earth
Full of cutouts, flaps to lift, and colorful illustrations, Paper World's Planet Earth is one curious kids will love while preparing for Earth Day.
Better yet, it's perfect for Morning Basket because it includes 12 two-page spreads that cover earth science topics like tectonic plates, glaciers, weather, and storms. That makes it easy to break up the readings, digest the information a little at a time, and savor this fun, but detailed book.
3. Origami and Poetry: Inspired by Nature
This playfully-illustrated book makes a wonderful hands-on component for your Earth Day Morning Basket. It includes 13 short nature-inspired poems, matching origami instructions for each poem, a guide to origami folds and symbols, and 50 sheets of patterned origami paper. 
Also worth noting, the step-by-step origami tutorials in Origami and Poetry range in difficulty from beginner to advanced. That makes this book a great one for kiddos who are new to origami or fairly experienced.
4. 31 Ways to Change the World
31 Ways to Change the World is a fun one to work through a little at a time. With an overarching message that we impact the world through lots of small acts, it presents 31 daily actions kids can do to make a difference. 
For example, Action #16, Find out about your food, asks kids to research the origins of the food in their pantries. Action #22 is Don't charge your phone overnight. This action prompt explains how simply charging phones in daylight hours can save energy and money.
Worth noting, these ideas aren't all related to conservation, but my kids are grateful for the variety of suggestions shared here. They're happy to improve the earth, but they're equally willing to help their grandparents text more efficiently. 😉
5. Sing a Song of Seasons
Sing a Song of Seasons is a stunning poetry collection that includes a single nature poem to read each day of the year. With lovely poems and gorgeous illustrations, it's one you'll want to include in your homeschool routine well beyond Earth Day.
6. The Coloring Book of Cards and Envelopes: Nature
The Coloring Book of Cards and Envelopes makes a wonderful addition to an Earth Day Morning Basket! It allows kids a chance to get creative, while encouraging others to appreciate nature and all the beauty of the natural world.

Our copy of this coloring book looks a little beat up these days, but that's proof of how much my daughter loves it.
She's been busy for weeks coloring these cards and envelopes while I read aloud.
Afterwards, she addresses envelopes and writes messages to encourage friends and family to get outside and celebrate nature. Nothing makes her smile more than mailing these cards. 🙂
7. Under Water, Under Earth
Under Water, Under Earth is another Earth Day Morning Basket pick curious kids will love. With cool retro illustrations and tons of insight on all things down below, it serves as a reminder that there's much in the natural world we don't see.
The premise of the book is enough to make its way to your Earth Day reading list on its own, but the best thing about, this book is that it's actually two books in one!
Read Under Water to explore topics like lakes, coral reefs, and the history of submarines, but flip it around and it's an entirely different book. The Under Earth side digs into bugs and microorganisms, root systems, underground utilities, sewer systems, and much more.
Celebrate Earth Day with Candlewick Press
I can't say enough good things about these books from Candlewick Press. They provide all the Earth Day inspiration you'll need and are a perfect way to stock your morning basket.
Stock your Morning Basket with Earth Day inspiration!
You can learn more about all the Earth Day Morning Basket suggestions mentioned here at Candlewick Press.
Lastly, Candlewick Press is giving away ten copies of My Green Day: 10 Green Things I Can Do Today. Enter to win using the giveaway widget below.
---
Looking for more reading fun from Candlewick Press? We especially love their graphic novels inspired by Shakespeare's plays and their incredible selection of nature books.
Also, be sure to check out the Candlewick Press Presents podcast. It features well loved children's book authors and illustrators like Kate DiCamillo, Aaron Becker, and Megan McDonald.