Are you planning an Edgar Degas unit study for your homeschool? You're in luck! I'm sharing some fantastic resources to help you explore the life and art of this famous artist with your kids.
*Post contains affiliate links; see disclosure for details.*
Our recent Edgar Degas unit study was fun for a couple of reasons. First of all, we're always up for more impressionist studies. Secondly, Degas had a unique relationship with Mary Cassatt, who happens to be another incredible impressionist we enjoy studying.
Despite our leanings toward Impressionism, there's so much more to Degas and his story. I'm excited to share how we studied Degas in our homeschool and some additional ideas to help you dig even deeper if you wish.
Edgar Degas Unit Study Resources
We tapped into the Degas lessons from this Mixing with the Masters course as a starting point for the Edgar Degas unit study. Starting here gave us an opportunity to explore Degas' background, techniques, and impact on the world of art. My kiddos also had a chance to recreate several lovely Degas pieces.
My kids love their step-by-step lessons from the Masterpiece Society workshops, but these Degas lessons were especially fun.
My youngest kiddo loved studying all of Degas' ballet-inspired pieces and was thrilled to create her own version of The Ballet Class, but my oldest kiddo appreciated the change of scenery he experienced when recreating Racehorses in a Landscape. 😉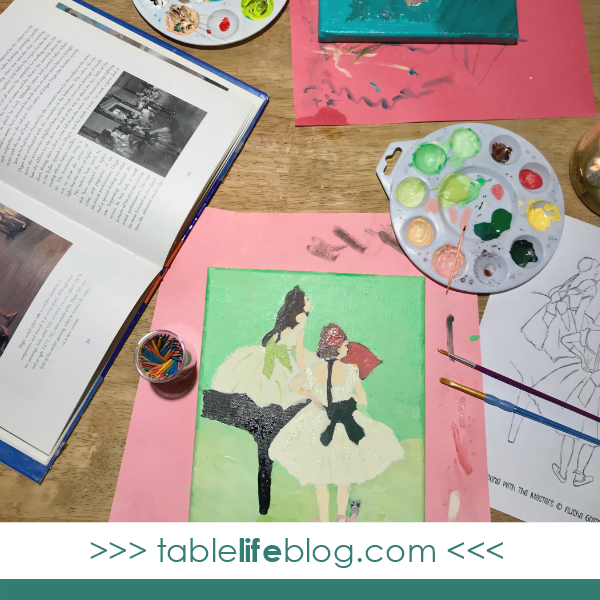 In addition to our Mixing with the Masters lessons, my kiddos also worked through the Degas unit in Masterpiece Society's Art Appreciation course. This unit includes biographical information, fun facts, notebooking pages, coloring sheets, and more and made it so easy to round out our Edgar Degas unit study.
More on Edgar Degas
Long before I found Masterpiece Society, I pieced together my own artist studies for homeschool co-op. Here are the Degas ideas I saved along the way.
What to Read
Between websites and great books, there are several great reading options to consider as you study Degas with your kids.

As for books about Degas, our favorites are What Makes a Degas a Degas? and Degas and the Little Dancer, but you can find other reading suggestions in my Edgar Degas book list
What to Watch
There are also some great viewing options that would work well in a Degas Unit Study. Here's what I found:
More Edgar Degas Unit Study Ideas
You may also want to consider some of the following ideas to go along with your Edgar Degas study:
Looking for more unit study resources for the master artists? Be sure to check out the following posts:
As always, you can also refer to How to Teach Art Appreciation Without a Curriculum or my Ultimate Guide to Homeschool Artist Study for more homeschool art ideas! 🙂