Do your kids love dandelions? If so, they'll love this super cute dandelion art tutorial. Grab your paper and paints and take a look!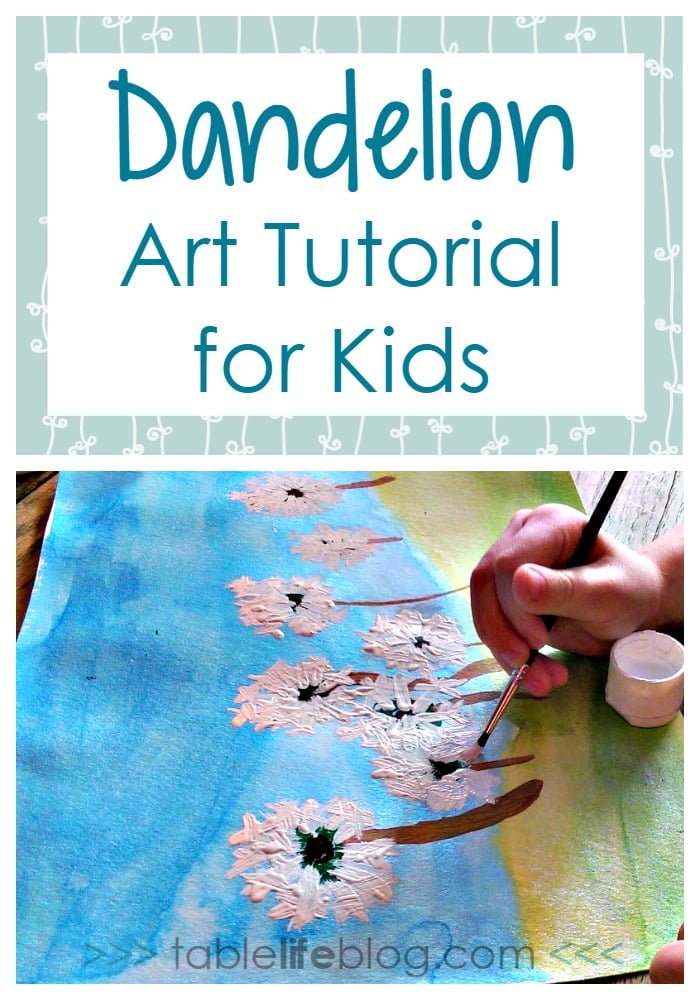 Post contains affiliate links; see disclosure for details.
My five year-old daughter loves dandelions. It's almost like she's magnetically drawn to them. Anytime she spots one in our yard, she picks it and blows away the seeds. It's no wonder she wanted to incorporate them into an art project!
Dandelion Art Tutorial for Kids
Since my little one loves dandelions, I recently borrowed The Dandelion Seed by Joseph Anthony from our local library. This book is a perfect way to add another learning element because it explains the life cycle of a dandelion in picture book format.

That said, you don't have to have the book on hand to enjoy this project, but you will need the following art supplies for your kids:
Watercolor paints – We used pearlescent watercolors for this project.
Assorted paintbrushes – bigger brushes or foam brushes work well for the background, but small round brushes are best for the flowers.
Acrylic craft paints – We used white, green (optional), brown, and golden brown.
Dandelion Art Step 1:
Watercolor Background
The first step in this project is to paint the background. We wanted our background to feature a gorgeous blue sky and lush, green grass. My little one chose her favorite shades of blue and green from our pearlescent watercolor pan and got to work.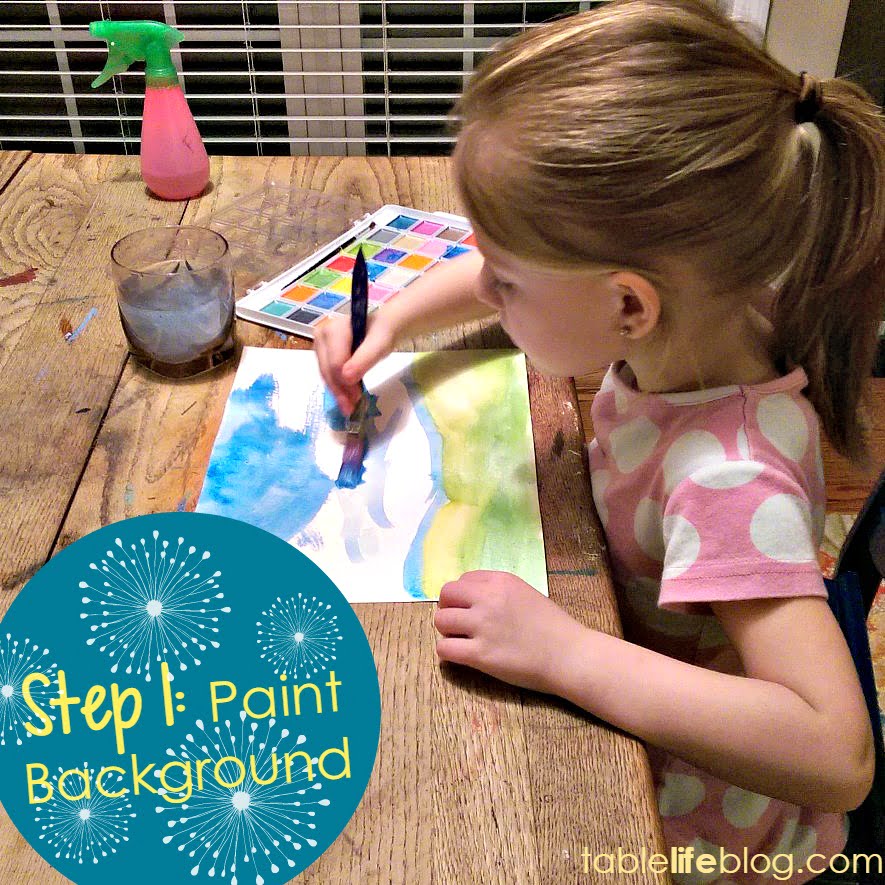 You certainly don't have to use the shimmery watercolors we used, but if you have some, you'd be crazy not to use them. They provided a richness and depth that we don't usually see when using watercolor pans and I'll likely be swooning over them for months to come. They're stunning.
Dandelion Art Step 2:
Centers and Stems
Once the watercolor background is dry, you can begin adding seed heads and stems. Have your kiddos use the brown acrylic paint to add small circles anywhere they'd like to see a dandelion. These circles will be the seed head for each flower, so it's best to leave a good bit of space in between each one.

While the seed heads dry, have your kiddos add stems for each flower. Smaller paintbrushes work best for the stems. If the brush is too big, you'll probably end up with thicker stems than you intended. Ask me how I know.
You can also use green acrylic paint to add a small ring or around each seed head here. This optional, but it does provide that green pop you see underneath the dandelion seeds. Note: if you want to impress your kids, you'll want to refer to these as phyllaries instead of the pops of green underneath the seeds.
Dandelion Art Step 3:
Pappus
When the seed heads and stems are dry, your kids can add the seeds. There are multiple ways to do this, but I had my daughter create thin lines connecting to each seed head using the white acrylic paint. This step reminded her of how she would draw a sun and sun rays.
Next, she painted small Xs over each line to create the pappus and dandelion seeds. If your kids would prefer a more accurate method of drawing the pappus, this step-by-step graphic will help. Once again, my daughter is five. She wasn't overly concerned with accuracy. 😉

I recommend small round brushes for this step as well. We used what we had on hand, but we could have achieved better definition on this step with a different brush.
Dandelion Art Step 4:
Clouds and Touch Ups
My little artist could've stopped there, but wanted to add clouds to her dandelion art. She grabbed her paintbrush and the white acrylic paint and channeled her inner Bob Ross while adding her fluffy clouds.
If your kids want clouds, have them add clouds here. If not, move along to any touch ups that need to happen.
For our touch ups, she went over the seed heads again with brown paint to clean up any flowers that got bombarded during the pappus stage.
Dandelion Art Step 5
Display and Enjoy
Once all the paint is dry, your kids can display their dandelion art or share it with friends or family.
If your kids decide to give their projects to someone, share a photo and tag me on Instagram, Facebook, or Twitter before you pass them on. I'd love to see your kids' finished projects too! 🙂