Not sure how to help your homeschooled teen transition from high school to adulthood? Today I want to tell you about the College and Career Readiness course we're using and why it's been it's been so helpful in this area.
(I received free access to this course for review purposes and have been compensated for my time reviewing and writing this. I was not, however, required to write a positive review. Also, this post contains affiliate links; see my disclosure here.)
It's interesting to look back on my own experience graduating high school and entering the world of college and career. Without completely throwing my parents (and all the adults around me) under the bus, I reflect on that period and realize how alone I was when it came to navigating my future.

I'm an elder millennial, so a lot of that comes down to generational differences in parenting approaches. Even so, it doesn't change the fact that I went out into the world not really knowing what would be required of me.

The good news is that I figured it out along the way and have lived to tell about it, but my own experience is exactly why I wanted to be sure college and career preparation is a part of our homeschool plans.

While there's some value in learning as you go, I also know it's wise to be equipped for the journey whenever possible. That's why I'm so excited to share what I've learned about Mr. D Math's College and Career Readiness course.
College and Career Readiness for HOmeschoolers
If you've heard me talk about our online ASL or economics course, you probably know that Mr. D Math is a homeschool staple for us during the high school years. Because we've come to LOVE these courses, we knew their College and Career Readiness course would again serve us well.
Now that my son is working through the course, I can't stress enough what a relief it is to know that I'm not on my own when preparing him for life after homeschool.
But before we get into my thoughts on it, here's an overview of their college and career readiness course and some details to keep in mind.
An Overview of College and Career Readiness from Mr. D Math
College and Career Readiness from Mr. D Math is an online course for high schoolers that contains 16 lessons and can satisfy a half credit in leadership development. This is a self-paced course, meaning parents and teens can work those 16 lessons into the homeschool plans when it works best for them.
Worth noting, you can opt for the live course format instead, but my son is taking the self-paced course. He's got several weekly commitments going on right now, so we appreciate the flexibility that comes with the self-paced option in this season.
The course itself begins with an introduction to the class and an overview of the format and content. Here's a quick look at some of the topics covered:
Goal setting
Time management
Career exploration
Employment
Financial literacy
Resume writing
College selections
Leadership and more!
The lessons themselves use a mix of resources to teach, reinforce, and test students on what they've learned. Videos introduce and teach concepts, while printouts and assignments help students dig deeper.
I do want to mention that some financial literacy concepts in this course overlap a bit with the economics class, but there are many valuable concepts that are exclusive to this college and career readiness course.

For us, this small overlap is a way to review and reinforce concepts covered through economics while bringing new and incredibly helpful life skills to the surface.
Our Thoughts on Mr. D Math's College and Career Readiness Course
Now that you know more about this college and career readiness course, here are a few things that deserve extra attention.
1. Practical Skills
I asked my teen for his thoughts on the course and the practical application is by far his favorite part. Specifically, he mentioned that he likes how "it goes beyond work and college and extends to life in general."

He's primarily referring to the help with project management and productivity, but the entire course is built around practical skills like these.
Are you an A+ Parent?
Join Mr. D himself, Dennis DiNoia, as he speaks with homeschooling parents about self-led learning, out-of-the-box education, and all things homeschool life on the A+ Parents Podcast.
It's so easy to take for granted that these everyday skills will develop intuitively, but that's not the case for a lot of students. That's why it's important to spend time focusing on college and career readiness, regardless of post-high school plans.
2. Decision-making Emphasis
I mentioned earlier that I didn't have a lot of guidance when preparing to step out and find my place in the world after finishing high school. That lack of guidance also left me navigating a lot of big decisions on my own from a young age.

Since I missed out on decision-related guidance when moving from the teenage years to adulthood, you can understand why the lessons from this course on evaluating choices stood out to me instantly. The course primarily tackles this from the lens of researching colleges and potential employers, but the strategies can be applied in many ways.
3. Personal Exploration
Yet again I need to refer back to my own experience and how it could have been better. That said, I was never encouraged to understand myself as a learner, identify my strengths, or determine how those should both factor into the next seasons of my life.

What a difference it would've made to dive into all of this before high school graduation rather than twenty years later!
Thankfully, we can do better for our kids, but that starts with equipping them with the right tools. That's another reason I personally find this course to be so helpful.

In addition to financial literacy and other practical skills, it also digs into learning styles, career exploration, and even intelligences. Understanding all of these sooner rather than later can save our teens so much time and avoid the aimless wandering that comes from simply "getting a job" or choosing a major.
Get Connected with Mr. d Math
You can register your student for this self-paced college and career readiness course at the Mr. D Math website. While you're there, you can also look at the live course options and view the entire Mr. D Math catalog. (Spoiler alert: there's A LOT more to it than math!)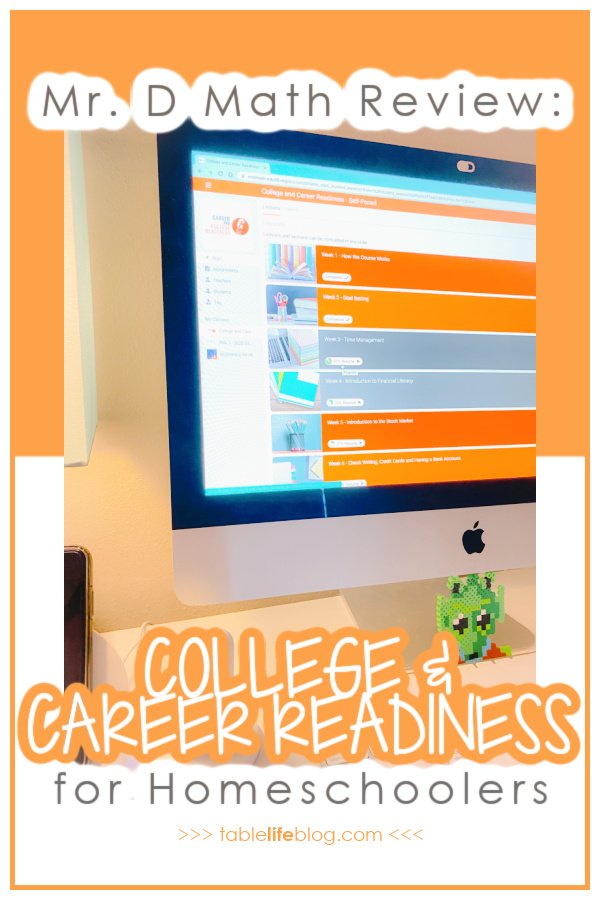 To wrap up, I sincerely believe this is a course that will benefit any homeschooled teen with or without specific plans for life after high school graduation. The skills and principles taught through can benefit all of us, but are essential for those entering adulthood in today's world. We are truly grateful to have found it!