It's easy to spot nature at work in your backyard, nature reserves, or local parks, but those aren't the only places you'll find nature thriving. Nature is alive and well in our cities!
Don't believe me? A nature scavenger hunt in the city with your kids is a great way to see for yourself!
*Post contains affiliate links; see disclosure for details.*
The Curious Garden from Peter Brown is one of our favorite picture books about plants and gardens. It's about a little boy named Liam who discovers an unexpected garden while exploring his city. After he takes responsibility for the garden and begins tending it, it grows into something bigger than he could've ever imagined.
According to the author's note, The Curious Garden is inspired by a neighborhood on the west side of Manhattan that was once known for it's busy railway. Over time, the railway shut down and wildflowers and trees took over, showing us all that nature doesn't need permission or help to thrive, even in the most unexpected places.
Nature Scavenger Hunt in the City
Our southern, coastal port city isn't anything like Manhattan, but we love spending time downtown among the shops, restaurants, busyness, and bustle. The heart of our city is quite lovely, but reading The Curious Garden made us realize we had never paid attention to nature in our city.

We decided to head downtown and search for signs of nature and any curious growth similar to what Liam experienced in The Curious Garden. It didn't take long at all for us to see for ourselves that nature was indeed surviving and thriving in our city.
In addition to plants tended by local residents and business owners, we noticed lots of examples of plant growth in parking lots and cracks of sidewalks. Whether we walked on paved lots, loose gravel, brick sidewalks, or wooden walkways, there were always varieties of grass, moss, or flowers around.

The action wasn't only on the sidewalks and in the parking lots. My big kid spotted the seed above on a concrete edge on the Riverwalk and took a photo of it. It was definitely a sign of nature I wasn't expecting to see on our nature scavenger hunt in the city.
How amazing it is to think of the path it must have traveled and all the people who passed unknowingly as it journeyed on!
The trees around us were also full of life. Besides the birds flitting from tree to tree, we noticed several new buds and blooms among the different species. We also thought it was interesting to see and feel the peeling papery bark from the river birches along the streets.
*Free* Nature Scavenger Hunt Printable
For sure, we had a great time walking around our city and hunting for signs of nature. Now that we've explored a few specific streets looking for signs of nature, we're planning to go back in a couple of weeks and look for more.
This time, however, I want to go prepared. I didn't have a list of things to look for on our last city nature hunt, but this time we're going back with a plan. That's where this Nature Scavenger Hunt Printable comes into the picture. I made a checklist of 18 items for us to find when we go on our next nature scavenger hunt in the city and I'm excited to share it with you today!
*FREE Nature Hunt in the City Printable*
Not sure what to look for on your Nature Hunt in the City? Use our FREE download to guide your hunt.
This Nature Scavenger Hunt is a part of You've Got This Math's Outdoor Learning Ideas blog hop. You'll definitely want to hop over and check out all the fun summer learning ideas!

In particular, be sure to check out this birdwatching unit study from BJ's Homeschool! It could be super helpful in identifying birds on your nature scavenger hunt!
The Nature Book Club
Monthly Linkup #3
We had a great time with our Nature Scavenger Hunt in the City, but there's more fun blooming with this month's activities from The Nature Book Club. This month is all about buds and branches and we've got some fun book-inspired learning ideas to share:
Also worth noting, our March Nature Book Club Giveaway is awesome!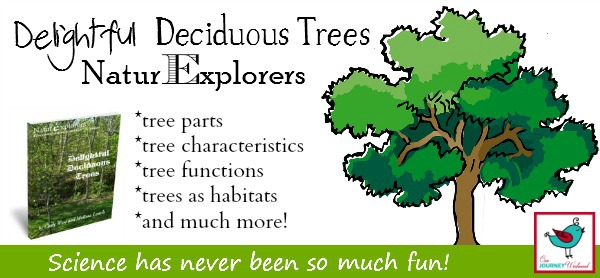 Cindy from Our Journey Westward is sponsoring this month's giveaway and is giving away copies of Delightful Deciduous Trees NaturExplorers Study. (I told you it was awesome! 🙂 ) Use the giveaway widget below for your chance to win.