Looking for a way to add some art to your butterfly learning plans? You're going to love this butterfly life cycle art project inspired by naturalist Maria Sibylla Merian.
*This post contains affiliate links; see disclosure for further details.*
'Tis the season for all things butterfly! Or, at least that's how it seems for us right now. We're raising butterflies again with the help of an Insect Lore Butterfly Garden Kit and waiting patiently for our painted ladies to emerge from their chrysalides.
In addition to our painted ladies, we're seeing reminders of butterflies nearly everywhere we go.

Between the butterfly garden in our local arboretum, the hands-on area at the zoo, the butterfly bungalow at our nearby aquarium, we can't escape them!
Maria Merian's Butterfly Life Cycle Art
Now that you know why we're a little butterfly crazy right now, you'll understand why we decided to learn more about Maria Merian, a naturalist and illustrator whose work we stumbled across a few months ago.

Born in Germany in 1647, Maria's story is quite amazing because she was fascinated by insects from an early age; that fascination led her to being one of the first scientists to understand butterfly metamorphosis.

What sets Maria apart from many scientists, however, is how she used art to document the science she loved. Her research and illustrations were both groundbreaking and so instrumental in connecting all the dots in the butterfly life cycle.

Summer Birds is one of our favorite books about Maria Merian and it's the one we've read most recently. It explains Maria's background, the general perception about insects at that point in history, and Maria's scientific contributions in regards to insects and metamorphosis.
The Girl Who Drew Butterflies is another fantastic book about Maria Merian. It's especially good for digger deeper into Maria's life and work since Summer Birds is a picture book.
Our Butterfly Life Cycle Watercolor Wheel
We knew we wanted something to help us document our recent time studying butterflies, but our time reading Summer Birds inspired us to find a way to combine art and science for this project.

That's where our Butterfly Life Cycle Watercolor Wheel comes into the picture. It features the four basic stages of butterfly metamorphosis while using journal-style sketching and watercolors for illustrations.
Ready to get started with your Maria Merian-inspired butterfly art? Here are the supplies you'll need:
Step 1 – Prepare Wheels
Before getting started, consider researching and choosing a butterfly species to use as inspiration for your project. You'll want to know what your chosen species looks like as an egg, caterpillar, chrysalis, and butterfly. (A Butterfly Is Patient and Nature Anatomy are both nice to have on hand for this part!)

You can move on to preparing the two wheels once your kiddo chooses a butterfly type to feature. You can approach this several ways, but we used a bowl from the pantry to help us position our circles on the watercolor paper and trace them.
Next, section both circles into even quarters using a ruler or straight edge.

Lastly, have your kiddo paint one of the circles using one or two colors. Keep in mind that anything too dark or busy will make it difficult to read the handwriting added in later steps.
It's also a good idea to flip over the paper and paint the side without the quartered lines to keep them from showing through the paint on this top circle.
Step 2 – Sketch the Life Cycle
Using any photos or book illustrations for inspiration, have your child sketch one phase of the life cycle into each quarter of the unpainted circle (eggs, caterpillar, chrysalis, and butterfly, in clockwise order).
This is also good point in the project to cut out both circles.

In addition to cutting the two basic circles, cut out one quarter from the the top circle at this time (the one without the life cycle). Use the lines on the back of that circle as a guide for cutting.
Step 4 – Add Watercolors to the Butterfly Life Cycle Sketches
Once the sketching and cutting are complete, paint each life cycle stage and the background using watercolors.

Step 5 – Add the Details
While the circle with butterfly life cycle art dries, have your child do the writing for the top circle. A Simple Butterfly Life Cycle works well, but you may want to write the name of the specific butterfly species or add a little bit of extra decoration.
When the bottom circle is dry, your child can write in any details about the specific phase of metamorphosis. We kept this pretty simple by labeling each phase with egg, caterpillar, chrysalis, and butterfly.
Next, line up the two circles and join them together in the center using a brad fastener. Now you're finished with your butterfly life cycle wheel. 🙂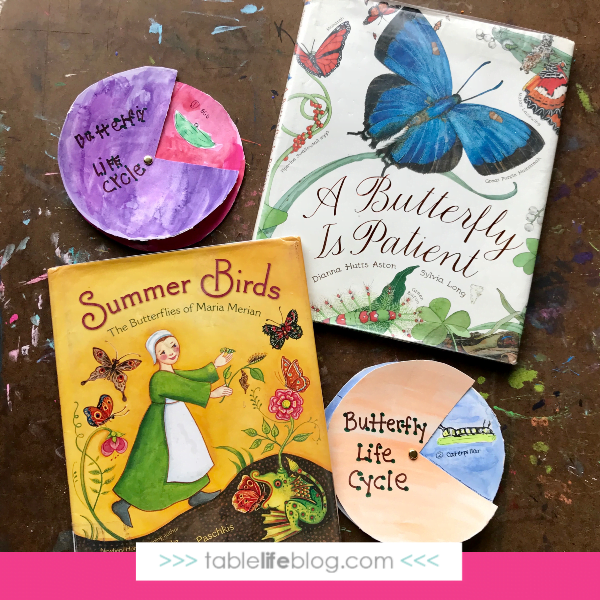 Looking for more butterfly-inspired learning ideas? Be sure to check out my Butterfly Unit Study.
You can also dig into some great children's books about butterflies. That list has lots of good butterfly book options for you, but these are a few of my favorites:
Nature Book Club – Monthly Linkup
We're loving our butterfly life cycle art project, but we're also excited to take a look at the other book-inspired ideas happening through The Nature Book Club. This month is all about life cycles and you're going to love all of these nature learning activities! Let's take a look:
March Theme: Life Cycles
Nature Book Club is a monthly linkup beginning on the 20th day of each month.
It's a monthly book club devoted to connecting children to nature. There is a theme for each month and we welcome your nature book and activity related links!

Nature Book Club Party Rules
Choose an engaging nature book, do a craft or activity, and add your post to our monthly link up.
The link up party goes live at 9:00 a.m. EST on the 20th of each month and stays open until 11:59 p.m. EST on the last day of the month. Hurry to add your links!
You can link up to 3 posts.
Please do not link up advertising posts, advertise other link up parties, your store, or non-related blog posts. They will be removed.
By linking up with us, you agree for us to share your images and give you credit of course if we feature your posts. That's all!
Also, be sure to follow the #NatureBookClub hashtag on your favorite social media platform. That's a great way to connect and check out these projects while they're in progress!

Here's where you can link up with us this month: