Studying the 13 American colonies in your homeschool? Here are some great children's books about Colonial America to help you learn!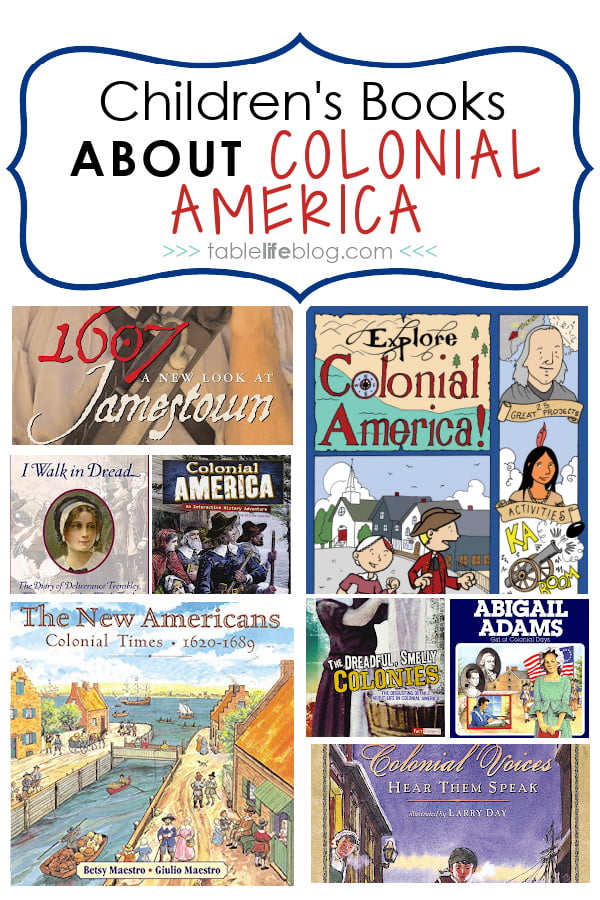 **This post contains affiliate links; that means I could receive a commission if you click through one of them and take action. See this disclosure to learn more. **
This list contains a nice mix of story-based picture books and nonfiction options to enjoy with your kids. There's also a good mix of books that are ideal for younger kiddos and middle grades. Better yet, most can be found at your local library if you prefer to borrow instead of purchase.
Children's Books About Colonial America
Before we jump into these children's books about Colonial America, keep in mind that the links below lead to Amazon. However, if you prefer to support independent bookshops, check out this Bookshop.org list. It contains most of the books listed below and is a great way to support small businesses.
If You Were a Kid in the Thirteen Colonies
If You Were a Kid in the Thirteen Colonies is a good story option for exploring colonial life with kids in younger or middle elementary grades. It tells the story of two colonial kids working together to weather a storm while their mother is sick and their father is away in Europe.
Worth noting, If You Were a Kid on the Mayflower is a title from the same series that tells a similar story through the eyes of kiddos who traveled to the new world via the Mayflower.
The Dreadful, Smelly Colonies
With this book title, I have to admit that I have had a tendency in the past to romanticize specific historical eras. That's not to say that there's something wrong with my love for visiting historic sites and reenactments, but the reality is that I wouldn't really want to live in any of those places in those historical periods.

The same rings true for Colonial America, which is why a book like The Dreadful, Smelly Colonies is such a useful book to add to your Colonial America reading lineup. In it, the less-than-ideal aspects of colonial life are explored: disease, sanitization, witch trials, logistical challenges, labor, etc.
The New Americans: Colonial Times 1620-1689
If I could only recommend one nonfiction picture book about Colonial America, The New Americans: Colonial Times would be my top choice. The way it explores the progression of Colonial America and its cartoon-like illustrations make an excellent combination for elementary-aged kiddos.
Colonial America: An Interactive History Adventure
This choose-your-own-adventure book is a unique way to explore Colonial America with your kids. With a true interactive format, it features three paths for readers to take and allows them to experience life in the colonies in a memorable and engaging way.
The Adventurous Life of Myles Standish and the Amazing-but-True Survival Story of Plymouth Colony
The Adventurous Life of Myles Standish centers around a fiery Mayflower passenger. With more than 140 pages, it is packed with information, stories, maps, and additional resources for learning about the Mayflower voyage and the Plymouth colony.
Need something with less text? Sarah Morton's Day: A Day in the Life of a Pilgrim Girl and Samuel Eaton's Day: A Day in the Life of a Pilgrim Boy let the photos do most of the talking and are great for engaging visual learners exploring Plymouth Colony.
1607 Jamestown
This one on Jamestown is a great choice for a deep dive into this colony near the coast of Virginia. Told from a nonfiction perspective, it shares tons of photos and archeological findings along with reenactment photos from Jamestown.
Colonial Voices: Hear Them Speak
Most of these books about Colonial America focus on life in the colonies themselves. Still, I include Colonial Voices: Hear Them Speak because it's a nicely illustrated picture book that captures the growing dissatisfaction among colonists in light of the tea tax from the British.
If You Lived in Williamsburg in Colonial Days
If you are visiting or studying Williamsburg, Virginia, this cute picture book is one to add to your to-read list. Though it is full of interesting illustrations, it doesn't read like a typical picture book telling a single story. Instead, it contains nearly 80 pages of questions and answers about life in Colonial Williamsburg. The best part is the question-and-answer format makes it easy to work through it at a pace that works best for your family and study plans!
Along these lines, Exploring Colonial Williamsburg from A to Z and The Colonial Caper Mystery at Williamsburg are other great options for exploring the Williamsburg colony with your kiddos.
Abigail Adams: Girl of Colonial Days
Abigail Adams: Girl of Colonial Days is a nice biography to add to your Colonial America book list. From the Childhood of Famous Americans series, it follows the formative years of Abigail Adams all the way to her time in the White House as the first lady.
Explore Colonial America!: 25 Great Projects, Activities, Experiments
This one isn't necessarily a children's book, but I include it here because it's a great resource to use as you explore colonial America. In Explore Colonial America, you'll find text to read with them, but also maps, activities, and other hands-on ideas to reinforce what you've learned. Worth noting, Great Colonial America Projects is a good alternative if you can't find this one.
American Girl's Felicity Series
Welcome to Felicity's World, 1774: Growing Up in Colonial America works through Colonial America in a nonfiction format and provides tons of good info and photos. For a historical fiction perspective, check out Meet Felicity, along with others from the Felicity series in The American Girls Collection.
I Walk in Dread
Wonder what it would have been like to experience the Salem Witch Trials? I Walk in Dread from the Dear America historical fiction series explores life in Salem Village through the eyes of a child via diary entries.
Looking for more resources for studying Colonial America with your kids? Check out these posts: