Need a little encouragement to get you through the day-to-day homeschool grind? Today I'm sharing 100 of my favorite Bible verses and 7 NEW scripture prints for your homeschool heart!
Many of these Bible verses can apply to more than one area of our lives, but I especially love how encouraging they are when applied to our lives as homeschooling parents.
These scriptures are reminders of the blessing, affirmation, rest, calling up, and strength we have in Christ. How blessed we are to have these words from our Father God to encourage us as we live out our callings in the day to day!
Bible Verses for the Homeschool Heart
Before we jump into to this list of scriptures for our homeschool hearts, you'll want to open your YouVersion app or grab your Bible and maybe a pen and noteboook. The nature of a list like this means these verses aren't in context and you'll want to dig into the chapters and verses around each scripture. After all, context is always crucial for applying God's Word to our lives.
Also, I noted the specific translation I used for each scripture. I encourage you to look them up in your favorite translations if yours aren't listed here. Now that all of that's out of the way, I hope you'll find these Bible verses as uplifting and reassuring as you're loving, guiding, and teaching your children.
Know a #homeschooling parent who could use some encouragement? These Bible verses and scripture prints can help!
Bible Verses for When You're Seeking
Affirmation or Encouragement
1. May God be gracious to us and bless us and make his face to shine upon us, Selah. – Psalm 67:1, ESV
2. You didn't choose me. I chose you. I appointed you to go and produce lasting fruit, so that the Father will give you whatever you ask for, using my name. – John 15:16, NLT
3. Do not despise these small beginnings, for the Lord rejoices to see the work begin. – Zechariah 4:10a, NLT
4. May Yahweh bless and protect you; may Yahweh make His face shine on you and be gracious to you; may Yahweh look with favor on you and give you peace. – Numbers 6:24-26, HCSB/CSB
5. Am I now trying to win the approval of human beings, or of God? Or am I trying to please people? If I were still trying to please people, I would not be a servant of Christ. – Galatians 1:10, NIV
6. For we are God's masterpiece. He has created us anew in Christ Jesus, so we can do the good things he planned for us long ago. – Ephesians 2:10, NLT
7. If you are wise and understand God's ways, prove it by living an honorable life, doing good works with humility that comes from within. – James 3:13, NLT
8. Before I formed you in the womb I knew you, before you were born I set you apart; I appointed you as a prophet to the nations. – Jeremiah 1:5, NIV
9. But you are the ones chosen by God, chosen for the high calling of priestly work, chosen to be a holy people, God's instruments to do his work and speak out for him, to tell others of the night-and-day difference he made for you — from nothing to something, from rejected to accepted. – 1 Peter 2:9-10, MSG
10. "For I know the plans I have for you," declares the Lord, "plans to prosper you and not to harm you, plans to give you hope and a future." – Jeremiah 29:11, NIV
11. Consider now, for the LORD has chosen you to build a house for the sanctuary; be strong, and do it. – 1 Chronicles 28:10, NKJV
Bible Verses for When You're
Worn Out and Overwhelmed
12. Come to me, all who labor and are heavy laden, and I will give you rest. – Matthew 11:28, ESV
13. Fight the good fight for the true faith. Hold tightly to the eternal life to which God has called you, which you have declared so well before many witnesses. – 1 Timothy 6:12, NLT
14. It is in vain that you rise up early and go late to rest, eating the bread of anxious toil; for he gives to his beloved sleep. – Psalm 127:2, ESV
15. But they who wait for the Lord shall renew their strength, they shall mount up with wings like eagles; they shall run and not be weary; they shall walk and not faint. – Isaiah: 40:31, ESV
16. Then Jesus said to them, "The Sabbath was made to meet the needs of people, and not people to meet the requirements of the Sabbath." – Mark 2:27, NLT
17. Take my yoke upon you. Let me teach you, because I am humble and gentle at heart, and you will find rest for your souls. – Matthew 11:29, NLT
18. So let's not allow ourselves to get fatigued doing good. At the right time we will harvest a good crop if we don't give up, or quit. Right now, therefore, every time we get the chance, let us work for the benefit of all, starting with the people closest to us in the community of faith. – Galatians 6:9-10, MSG
19. But you, Lord, are a shield around me, my glory, the One who lifts my head high. I call out to the Lord, and he answers me from his holy mountain. I lie down and sleep; I wake again, because the Lord sustains me. – Psalm 3:3-5, NIV
20. When you go through deep waters, I will be with you. When you go through rivers of difficulty, you will not drown. When you walk through the fire of oppression, you will not be burned up;the flames will not consume you. – Isaiah 43:2, NLT
21. For our present troubles are small and won't last very long. Yet they produce for us a glory that vastly outweighs them and will last forever! So we don't look at the troubles we can see now; rather, we fix our gaze on things that cannot be seen. For the things we see now will soon be gone, but the things we cannot see will last forever. – 2nd Corinthians 4:17-18, NLT
22. Where there are no oxen, the manger is clean, but abundant crops come by the strength of the ox. – Proverbs 14:4, ESV
23. Teach these new disciples to obey all the commands I have given you. And be sure of this: I am with you always, even to the end of the age. – Matthew 28:20b, NLT
24. Jesus said, "The food that keeps me going is that I do the will of the One who sent me, finishing the work he started. As you look around right now, wouldn't you say that in about four months it will be time to harvest? Well, I'm telling you to open your eyes and take a good look at what's right in front of you. These Samaritan fields are ripe. It's harvest time! – John 4:34-35, MSG
25. He says, "Be still, and know that I am God; I will be exalted among the nations, I will be exalted in the earth." – Psalm 46:10, NIV
26. He will tend his flock like a shepherd; he will gather the lambs in his arms; he will carry them in his bosom, and gently lead those that are with young. – Isaiah 40:11, ESV
Bible Verses for When You Need to Be
Reminded of Your Homeschool Why
27. Train up a child in the way he should go, and when he is old he will not depart from it. – Proverbs 22:6, NKJV
28. Make a careful exploration of who you are and the work you have been given, and then sink yourself into that. Don't be impressed with yourself. Don't compare yourself with others. Each of you must take responsibility for doing the creative best you can with your own life. – Galatians 6:4-5, MSG
29. By the Holy Spirit who dwells within us, guard the good deposit entrusted to you. – 2 Timothy 1:14, ESV
30. For I will pour out water to quench your thirst and to irrigate your parched fields. And I will pour out my Spirit on your descendants, and my blessing on your children. They will thrive like watered grass, like willows on a riverbank. – Isaiah 44:3-4, NLT
31. You are the light of the world. A town built on a hill cannot be hidden. – Matthew 5:14, NIV
32. So teach us to number our days that we may get a heart of wisdom. – Psalm 90:12, ESV
33. And I sent messengers to them, saying, "I am doing a great work and I cannot come down. Why should the work stop while I leave it and come down to you?" – Nehemiah 6:3, ESV
34. Anyone who welcomes a little child like this on my behalf welcomes me, and anyone who welcomes me welcomes not only me but also my Father who sent me. – Mark 9:37, NLT
35. Know the state of your flocks, and put your heart into caring for your herds. – Proverbs 27:23, NLT
36. So watch your step. Use your head. Make the most of every chance you get. These are desperate times! – Ephesians 5:16, MSG
Bible Verses for When You
Need Direction
37. The Lord is good to those who wait for him, to the soul who seeks him. It is good that one should wait quietly for the salvation of the Lord. – Lamentations 3:25-26, ESV
38. Teach me to do your will, for you are my God! Let your good Spirit lead me on level ground! – Psalm 143:10, ESV
39. Unless the Lord builds the house, those who build it labor in vain. Unless the Lord watches over the city, the watchman stays awake in vain. – Psalm 127:1, ESV
40. Commit your work to the Lord, and your plans will be established. – Proverbs 16:3, ESV
41. If you need wisdom, ask our generous God, and he will give it to you. He will not rebuke you for asking. But when you ask him, be sure that your faith is in God alone. Do not waver, for a person with divided loyalty is as unsettled as a wave of the sea that is blown and tossed by the wind. – James 1:5-6, NLT
42. For the Lord gives wisdom; from His mouth come knowledge and understanding. – Proverbs 2:6, HCSB/CSB
43. The Lord directs the steps of the godly. He delights in every detail of their lives.Though they stumble, they will never fall, for the Lord holds them by the hand. – Psalm 37:23-24, NLT
44. Whoever gives heed to instruction prospers, and blessed is the one who trusts in the Lord. – Proverbs 16:20, NIV
45. Trust in the Lord with all your heart; do not depend on your own understanding. Seek his will in all you do, and he will show you which path to take. – Proverbs 3:5-6, NLT
Bible Verses for When You're
Struggling
46. The Lord will fight for you; you need only be still. – Exodus 14:14, NIV
47. For the Lord your God has blessed you in all the work of your hand. He knows your trudging through this great wilderness. These forty years the Lord your God has been with you; you have lacked nothing. – Deuteronomy 2:7, NKJV
48. "The Lord is my portion," says my soul, "therefore I will hope in him." – Lamentations 3:24, ESV
49. For God called you to do good, even if it means suffering, just as Christ suffered for you. He is your example, and you must follow in his steps. – 1 Peter 2:21, NLT
50. For I am about to do something new. See, I have already begun! Do you not see it? I will make a pathway through the wilderness. I will create rivers in the dry wasteland. – Isaiah 43:19, NLT
51. The Lord is my shepherd, I shall not want. – Psalm 23:1, ESV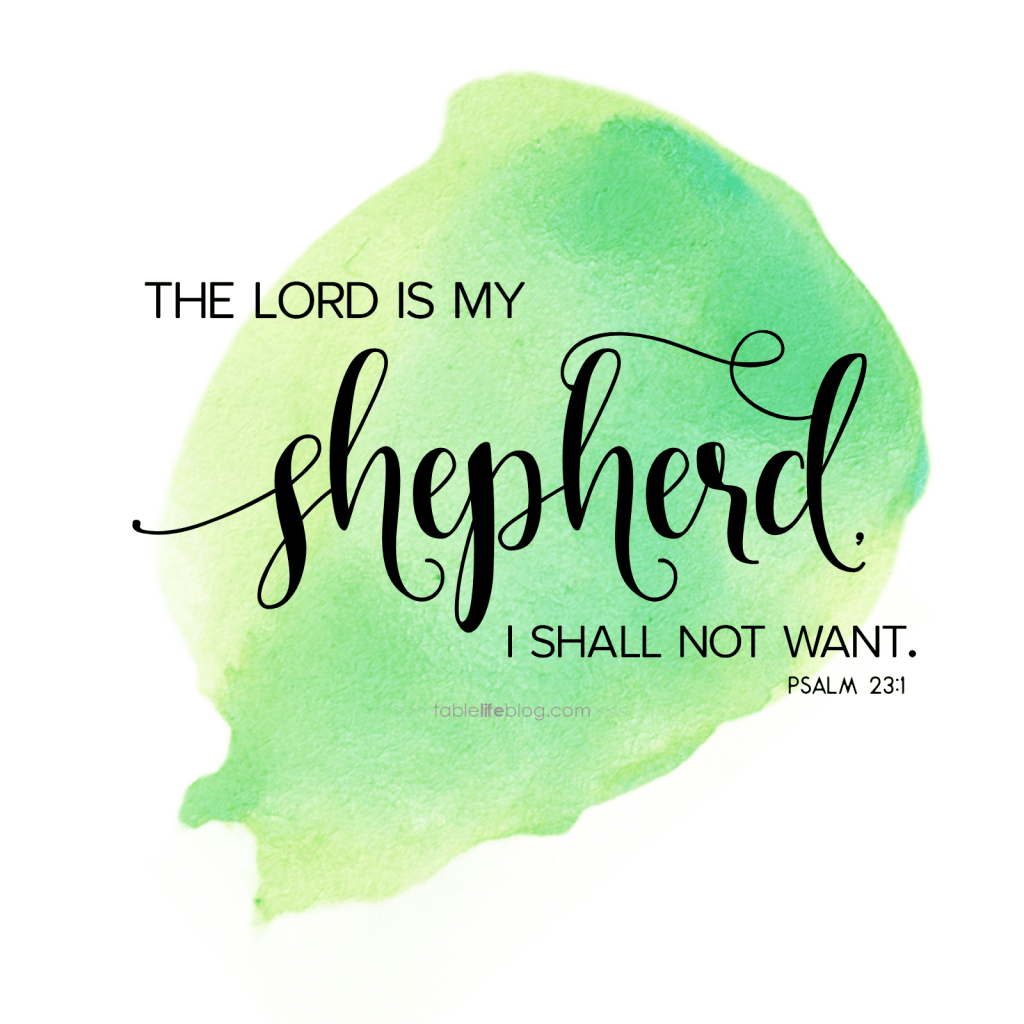 52. Dear brothers and sisters, when troubles of any kind come your way, consider it an opportunity for great joy. For you know that when your faith is tested, your endurance has a chance to grow. So let it grow, for when your endurance is fully developed, you will be perfect and complete, needing nothing. – James 1:2-4, NLT
53. For from his fullness we have all received, grace upon grace. – John 1:16, ESV
54. Ask, and it will be given to you; seek, and you will find; knock, and it will be opened to you. – Matthew 7:7, ESV
55. And now, GOD, do it again — bring rains to our drought-stricken lives so those who planted their crops in despair will shout hurrahs at the harvest, so those who went off with heavy hearts will come home laughing, with armloads of blessing. – Psalm 126:4-6, MSG
56. For the sake of Christ, I am content with weaknesses, insults, hardships, persecutions, and calamities. For when I am weak, then I am strong. – 2 Corinthians 12:10, ESV
57. I lift my eyes to the mountains — where does my help come from? My help comes from the Lord, the Maker of heaven and earth. – Psalm 121:1-2, NIV
58. Take the old prophets as your mentors. They put up with anything, went through everything, and never once quit, all the time honoring God. What a gift life is to those who stay the course! You've heard, of course, of Job's staying power, and you know how God brought it all together for him at the end. That's because God cares, cares right down to the last detail. – James 5:10-11, MSG
59. I tell you, you can pray for anything, and if you believe that you've received it, it will be yours. – Mark 11:24, NLT
60. And my God will meet all your needs according to the riches of his glory in Christ Jesus. – Philippians 4:19, NIV
61. But seek first his kingdom and his righteousness, and all these things will be given to you as well. Therefore do not worry about tomorrow, for tomorrow will worry about itself. Each day has enough trouble of its own. – Matthew 6:33-34, NIV
Bible Verses for When
You're Afraid or Lacking Confidence
62. This is my command—be strong and courageous! Do not be afraid or discouraged. For the Lord your God is with you wherever you go. – Joshua 1:9, NLT
63. For the Spirit God gave us does not make us timid, but gives us power, love, and self-discipline. – 2 Timothy 1:7, NIV
64. What then shall we say to these things? If God is for us, who can be against us? – Romans 8:31, ESV
65. I can do all things through him who strengthens me. – Philippians 4:13, ESV
66. For you did not receive the spirit of slavery to fall back into fear, but you have received the Spirit of adoption as sons, by whom we cry, "Abba! Father!" – Romans 8:15, ESV
67. And I am certain that God, who began the good work within you, will continue his work until it is finally finished on the day when Christ Jesus returns. – Philippians 1:6, NLT
68. The Lord replied, "Don't say, 'I'm too young,' for you must go wherever I send you and say whatever I tell you. And don't be afraid of the people, for I will be with you and will protect you. I, the Lord, have spoken!" – Jeremiah 1:7-8, NLT
69. We're depending on GOD; he's everything we need. What's more, our hearts brim with joy since we've taken for our own his holy name. Love us GOD, with all you've got — that's what we're depending on. – Psalm 33:20-22, MSG
70. They will have no fear of bad news; their hearts are steadfast, trusting in the Lord, – Psalm 112:7, NIV
71. But you, dress yourself for work; arise, and say to them everything that I command you. Do not be dismayed by them, lest I dismay you before them. – Jeremiah 1:17, ESV
72. When I am afraid, I put my trust in you. – Psalm 56:3, ESV
73. Don't let anyone think less of you because you are young. Be an example to all believers in what you say, in the way you live, in your love, your faith, and your purity. – 1 Timothy 4:12, NLT
Bible Verses for When You Need to
Check Yourself
74. May the words of my mouth and the meditation of my heart be pleasing to you, O Lord, my rock and my redeemer. – Psalms 19:14, NLT
75. Then Joshua told the people, "Purify yourselves, for tomorrow the Lord will do great wonders among you." – Joshua 3:5, NLT
76. Look carefully then how you walk, not as unwise, but as wise. – Ephesians 5:15, ESV
77. Don't be selfish; don't try to impress others. Be humble, thinking of others as better than yourselves. – Philippians 2:3, NLT
78. A cheerful heart is good medicine, but a crushed spirit dries up the bones, – Proverbs 17:22, NIV
79. Whoever is slow to anger is better than the mighty, and he who rules his spirit than he who takes a city. – Proverbs 16:32, ESV
80. Have nothing to do with foolish, ignorant controversies; you know that they breed quarrels. – 2 Timothy 2:23, ESV
81. Whoever is faithful in very little is also faithful in much, and whoever is unrighteous in very little is also unrighteous in much. – Luke 16:10, HCSB/CSB
82. And no one puts new wine into old wineskins. If he does, the wine will burst the skins — and the wine is destroyed, and so are the skins. But new wine is for fresh wineskins. – Mark 2:22, ESV
83. The one who pursues righteousness and faithful love will find life, righteousness, and honor. – Proverbs 21:21, HCSB/CSB
84. All a man's ways seem right to him, but the Lord evaluates the motives. Commit your activities to the Lord, and your plans will be achieved. – Proverbs 16:2-3, HCSB/CSB
85. He must become greater and greater, and I must become less and less. – John 3:30, NLT
86. Do everything without complaining and arguing, so that no one can criticize you. Live clean, innocent lives as children of God, shining like bright lights in a world full of crooked and perverse people. – Philippians 2:14-15, NLT
87. Keep a close watch on how you live and on your teaching. Stay true to what is right for the sake of your own salvation and the salvation of those who hear you. – 1 Timothy 4:16, NLT
88. As a face is reflected in water, so the heart reflects the real person. – Proverbs 27:19, NLT
89. But now you yourselves are to put off all these: anger, wrath, malice, blasphemy, filthy language out of your mouth. – Colossians 3:7-8, NKJV
90. Listen to the words of the wise; apply your heart to my instruction. For it is good to keep these sayings in your heart and always ready on your lips. – Proverbs 22:17-18, NLT
91. Love each other deeply. Honor others more than yourselves. – Romans 12:10 NIRV
92. Arrogance leads to nothing but strife, but wisdom is gained by those who take advice. – Proverbs 13:10, HCSB/CSB
93. Because of the privilege and authority God has given me, I give each of you this warning: Don't think you are better than you really are. Be honest in your evaluation of yourselves, measuring yourselves by the faith God has given us. – Romans 12:3, NLT
94. Live in harmony with each other. Don't be too proud to enjoy the company of ordinary people. And don't think you know it all! – Romans 12:16, NLT
95. Don't live carelessly, unthinkingly. Make sure you understand what the Master wants. – Ephesians 5:17, MSG
96. So we must listen very carefully to the truth we have heard, or we may drift away from it. – Hebrews 2:1, NLT
97. Be especially careful when you are trying to be good so that you don't make a performance out of it. It might be good theater, but the God who made you won't be applauding. – Matthew 6:1, MSG
98. Dear children, keep away from anything that might take God's place in your hearts. – 1 John 5:21, NLT
99. Keep a close watch on yourself and on the teaching. Persist in this, for by doing so you will save both yourself and your hearers. – 1 Timothy 4:16, ESV
100. Set your minds on things that are above, not on things that are on earth. – Colossians 3:2, ESV
What about you? What scriptures would you add to this list? I'd love to have you share them in the comments below!
FREE Printable Scripture ART!!!
Interested in having 8 x 10 versions of these images? You can become an email subscriber or find them all in the Subscriber Resource Library if you're already a subscriber. (Friendly reminder: you can find the updated password in your most recent email from Table Life Blog.)
Get Your Printable Scripture Art!
Sign up here to become an email subscriber, receive your Watercolor Scripture Prints, and to have full access to the Subscriber Resource Library. (View my privacy policy here.)