It's Back to Homeschool time all around us!  What better way to kick off a new year than a giveaway?  I got with my 9 year-old son and asked him about his favorite homeschool items from the last year and that's how our Kid's Choice Basket was born.  Everything in our giveaway basket was personally chosen by him — I think that should speak well for these items!
(This post contains affiliate links; please see disclosure for details.)
Here's what's included in our giveaway:
1.  Magic School Bus: A Journey Into the Human Body Kit – If you've been following on Instagram, it's likely that you've seen us using this kit and didn't even know it!  The Boy and Prissy both have had a blast learning about the human body with this Magic School Bus Kit.
2.  Sheldon's New Primary Language Lessons (generously donated by Brookdale House) – Language arts wasn't The Boy's favorite subject for the longest time.  In fact, he loathed it until we found Sheldon's New Primary Language Lessons.  It changed everything about his view and understanding of language arts and now, get this, he LOVES language arts!  Brookdale House's approach to gentle grammar was exactly what he needed!
3.  Escape of the Killer Noun (also donated by Brookdale House.  Pretty sweet, huh?) This living book approach to language arts was also a hit with The Boy.  In fact, he's waiting patiently for the next one in this series to be released.
4.  The Boxcar Children – I tend to do read-aloud time during lunch and The Boxcar Children was The Boy's favorite read-aloud from last year.  He loved the series so much that he ended up borrowing other Boxcar Children books from our local library to read on his own.
5.  Peter Pan – This was also one of his favorite read-alouds from last year.  Like The Boxcar Children, Peter Pan was also a hit with my then toddler.  You can't go wrong with classics like these, friends!  You're never too old or too young for good literature.
6.  8 pack of Sharpies – The Boy uses Sharpies for journaling, drawing, and Art for Kids Hub projects frequently.  In fact, he's downright obsessed with Sharpies.  I even have to hide mine from him.  True Story.
7.  Pencils – because you can never have too many, right?
8.  CaseMate 160 Page Journal – The Boy always has a journal in his hands for writing, drawing, and whatever else comes to mind.
Now that you got a good look at all of this homeschool goodness, you can enter to win in the Giveaway Tools widget below.  There are lots of ways to enter the giveaway, so have fun and good luck!
The giveaway action doesn't stop here!  Stop by iHomeschool Network and enter to win the other incredible Back to Homeschool Giveaways.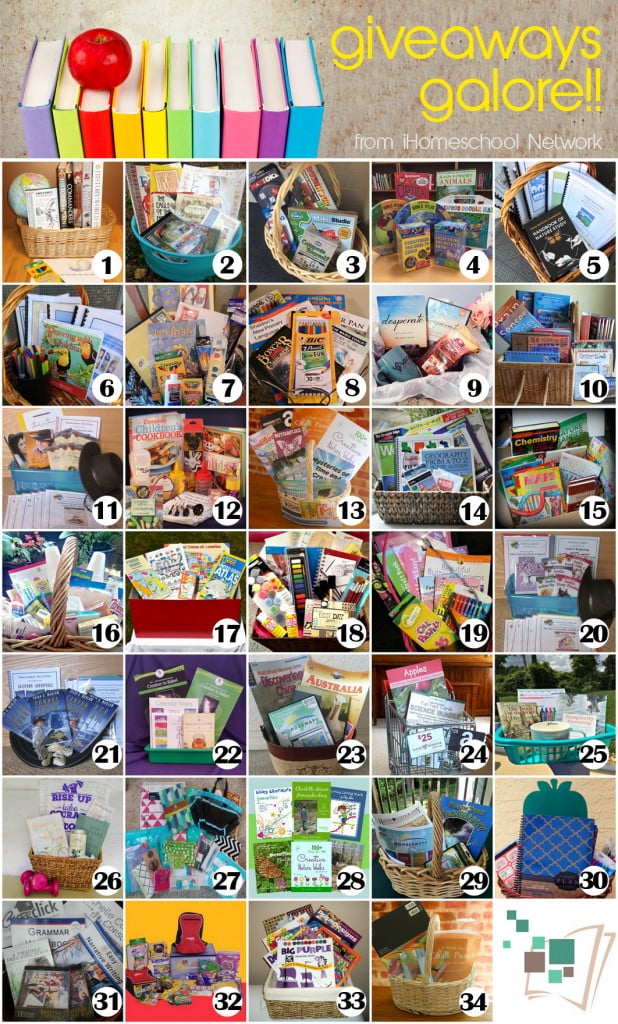 There's not a basket in this bunch that I wouldn't love to have for our homeschool (or even just for me!), but the first ones to catch my eye were Back to School with ThinkFun, Silver Dolphin's Back to School Basket, Basket of Grace for Mom, and Classroom Direct's Crafty Classroom Basket.  Seriously though, ALL of these baskets are amazing and you'd be crazy not to enter to win!
What are you waiting for?  Enter away!