If you haven't incorporated the arts into your history lessons, you're missing out on a great chance to do some cross-curricular homeschooling! Better yet, this natural combination is the perfect way to ensure art and music don't end up on your homeschool back-burner and ignored again this year.
*This post contains referral links for recommended items; see this disclosure to learn more about that.*
If you're reading this, you probably understand the desire to include a rich array of arts-related offerings in your homeschool. You probably also understand what it's like to run out of the time, energy, and focus needed for said arts offerings before you really even get going for the day. That's why it's so tempting to skip areas like art and music altogether.
The good news is that it doesn't have to be this way. We don't have to choose between core subjects or arts. And it's especially easy to teach music and art through history lessons regardless of your chosen history curriculum or approach.
3 Easy Ways to Teach Music and Art Through History Lessons
Ready to learn more about bringing the arts and history together? Here are a few ways to consider.
1. Use music and art to study history.
You can study a time period and area through the lens of the art and music inspired by it. This often allows you to step back in time and experience life through the eyes of someone who was living then and there. This is also a great way to gain perspective because both art and music reflect the culture, political climate, and religious beliefs of a region and era.
To study through the lens of music, research the music of the time and place you are studying in history. Listen to the music you find and pay attention to the mood, movements, and tempo of the piece. When lyrics are available, discuss the feelings and perspectives expressed through the songs. For documentation purposes, summarize these discussions on notebooking pages or create a playlist that can be accessed and referenced as needed throughout your homeschool year.
Sign up now to receive over 3000 FREE notebooking pages from NotebookingPages.com.
For art, research movements and popular artwork from the region and time period. Once your students have studied artwork from your chosen place and time, have them document their art observations in notebooks or on notebooking pages.
2. Use art and music to document history lessons.
What if you need to move beyond studying the arts and history? What if your kids primarily want more time to be creative? Well, in addition to or in lieu of copywork or notebooking pages at the end of each history lesson, have your students document what they've learned in a mixed media journal.
These journals can contain elaborate artwork or simple drawings that reflect your history lessons. Whether using chalk pastels, watercolors, or pencils, we've found this to be an easy way to make time for art without forfeiting core subjects like history. Just be sure to have your children include the date and lesson title somewhere on each page in the art journal.
As for using music to document history lessons, you can approach this a few ways. Have your student write a song that summarizes your history lesson or use the playlist idea mentioned earlier to create a group of songs that reflect the main point of the history lesson.

You could also ask your children to select one song instead of an entire playlist. Either way, you'll want to discuss their choices and encourage your students to document this music through notebooking or a digital link in your homeschool records.
3. Study artists and composers.
Lastly, artist and composer studies make it easy to teach music and art through history because they help associate a name and legacy with specific points in history. Along with visiting art museums, unit studies, books, and documentaries are our go-to methods for making this happen.
If you find yourself unsure of how to get started with this, see my Ultimate Guide to Homeschool Artist Study or Masterpiece Society's Art Appreciation curriculum if you prefer an open-and-go approach. For help with composer studies, consider the Composer Spotlight Series from SQUILT.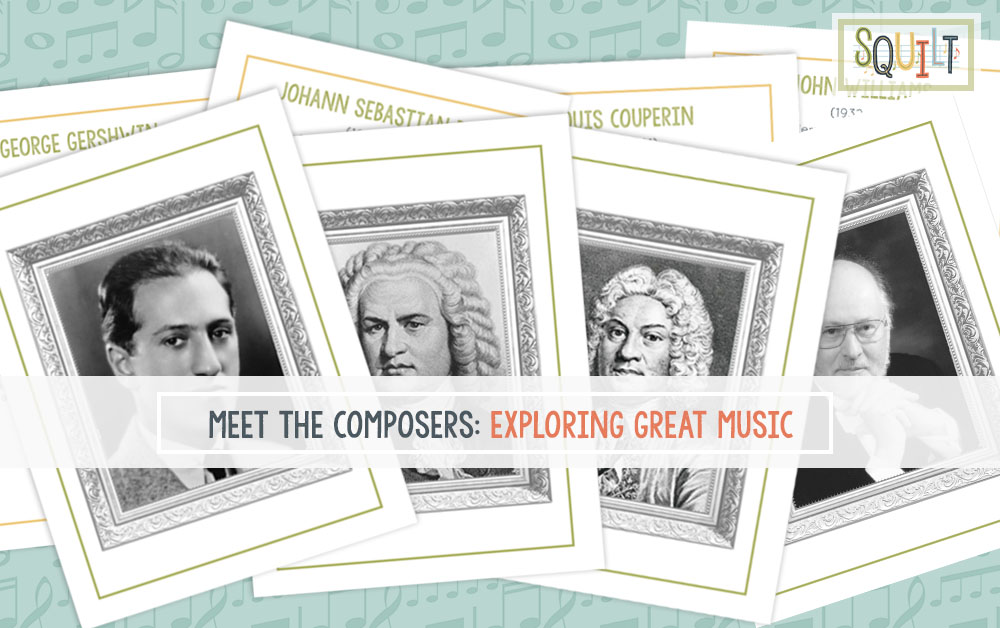 In conclusion, it's not hard at all to teach music and art through history lessons. All it takes is some creative thinking and out-of-the-box documentation to make it happen!
Looking for more ideas for teaching art and music? These posts can help.