The moment has arrived. You've thought about it for months and you're finally alone, gel pen in hand, curriculum spread out, and planner open. You leave your planning session with excitement and anticipation for the upcoming homeschool year.

Fast forward a few months. Your homeschool year is in full swing, but it doesn't look anything like you planned. Instead, you're tempted to abandon your homeschool plan and move to survival mode.

Sound familiar?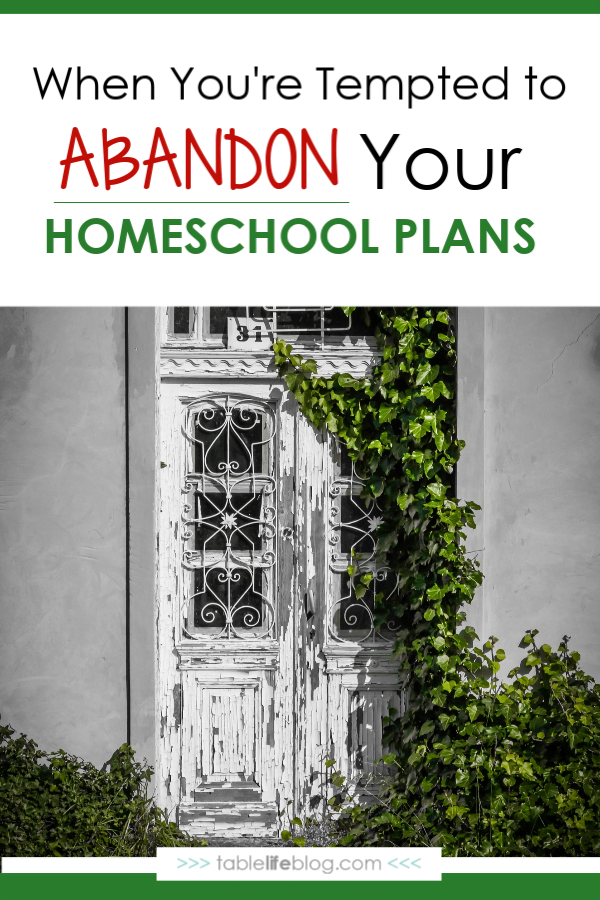 *Post contains affiliate links; see disclosure for details.
I've made my share of mistakes in our years of homeschooling, but I find some solace in knowing that I learned something through them all.
One of those mistakes involves abandoning my homeschool plans. Unfortunately, I repeated that mistake multiple times and for different reasons each time.
What to do when you're ready to abandon your homeschool plans 
The good news is that you don't have to make the same mistakes I did in the first several years of homeschooling. Instead of abandoning your plans and starting over and over and over again, you can learn when and how to stick with your homeschool plans and when to say goodbye.
1) Evaluate
The first thing to understand when you're tempted to abandon your homeschool plans is why you're tempted in the first place.
It's important to evaluate why you're tempted. Are your curriculum choices harder on the kids than you expected? Maybe it's more so that the curriculum choices are harder on you than you expected.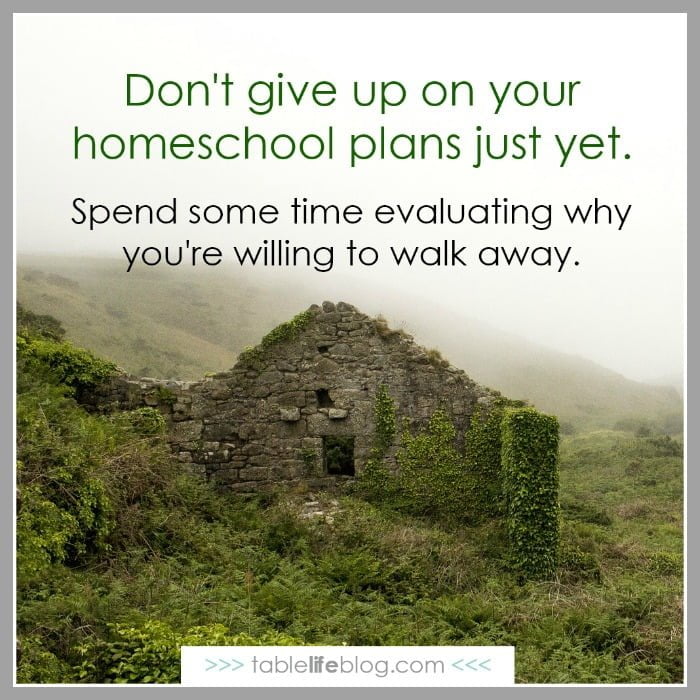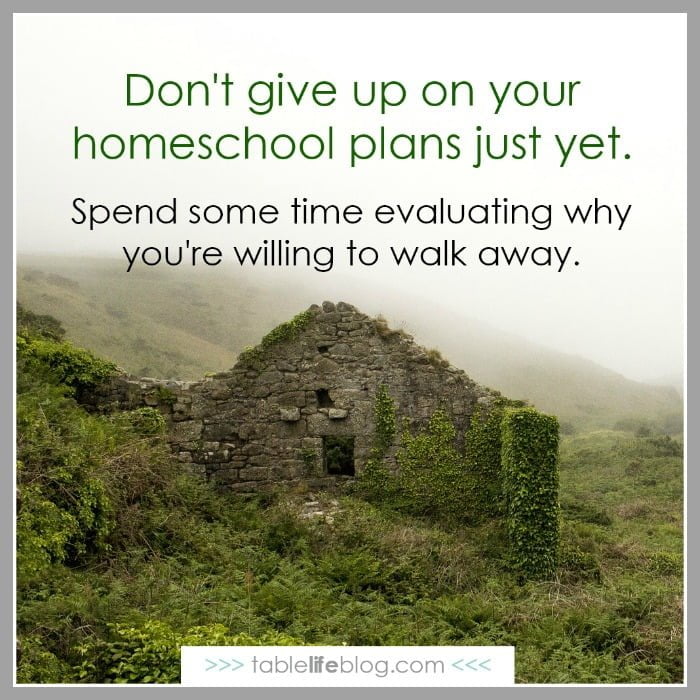 Are you tempted to abandon your plans because the homeschool curriculum monster is rearing his ugly head? Maybe it's because your homeschool plans are dramatically different from your personal educational experience and it's hard to see where all of these differences will lead.
Whether your reasons for abandoning your homeschool plans sound like these or stem from something I didn't mention, your reasons matters and determine how to move forward in homeschooling.
2) Give it time
Before and after you evaluate your reasons for wanting to abandon your homeschool plans, it's important to give yourself time. When it comes down to it, some of the things that make us want throw our planners out the window are temporary.
Sometimes you're not dealing with bad curriculum or bad planning. Instead you're dealing with a tough chapter.
Sometimes the struggle comes because you're transitioning to a new curriculum or homeschool method altogether. Then there are times when life outside of homeschool get crazy and it's hard to keep up with it all.
All of these things make homeschooling difficult, but they don't necessarily make things difficult for the long haul. Those things can be awful when they happen, but they come and go. Thank the Lord for that, right?
That's why it's important to give it some time before you abandon your plans. If you act too soon, you may find that you didn't need to give up on your homeschool plans after all.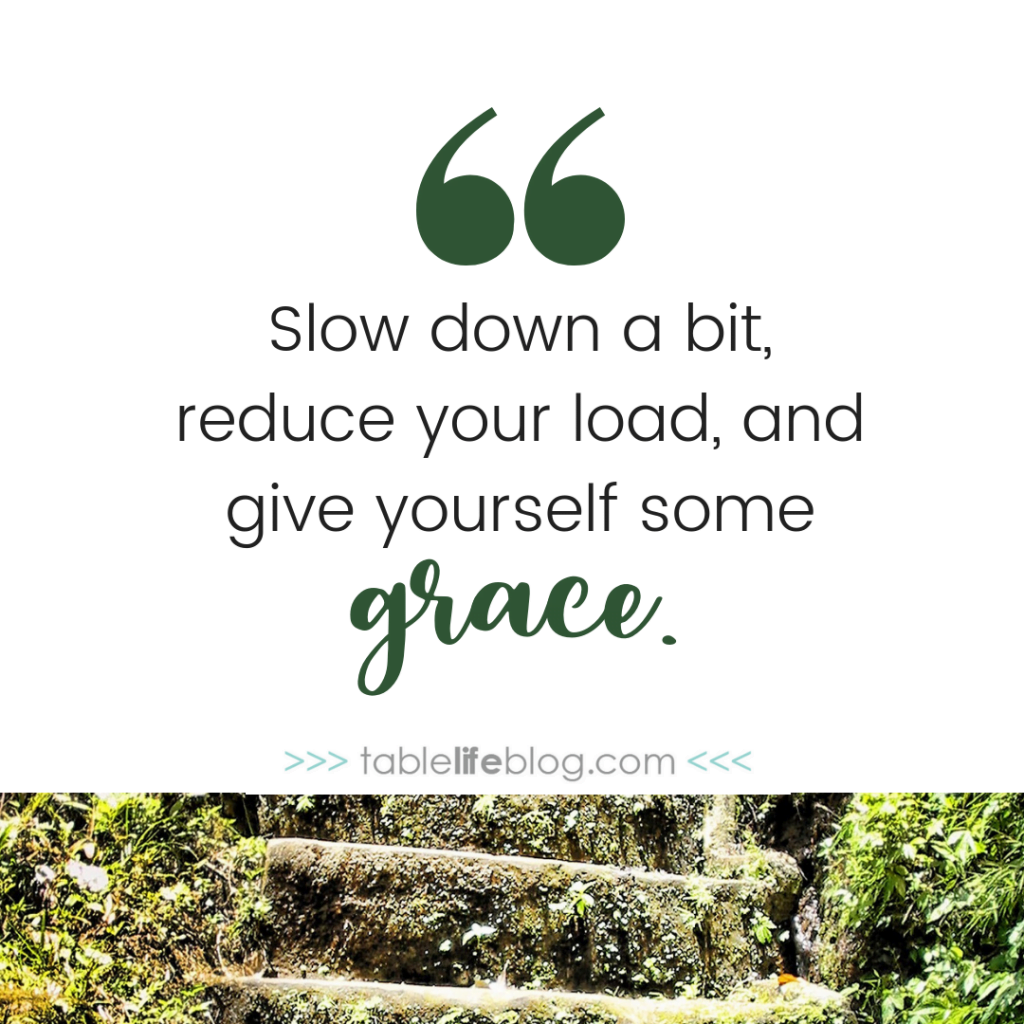 You may even learn that the complication has passed and that your solution is more of a problem than your original reason for wanting to go a different direction. Then you're faced with a whole new mess and the cycle starts again.
It's one thing to take a step back and breathe, but it's another to give up. #homeschool
Time is your greatest asset when you want to abandon your homeschool plans. It's one thing to take a step back and breathe, but it's another to step away and give up. Slow down a bit, reduce your load, and give yourself some grace.
3) Trust the system
When it comes to homeschooling, there are many things I was able to observe and apply early on. Unfortunately there are also things that I didn't learn so easily. Learning to trust the system — the new system, that is — is one of them.
You see, I attended public schools all my life. It was a good public school experience for the most part, but it was public school nonetheless. That had a lot to do with why I could only get so far when I tried to venture out and trust my own instincts for our homeschool journey.
I often talk about this when I share my biggest homeschool regret, but this failure to trust my instincts also led to failure when it came to trusting the system. Although I was drawn to different methods and ideas, I had a hard time trusting ideas and curriculum that weren't similar to my own experiences.
Can you relate? If so, learn from my mistakes and don't be afraid to trust a new system. Skip the second-guessing and remember that there's no one-size-fits-all approach to education.
Skip the second-guessing & remember there's no one-size-fits-all approach to education. #homeschooling
Don't abandon your homeschool plans because you're unsure of the end result that comes with trying something unfamiliar. It's okay if you've planned a homeschool year that looks like nothing you've seen before. It's even okay to be honest with your kids and tell them that you're learning new things through homeschooling too.
By being open to new experiences and methods in your homeschool, you're modeling a lifestyle of learning and growing that you want your kids to embrace. It's good to try something new, but it's even better to trust the new system that comes with said new thing.
4) Troubleshoot 
Lastly, it's important to troubleshoot when you're tempted to abandon your homeschool plans. Spend time considering practical solutions before making big changes. Here are a few to get you started:
Making minor schedule or curriculum adjustments
Using supplemental resources for tough subjects
Reducing the daily homeschool to-do list by alternating subjects in busy seasons
Reboot your homeschool
Asking for input from your kids
Asking for suggestions from other homeschoolers who have experienced similar issues
Troubleshooting doesn't guarantee that your homeschool plans are here to stay, but it's worth doing. Troubleshooting can help you avoid expensive mid-year changes and keep you somewhat on track as you work through your year.
When it's best to walk away
Once you've taken the time to evaluate, trust the system, and troubleshoot, you're in a better place to decide if it's worth sticking it out or if it's truly better to abandon your original homeschool plan and chart a new course.
If it turns out that a new plan is order, so be it. You'll know that you approached the change carefully and a new homeschool plan was the best solution. That's the best way to be sure that those temptations to abandon your plans don't turn into homeschool regrets later on.
---
What about you? Have you been tempted to abandon your homeschool plans before? How did you work through it?