Another year of homeschooling is just around the corner for us! Here's a look at our 5th grade homeschool curriculum choices for next year.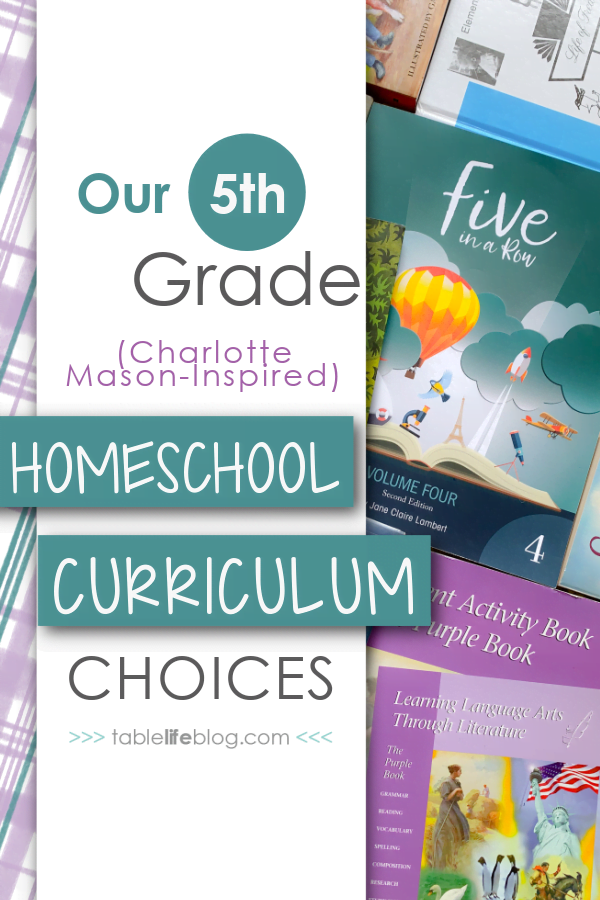 *Post contains affiliate links; see disclosure for details.*
I'm wrapping up the current homeschool year with my youngest kiddo right now, which means I'm also in full-blown curriculum planning mode for the upcoming school year. Today I want to share our Charlotte Mason-inspired 5th grade homeschool curriculum plans and (spoiler alert) tell you about some big changes to next year's lineup.
Our 5th Grade Homeschool Curriculum Plans Inspired by Charlotte Mason
As I've shared on Instagram in the recent months, it turns out that even homeschool kids aren't exempt from the stress that comes with living through a global pandemic. That's why I've been taking cues from my daughter to slow down and embrace a gentler approach to homeschooling.

Instead of relying on Ambleside Online for our spine like we've done for years now, we're moving back to Five in a Row (FIAR). That's a big difference since Ambleside's curriculum is purely designed to implement Charlotte Mason's educational philosophy, whereas Five in a Row uses a literature-based unit study approach.
So, instead of using a straight Charlotte Mason curriculum for our spine, we're saying yes to literature-based learning that allows my kiddo to have the restful, more relaxed 5th grade year she needs. I'll still draw from Miss Mason's educational philosophy as I work with my daughter, but I'm going to apply it to our routine and time together instead of turning to a formal CM-based curriculum.

All that to say, we'll cover geography, social studies, science, art, language arts, and some math through FIAR.

Also, we're both excited about jumping into Five in a Row's updated Volume 4. It will give us the same experience we loved about our previous years of Five in a Row, but will add age-appropriate complexity and depth that isn't there in the volumes written for younger kids.
5th Grade History
We don't have to add history to our plans since it's covered through FIAR, but we'll slowly work our way through the Early American Intermediate Pack from Beautiful Feet Books for read aloud time. We spent a good deal of time last year covering colonial America and parts of the American Revolution, so this will help us finish out this era of American history and move into the 1800s without an abrupt stop.
5th Grade Language Arts
You probably know by now that Learning Language Arts Through Literature has a permanent place in our homeschool lineup. Because of that, it's probably not surprising that we'll also incorporate The Purple Book into our plans for 5th grade.

That said, I'm giving myself permission to not complete every lesson in this book since language arts skills are covered in FIAR. I know we have the freedom to skip it, but for continuity and consistency purposes, I would rather skip some lessons rather than miss out on this LLATL volume completely.

(Note: we're using the 2nd edition books because I already had them, but the newer edition includes some awesome updates!)
This volume of LLATL features book studies on Caddie Woodlawn, Farmer Boy, and Meet Addy, to name a few. (My American Girl fan is excited about this one!)

In addition to the book study units, it will help us cover spelling, grammar, vocabulary, and other language skills at a gentle pace and familiar format we've come to appreciate through the years.
5th Grade Art & Music
Art is well covered through our Five in a Row volume, but we'll primarily turn to our Masterpiece Society Studio membership for anything we do outside of FIAR. For the most part we're going to follow the monthly recommendations for members, but I do plan to spend time digging into the Nature Journaling course in particular. (It's included in the membership, but you can learn more about it and purchase it as a stand alone here.)
Check out a FREE Art Lesson from Masterpiece Society!
Wondering if Masterpiece Society Studio could be a good fit for your kiddo? Here's a *free* impressionist-style bluebird lesson to enjoy!
We'll stick with Music in Our Homeschool for all things music next year. We finished our two years with the Charlotte Mason Music Lessons course, so now we'll move into Intro to Musicals and singing lessons with Singing Made Easy Level 1. We'll also include the Music of Christmas course during the month of December.
5th Grade Math
As always, our math plans consist of mixing Math-U-See with Life of Fred. My kiddo will move on to Math-U-See Epsilon to focus on fractions, factoring, word problems, and previously introduced skills. 

Around the middle of the year, we'll take a break from Math-U-See and finish out Life of Fred's elementary series by working through Life of Fred Jellybeans. (We planned to finish this in the 2020-2021 school year, but that didn't happen due to pandemic-related stress.)
5th Grade Science
The bulk of our science studies will happen through Five in a Row, but we will work nature study into our plans with help from Enriched at Home modules like these Flowers and Sky and Weather units.

We'll also use our favorite open-and-go Outdoor Science Labs to be sure we're making the most of our regular nature walks.
5th Grade Enrichment
Our extras next year will primarily come via Enriched at Home and KiwiCo. We'll take advantage of our museum and zoo memberships as well, but Enriched at Home and KiwiCo will help us add at-home enrichment to our plans without any overwhelm.
In addition to our nature study plans, Enriched at Home modules will show up to help us explore self-development units like courage and optimism and nutrition units like hydration and digestion. (Our Enriched at Home review is a great way to learn more about these modules!)
Assuming I can get my kiddo to keep her hands off of these KiwiCo boxes over the summer, I'll let her work through our latest order of crates at her own pace. (Unfortunately, this approach means I'll probably be ordering more by October.)

Here are some of the projects from our most recent KiwiCo order: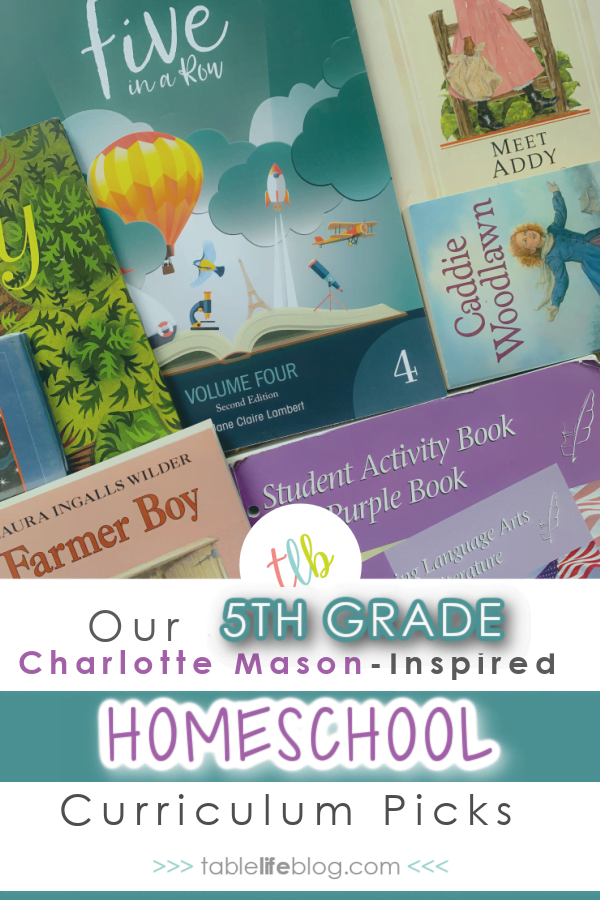 That's it for our Charlotte Mason-inspired 5th Grade homeschool curriculum lineup. If you have tips or questions about any of these resources, I'd love to hear from you.
Want a peek into our curriculum choices for earlier elementary years? Check out the following posts: